Aston Martin Speedboats: Taking Luxury To Seas
When you think Aston Martin, images of stylish, fast cars, and of course, James Bond comes to mind. But now, for the first time, the British car marquee is venturing in unchartered waters with the launch of its 11 metre (37 feet) long, luxury speedboats, in partnership with the well-known Dutch boat manufacturer Quintessence Yachts.
Initially, Aston Martin speedboats will be available in two variants: the AM37 being the base model, with an exterior of sculpted wood and interior of hand-stitched leather, with an approximate top speed of 50 knots (92 kilometers per hour); the AM37S being a more luxurious, race-oriented style boat, boasting a top speed of 60 knots (111 kilometers per hour).
The main structure of these boats will be composed of carbon-fiber to ensure that they are lightweight and quick. Aston Martin engineers have opted for epoxy resin composite to build the hull. This is because the resin is resistant to water degradation, thereby increasing the boat's durability and reducing maintenance downtime and expenses. The boats will be controlled by an interactive voice-control system as well as integrated HD touch-screens for navigation and multimedia system controls. It will also include some yet-to-be-detailed remote controlled features.
(click on images to enlarge)                             
In line with Aston Martin's philosophy of 'commitment to excellence that merges classic designs with cutting-edge mechanical and technological innovations', these powerboats would retain the car maker's signature smooth curves and edged-sword like designs that have defined its exotic cars for decades. The boats' rear stern for instance, resembles that of the limited-production Aston Martin One-77.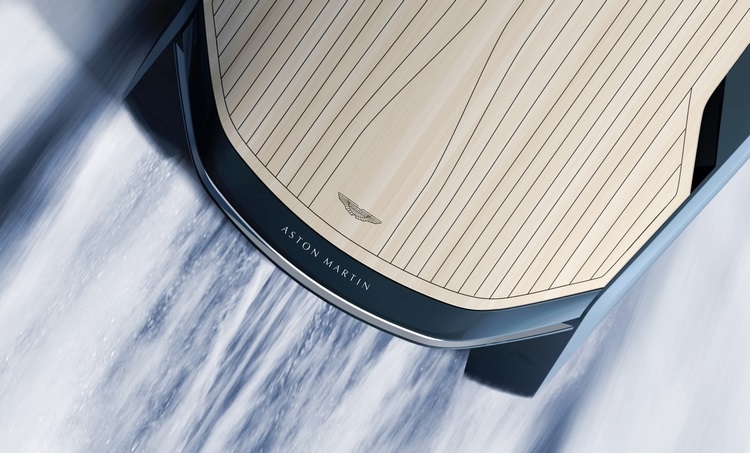 The final design, engineering specifications and the price of these luxury water crafts are to be announced at the Monaco Yacht Show in September this year, where the AM37's are slated to debut. According to Katia Bassi, Managing Director Aston Martin Brands, "The boats are scheduled to roll off the production lines by the end of the year; they will be manufactured at a private facility in Southampton, England, keeping true to Aston Martins British heritage.
 (click on images to enlarge)