A large portion of Pakistan's population uses bikes as a mode of transportation because people in the country don't have enough buying power to buy a brand new car. Moreover, the maintenance cost of the bike is also very low. It is to be noted here that in the year 2017, local bike manufacturers sold over 16 lac bikes in the country, which undoubtedly shows that indeed the bike industry in the country is doing great. For the last many years one segment of the bikes have been dominating the bike industry, and that is 70cc bike segment; however, a large population had also bought 125cc bikes as well. But now the bike industry is being diversified with the rise of 150cc bike segment. Suzuki is considered the pioneer of introducing 150cc bikes in Pakistan and is offering two bikes in 150cc category GR-150 and GS-150. The company has also launched GSX-R600 as well in Pakistan.
Read Also: Interesting trends of buying bikes in Pakistan uncovered!
Honda is also selling the bike in 150cc category namely Honda CBF-150. Furthermore, United Autos has also launched its 150cc bike to attract more consumers.
PakWheels.com last year conducted Automobile Industry Survey to see the current trends in the local automobile industry. In this survey, a total of 19,155 numbers of responses were recorded from all over the country.
The question varied from the brand they love and what they think while buying a vehicle etc. In the survey, PakWheels.com asked people from which brand they bought the bike and what bike they had in possession, for example, 70cc or 150cc, etc.
Also Checkout: Bikes for Sale in Lahore
The respondents responded to the first question as follow: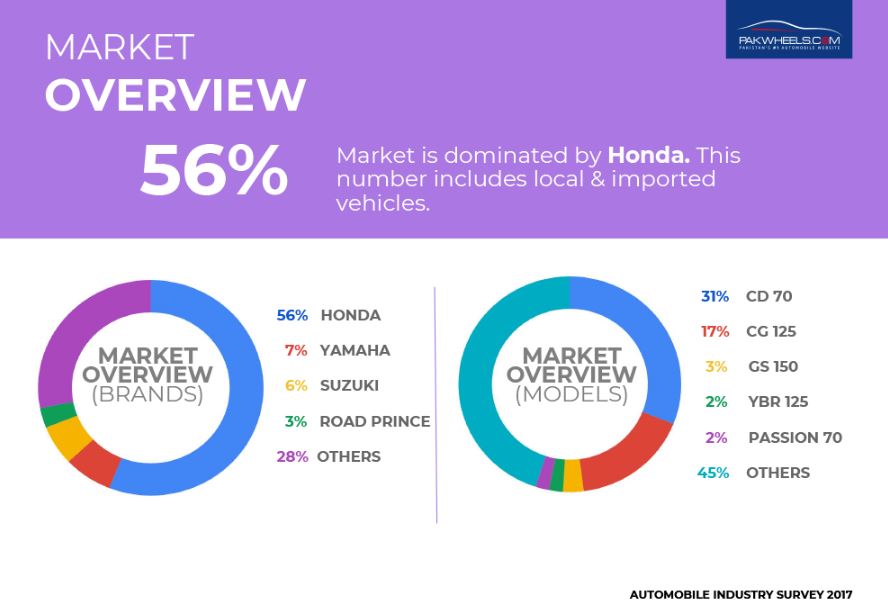 A whopping 56 percent respondents said they had bought a bike from Honda, while 46 asserted that they had purchased the bike from other company.  
It is worth mentioning here that at the beginning of 2018 in January Honda Pakistan sold more than 1 lac bike making it the first company to be able to sell this many bikes in the history of Pakistan. The company also went on to sell 108,736 bike units in March and 115,161 units in April. 
Check Out: Heavy Bikes in Pakistan
Moving onward, the people responded to the second question which was what bike they had in possession or prefers as follow:
31 percent said they have Honda CD 70, while 17 percent possessed or preferred CG 125. Moreover, 3 percent preferred Suzuki GS 150 and 2 percent said they had YBR 125. Furthermore, 2 percent asserted that they own Passion 70. The remaining said they have different bikes in their possession. It is pertinent to mention here that in PaKWheels.com Automobile Industry 2017, Yamaha YBR 125 grabbed bike of the Year award.
In the survey, we also asked the participants to rate the brand as per their quality, value for money and what is their favourite brand. And they responded as follow: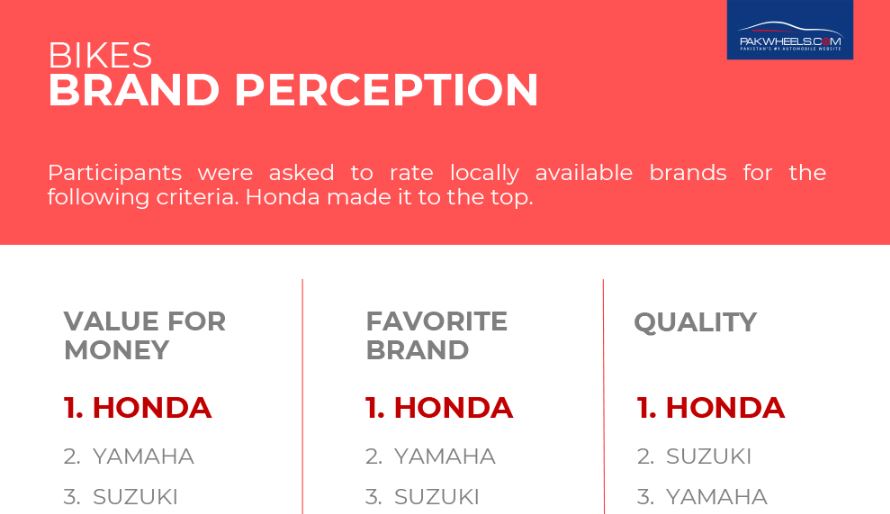 In the survey, many other brands have won people's choice award as well.
Click here to view the complete report and list of award winners!
What bike do you prefer/own, mention it in the comments section below?