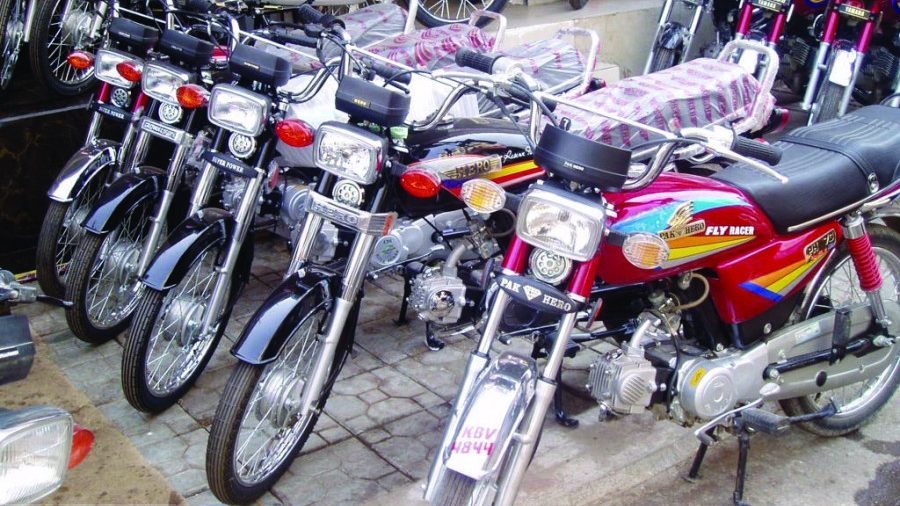 Interesting trends of buying bikes in Pakistan uncovered!
In terms of cars, as of now, Pakistan being a used car market is thriving aggressively, but this is all going to change as many new automakers have entered the local auto industry. Moreover, as far as the bike market is concerned, Pakistan is definitely a new bike market, which is booming. The reason being the demand and usage of 70cc bikes which millions of commuters use daily for transportation purposes. Moreover, last year bike manufacturers sold almost 1.7 million new bikes, which clearly shows how huge bike market is in Pakistan. The leading bike seller in the country is Honda which sold over 1 million bike units in 2017. In the current year, many new bikes have been launched such as GR 150, YBR 125G and GSX R-600, which will indeed diversify the local market even further.    
Read Also: Honda Civic and Yamaha YBR 125G bag the biggest awards of the year!
PakWheel.com conducted a survey in 2017 namely PakWheels Automobile industry survey to know what people think about different aspects of the industry such as what company they prefer and why? In the same survey, PakWheels.com asked various questions regarding car and bikes; however, in this particular write-up questions regarding bike will be mentioned. It is to be noted here that this is the first time PakWheels.com has inducted question regarding bikes in its survey as millions of consumers in Pakistan use bikes as a daily mode of transportation. So, it was necessary to know how bike users/owners think about bike industry. Many questions were asked in the survey three of which are mentioned below.
Did you buy a used or new motorcycle?

How much money had you spent on buying a bike?

Did you buy a locally assembled bike or a CBU?
Check Out: Heavy Bikes in Pakistan
In this survey, a total of 19,155 numbers of responses were recorded from all over the country. The responders responded to the first question as follow: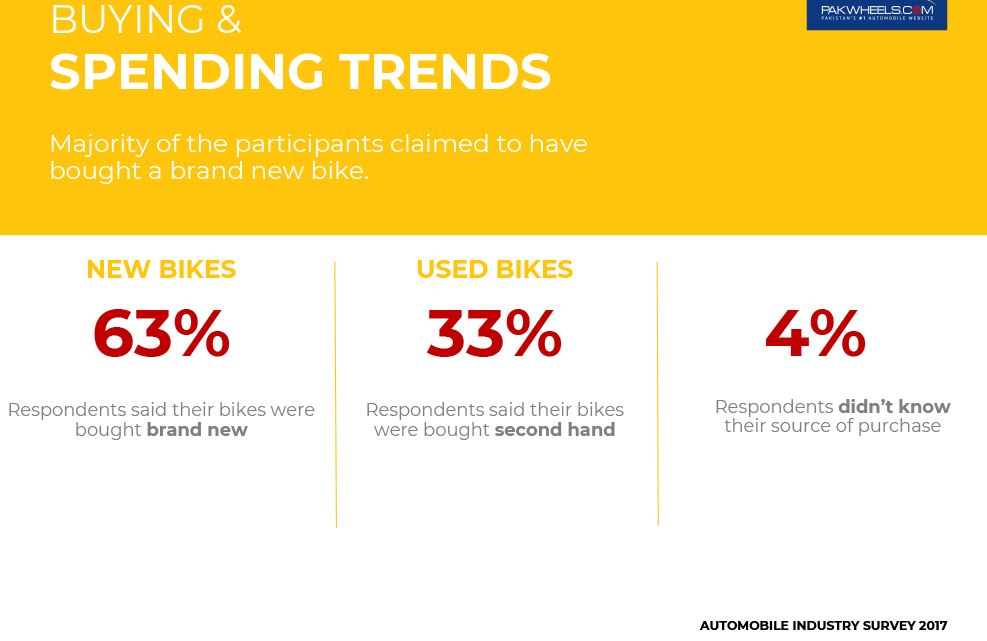 63% said they had bought a new bike

33% responded they had bought a used bike
The data clearly shows that new bike market is going well; over 60% of the respondents claimed to have bought a brand new bike from the showroom. Moreover, as far as the second question is concerned the people responded as follow: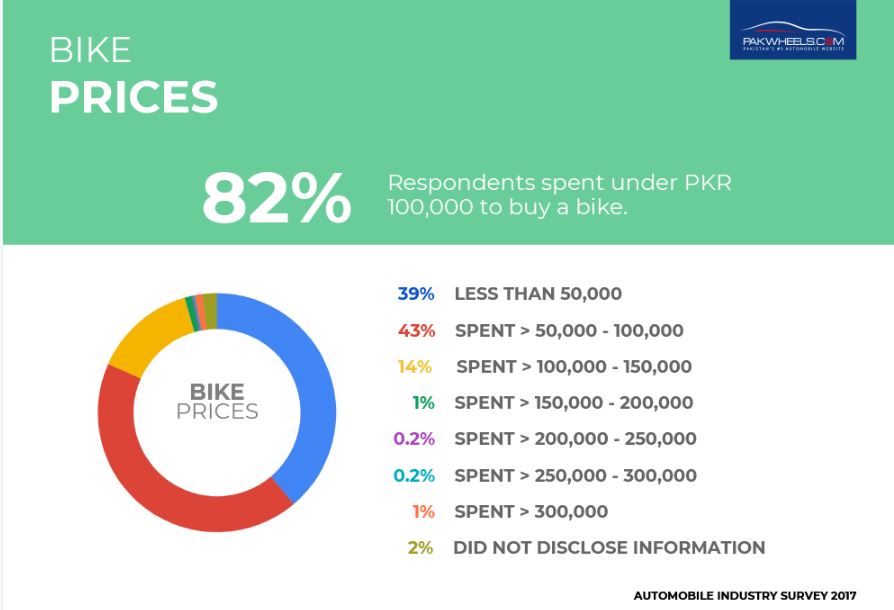 Furthermore, while responding to the second question 82% of the users/owners said that they had spent under PKR 100,000 on the purchase of the bike.
While giving the answer to the third question, 86% said that they bought a locally assembled bike; however, only 5% asserted that they imported a bike from another country.
These stats show an overall picture of the bike industry, more importantly, the behaviour of bike users.
What do you think of local bike industry and should it be more diversified or not? Tell us in the comment section below.
In the survey, many brands have won people's choice award as well.
Click here to view the complete report and list of award winners!