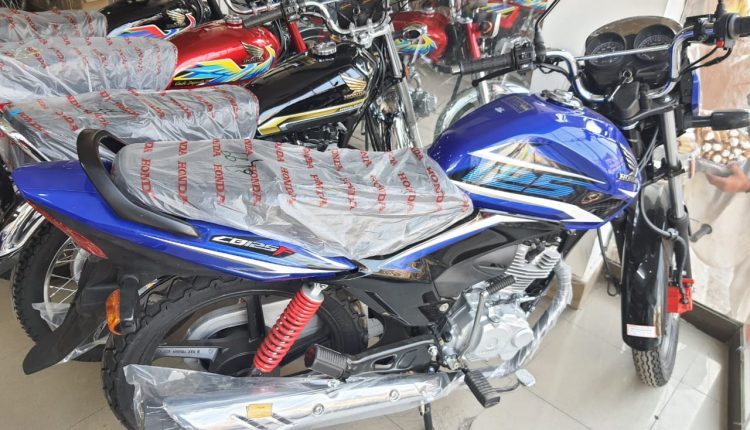 Atlas Honda to Launch CB125F 2021 Soon! 
Honda Atlas is all set to launch the CB125F 2021 model soon in Pakistan. According to the reports, the company has dispatched the bikes and will be available on dealerships in a few weeks.
In the new model, the company has introduced new details, including new blue and white body colour option, all-important graphics and a black rear support bar. Meanwhile, the engine and salient features would remain the same.
Features of CB125F: 
According to the company, the bike has 125cc 4-stroke OHV engine with air cooling, with expected 11hp. Furthermore, the motorcycle has 5-speed transmission, with both self and kick-start, options. Also, the bike roller chain final drive, with the fuel tank of 12.3 litres.
The bike has telescope suspension at front and swingarm at the rear. Meanwhile, bike's dry weight is 122-kilogram.
Design:
Technically, the company has designed the bike while following the same basic formula for Honda 125 bikes. The machine has a lightweight body and frame propelled by the old but very reliable CG125cc. Furthermore, this one also has a single-cylinder petrol engine with overhead valve technology.
Additionally, the CB125F has borrowed its most of the parts from CG125 Dream and Deluxe, including engine, chassis, exhaust top and drivetrain. Meanwhile, it also has borrowed some parts, i.e., wheels and front disc brake, from CB150F.
Price of CB125F: 
Despite being not so different from its previous models and no technical upgradation, the price of the bike is staggering Rs187,500. This makes it Rs18,000 more expensive than its direct competitor, Yamaha YB125Z DX, priced at Rs169,500. As per most of the bike enthusiasts, Yamaha's bike is better-equipped against Honda's.
Atlas Honda has been increasing the price of its bikes, without introducing any noticeable change in its power, design or performance. The company has been merely upgrading the body stickers and look of the bikes, very marginally.