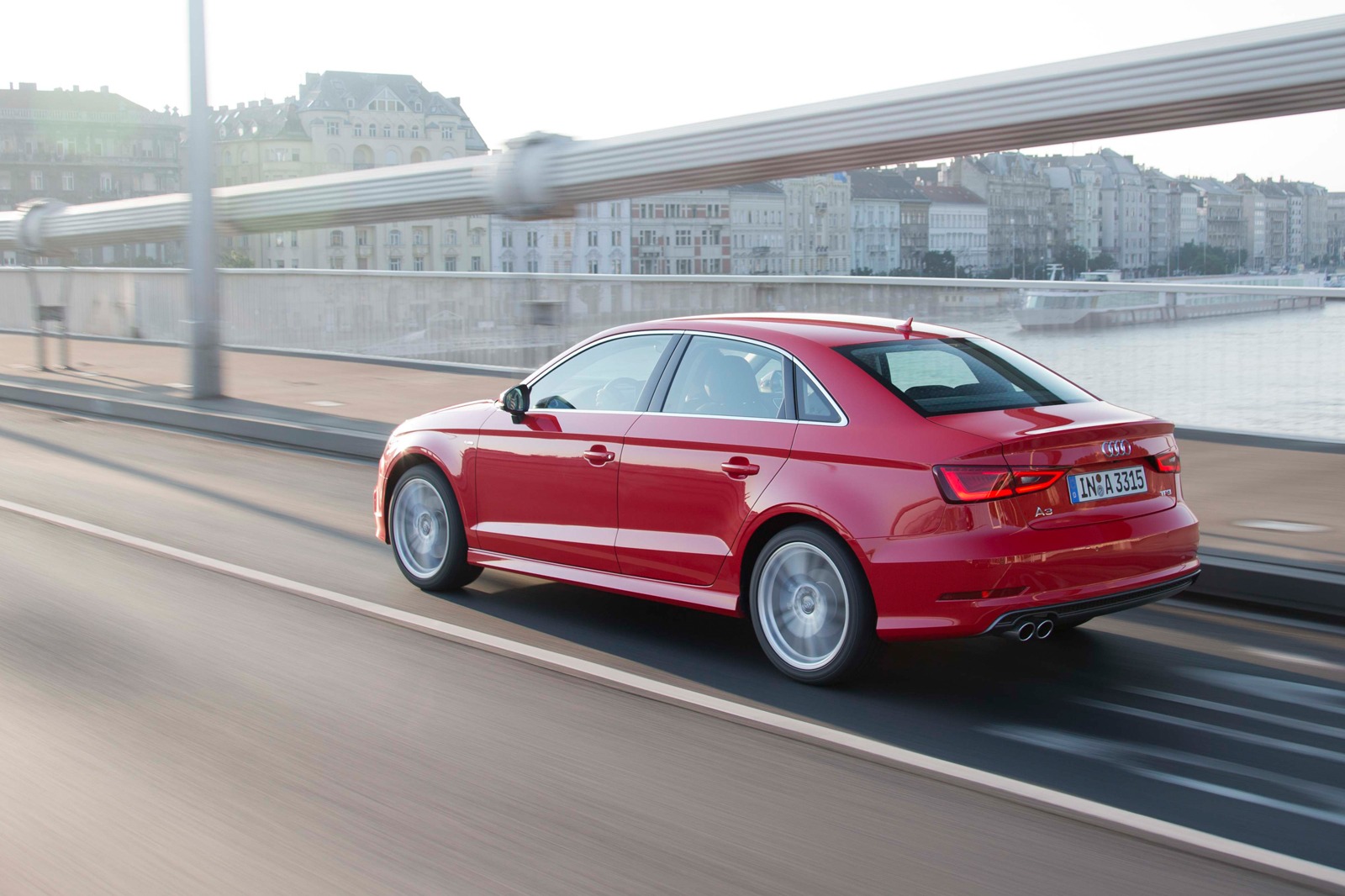 Audi A3 1.8 will cost you 4.45 million rupees in Pakistan
Audi has had a presence in Pakistan for a little over a while now, and though the cars haven't become a regular sight on the road but the future models of Audis have shown promise and restraint. Audi A4 was the smallest of them all, like the BMW 3 Series but the millennials are not buying cars? They are not buying cars because they can't afford them but if the the love affair with car, of the future moms and dads is left to die, than there would be no car in the future.
Europeans, Americans and the Japanese, all thus began bringing down the size of not just the car, but the engine and the price too and do stuff to make the millenials like the car again. Offer a solution to the congestion problem of the urban youth. BMW went and thus changed the naming convention/chronology and added; 4 series, repositioned 1 series and introduced 2 series. Audi on other hand introduced the new A3, and A1 was given a push and pretty soon, we're guessing Audi will introduce the A2 as well. (Which was one of the biggest flops ever in the automotive industry and since then, we haven't seen an A2)
And this trend is going to benefit buyers in countries like Pakistan. Why? Smaller engines mean less duty to pay meaning lower costs. Smaller cars means ease to drive in this chaotic and congested traffic. Cleaner and more fuel efficient engine. More cars come with more options as standard and less as options. All this at the end translates to cheaper German saloons.
How cheap? You can get a brand new base A3 sedan for just 4.45 million Pakistani rupees. (Excluding registration and insurance but who needs either of those when you can spot an Audi in Pakistan from the moon amongst all the Corollas and Civics) (We're just kidding)
You can pay the following amount for additional equipment though: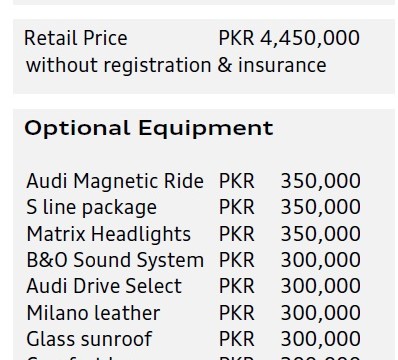 You get a base A3 equipped with a 1.8 liter TFSI engine which produces 180 horsepower and 250 nm. of torque to go from 0-to-60 in 7.3 seconds, with a fuel 5.6 liters of fuel for every 100 kilometers done which mean a staggering average of 17.85 kilometers per liter on hi-octane. All this power and economy is produced through the 7-speed S Tronic transmission which means you have an automatic and a manual for when you need to choose when to kick in the gear yourself.
The 1.8 liter engine is currently available with A4 and A5 and in November this year, the A3 will also be sporting the same 1.8 liter engine and hopefully, a new range of engines may also be introduced on the A3 soon after.
Most of Audis are front-wheel-drive vehicles because they share the platfrom with VolkWagen vehicles in some and the A3 will come equipped as standard with Audi's range of traction control systems: ASR, EDL and ESP to enhance driving and control.
The A3 is already won many awards globally but in Pakistan, the ergonomics are very different. Roads and environment in which a car is driven along the fuel which is fed speaks a ton about and thus, the most important point is maintenance?
German cars aren't known for reliability and often are said to be quite expensive to do the scheduled maintenance but the figures that we've received speak otherwise. But the Germans are an efficient lot and millenials weren't buying, so I am sure, they must've done something for the reliability issue.
According to our source in Audi Pakistan, maintaining an Audi, as opposed to popular opinion, is very cheap. In fact, cheaper than our locally made cars. The 1.8 TFSI engines recommended to be serviced at 15,000 kms and the cost for maintenance service for A3 and A4 is just rupees 14,000 including all labor and taxes.
However, our source also says that Audi sometimes advises certain customers to bring in their cars for service at 7,500 kms instead of 15,000 because of the environment they are driven in, province and area is taken into consideration and the customer is then advised about scheduled maintenance of the car for 14,000 rupees. Compare that too the recommended 5,000 kms service of local cars which costs about 7,000 rupees and its still costs lower.
We've got a lot of reports through our source that Audi is testing more engines and cars for Pakistan to bring the prices of Audis in the range of Pakistanis. Let's hope it happen but until then, come this November and the Audi A3 will be available in Pakistan.