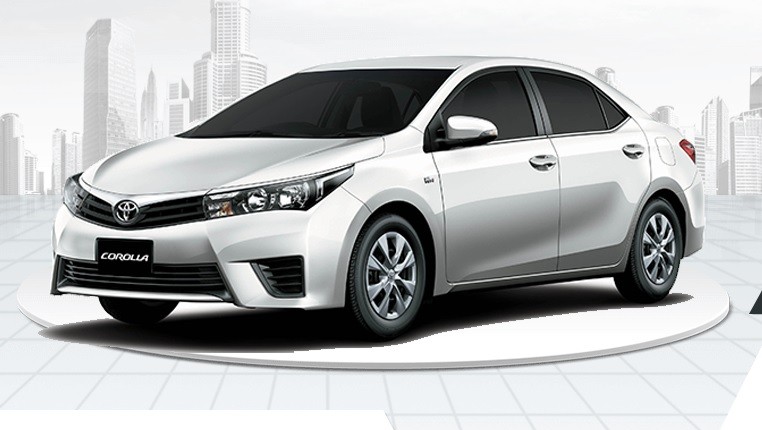 I wanted to book a Corolla for myself and thus approached nearly all dealerships in Lahore (including Toyota Walton, Airport, Garden, Jinnah, Ravi, Sahara, Township, Shaheen)  and i have still not been able to book one up till the time of writing this article.I am neither a writer, journalist or a reporter who writes to highlight different issues of the society. I am writing this article to share my experience and express my grievances which i have faced during the last one and a half month. I never thought that booking a Corolla Gli Automatic from any dealership in Lahore would be such a cumbersome process.
Indus Motor Company Limited (IMCL) is launching face lift for Toyota Corolla in July/August this year and Corolla being a well-established brand has a huge demand for their vehicles. IMCL opened booking of Corolla in end April/early May and thus all their dealerships displayed revised prices for the new face-lifted Corolla Xli/Gli and Gli Automatic models in their showrooms. As per company policy, vehicles are booked for PKR 500,000/- while the remaining payment is to be made a month before  expected delivery of the vehicle. In order to confirm  booking, dealerships enter data of the customer and his/her required vehicle in the online system provided by IMCL and generate Provisional Booking Order (PBO). This PBO is actually the official receipt which confirms that the vehicle has been booked in IMCL system and also states the expected delivery month. Furthermore, IMCL website gives the status of availability (delivery month) of vehicles of its different dealerships in the country in case someone intends to book a vehicle from some showroom.
Knowing the process, I got  a pay order issued for PKR 500,000/- on May 4, 2017; and called different Dealerships in Lahore to book the vehicle ,I was told by  all of the dealerships that :
the booking is closed and they are not bookings cars at the moment. Or
they said that they are accepting pay orders to book Corolla however they will not issue PBO and will give us their own receipt as their system is not working. They further said that in case I want to book a car, I will get delivery  in December.
In early May, IMCL website was stating that vehicles are available approximately  in all dealerships of Lahore for the month of August on wards.
After arguing with different dealership and investigating the issue further, question arises that why dealerships are  not making bookings for real customers?, in my opinion owners of the showrooms/dealerships were booking vehicles in the system either for themselves or for their favorite investors so that they earn huge premiums when the new Corolla comes in the market in August, leaving the real buyers like us to  get vehicles in the  last month of the year when the manufacturing year is about to change and  premium amount is at its lowest. Presently dealerships are issuing their own receipts to confirm delivery of vehicles in the month of December and not issuing PBOs as their existing months (i.e. October and November) are not closed yet and PBOs of December can only be issued when October and November are closed in the system.
In the meanwhile, I found out on May 27th, 2017 that Toyota Walton Motors has opened booking for Gli and I went there to get my car booked. However, to my surprise, they said that they will book my car for the month of October only if I pay for additional 3 amounts in CASH upfront for the following items.
Extended Warranty for 3rd Year amounting PKR 9,500/-
Registration Charges of the Vehicle; registration price plus PKR 5,000/- for service charges to register vehicle on our behalf
Insurance and tracker Charges i.e. approx. 4% of vehicle price; (which is generally 2.5%-3.0% in the market).
I was told by the dealership that they are charging these additional amounts just to discourage the investors who intentionally buys huge number of new cars that ultimately leads to the increase in the premium , and to ensure that only genuine customer himself is booking the vehicle. I however resisted to pay these amounts and asked them to book my car by taking only Registration Charges .I further told them  that I am a real buyer but i am not interested in extended warranty and Insurance/Tracker from them as they are charging huge insurance premium over what is already available in the market. I told them that i have access of getting my vehicles insured from some good insurance companies at very competitive pricing and thus i am not interested in getting my car insured through them. However to my utter  surprise they refused to book my vehicle saying that this is the policy made by their owner and hence this is beyond  their control to book my vehicle without charging these amounts in cash. Recently, other Toyota Dealerships have also started  taking bookings , and all of them are booking vehicles only if the end customers pay all the 3 additional amounts mentioned above.
Initially, i thought that probably IMCL has given targets to its dealerships to sell an extended warranty to end customers, and that's why they have made it mandatory to purchase extended warranty with the vehicle. However for the Registration and Insurance, I believe that they earn commissions from the insurance companies as well as earn commission on Car Registration  with themselves as car registration is hardly a 15 minutes exercise at Motor Registration Authority office at Walton Road (next to Toyota Walton Office).
In order to register my protest and inform IMCL  about what their dealerships are doing with end customers, i wrote an email to Customer Relations Office of IMCL on 28th May, 2017 and got their reply on the very next day that they will put up my concerns with the concerned dealership and will make sure that my car is booked without Extended Warranty and Insurance/Tracker Charges. Even  IMCL has not been able to get my car booked from any of their dealerships in Lahore till now. They commit me every other day that my problem will be addressed/resolved in next 2-3 days but  the problem is not settled as no dealership bother to call me  and i am standing right there where I was a month and a half ago.
In a nutshell it is a mafia exploiting the need of real car buyers for their personal interests and benefits, consequently promoting black economy for their exponential returns. It is desired by the common people including myself that the Regulators should  intervene and help us "the real buyers" to buy cars at ex-factory prices so we can get rid  of paying huge premiums for getting spot delivery as well as on booking cars to get deferred delivery.
(Disclaimer) The views and opinions Expressed in this article are those of the  author and does not necessarily reflect the official policy or stance of PakWheels.