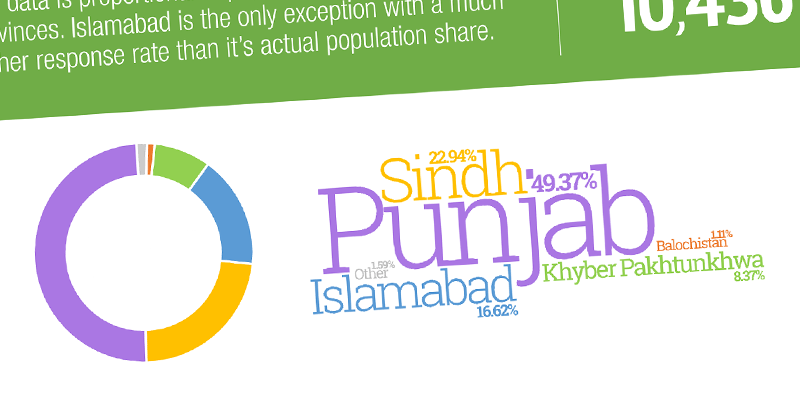 Pakwheels carried out a survey earlier this year, with a total number of respondents over 10k. One of the categories for questions was about what car brands do people drive out there – and stuff related to that. The results were sort of expected.
Brand's Market Share:
Because we only have the "Big Three" companies with dealerships –Suzuki– being the cheapest, covers 33%, Toyota 28% and Honda has a market share of 25%. The remaining 14% cover all other brands. The order makes sense when you get to see people's perception of overpriced brands, which puts Honda to the most overpriced brand, Toyota after that, and Suzuki at the third, exactly the reverse order.
Model's Market Share:
A bit surprising, but most of the cars out there are Corollas, 13%, while it's rival, Civic has 12% share. Now that may sound good to Toyota people but only for a while, because that 13% consists the 1.3, 1.6 and 1.8 Liter variants, and a general perception is that 80-90% of Corollas out there are 1.3s, so in this regard, Indus people should be worried about what they're doing wrong. More surprising facts, Suzuki Mehran and Honda City have same market share, 10%, which again is a very, very good news for Honda people because Mehran comes in different price ranges, some of them making less than one-third of what you would pay for a City. Other car models cover 47% of the market.
Popularity:
"Expected" is what you would say, because Toyota is the most popular brand among Pakistanis, Honda after that, and Suzuki at third. The reason for Toyota being so popular is their workhorse –Corolla– which has been present in our country for more than four decades, maybe five. This car is so popular that I have seen people who know "Corolla" as the company rather than Toyota.
Uniqueness:
Once again, Honda takes it. The results show that Honda makes the most unique cars, Toyota, the second most, and Suzuki, again comes at the third rank.
Quality:
Someone may say that Toyotas are more durable, but when it comes to quality, people's opinion is that Honda is the most high quality brand in Pakistan. Toyota, though, comes at the second, and third, surprisingly, goes to Mitsubishi.
Surveys like these could really help car buyers, sellers and automakers in various ways. The companies can get a better insight of what people think about their brand and where do they stand in the local market. The reason why we see only Toyota, Honda and Suzuki is the same, "Big Three". Had there been more dealerships out there for the middle class, more interesting and surprising would've been the response, and this goes to the officials out there controlling the taxation and other stuff like that, keeping other automakers from establishing dealerships.