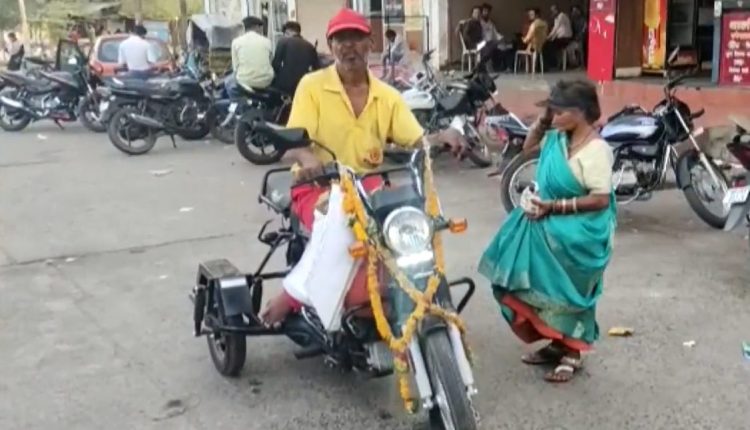 Beggar Gifts His Wife Bike Worth INR. 90,000
Expressing his love, a beggar from Madhya Pradesh, India has gifted a small motorbike to his wife worth Rs. 90,000 (Indian rupees).  According to Indian media, the incident took place in Amarwara village where the beggar named Santosh Sahu gifted his wife a moped – a small bike.
Sahu is a person with disabilities and begs for money on a tricycle. And his wife, Munni Sahu, pushes his tricycle as they beg together. Due to terrible conditions of roads, his wife will fall at times trying to push Sahu's vehicle. So, to resolve Munni's problem, Sahu decided to buy her this bike.
#WATCH A beggar, Santosh Kumar Sahu buys a moped motorcycle worth Rs 90,000 for his wife Munni in Chhindwara, MP

Earlier, we had a tricycle. After my wife complained of backache, I got this vehicle for Rs 90,000. We can now go to Seoni, Itarsi, Bhopal, Indore, he says. pic.twitter.com/a72vKheSAB

— ANI MP/CG/Rajasthan (@ANI_MP_CG_RJ) May 24, 2022
Video Credits: ANI
The couple begs at bus stands, mosques and temples and earned up to Rs. 400 daily. Despite that, Sahu started saving every day to buy the bike for his wife.
And now both begs on their new vehicle around the city, stating that they can now even travel to other cities too.