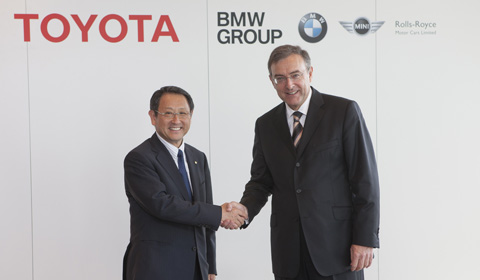 BMW and Toyota to develop a new sports car together
Toyota's president, Akio Toyoda has time and again displayed how he loves motorsports but it was the first time a couple of years ago when he showed some signs that Toyota cars are missing the fun factor in them and that was the first hint that Toyota is indeed working on a fun cars like the Toyota Corolla Trueno or Hachiroku 86 as its been popularly.
Toyota recently announced that it's TMG division based in Germany will operate like Mercedes has its AMG division and BMW's M to pump up their cars similarly. The first one was LS460 and the Rally Edition of Toyota Vitz.
But before that announcement came the product of the most talked about collaboration between two Japanese automakers of probably this decade, Subaru and Toyota had worked together to make the GT-86/FR-S/BRZ and it was an instant hit and all parts of the world.
Now, Toyota has announced another collaboration with a German great this time. BWM and Toyota are going to work together to build a sports car.
Their relationship had already begin on collaboration on Hybrid cars and now, they've decided to take everything a step further.
BMW CEO Norbert Reithofer and Toyota President Akio Toyoda signed at BMW's headquarters in Munich an initial agreement aimed at long-term strategic collaboration in four fields: joint development of a fuel cell system, joint development of architecture and components for a future sports vehicle, collaboration on powertrain electrification and joint research and development on lightweight technologies.
Reithofer said: "We aim to further strengthen our competitive position in sustainable future technologies. Together we have a great opportunity to continue leading our industry through this transformation."
Toyoda added: "Toyota is strong in environment-friendly hybrids and fuel cells. On the other hand, I believe BMW's strength is in developing sports cars. I am excited to think of the cars that will result from this relationship."
Speculation has already begun and rumor mill is geared up but the people, are chanting for the next Supra to come out of this relationship.