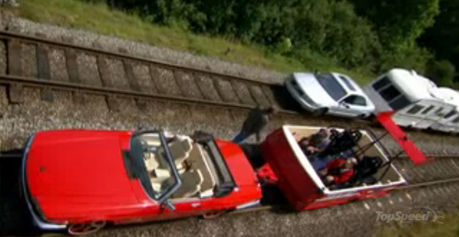 BMW to build public train cars
If you've watched the episode of last Sunday's Top Gear than you might understand where did the inspiration for this idea came to BMW. Ultimately, BMW Group DesignworksUSA has been chosen by Bay Area Rapid Transit (BART) to build and design a whole new fleet of train cars expected to enter service by 2017.
DesignworksUSA's scope of work for BART's Fleet of the Future includes the train cars' exterior, which will convey a style and shape with unique signature expression to the exterior passenger information system. Inside the new train cars, DesignworksUSA will create the main interior design features of the new train cars, and incorporate the controls in the design of the train operator's cab.
"DesignworksUSA is invigorated to join BART in their continuing commitment to delivering a premium ridership experience," says Laurenz Schaffer, President, BMW Group DesignworksUSA. "We are passionate about creating innovative solutions for mobility in increasingly dense urban centers such as the Bay Area, and we are excited as our collaborative partnership with BART gets underway," Schaffer continues.
BMW DesignworksUSA will set of to design the exterior, interior, and train operator controls for your ultimate riding pleasure.