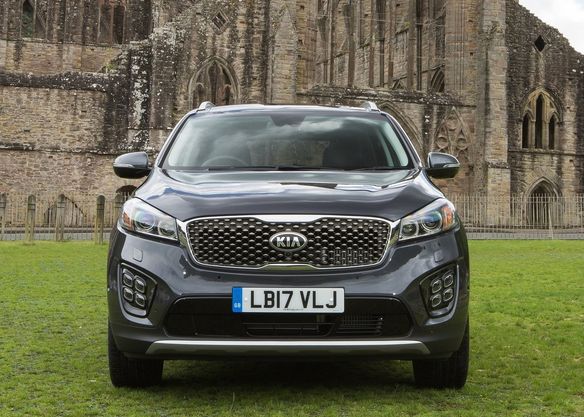 BREAKING! KIA Sorento is Coming to Pakistan
We reported a few weeks ago that KIA is planning to introduce KIA SORENTO, which is a 3 row 7 seat utility vehicle. It seems like things are getting clear about KIA Sorento, and that is; we will see the older 3rd generation Sorento and not the newly released 4th generation as in international markets.
Although the company revealed 4th generation earlier this year with sales starting recently in specific markets, the 3rd generation is still for sale in many markets overseas. There is already a lot of hyper in Pakistan about upcoming Sorento and confusion if we will get the new 4th generation or an older 3rd generation.
KIA Sorento CBUs in Pakistan: 
As per Pakistan import data, it reflects that KIA Lucky motors imported three units of KIA Sorento. Two units with 3.5LV6 while one unit with a 2.4L engine. All three vehicles are FWD. Although the 17 digit VIN usually gives us some information [it's like a DNA of a car] if you decode. I tried interpreting it as well but could not crack it, and the reason being, the VIN [vehicle identification number] are reported to the motor vehicle agencies in certain countries for verification at the time of registration. When companies paste VIN on the vehicle, and before it leaves the assembly, they report it to the registration agencies. These three units might not be bearing a real VIN because these are not supposed to go for sale commercially / registration and are imported for development of CKD locally by Lucky Motors. We can call these demo units for the development of local CKD units.
The position 4 to 7 on VIN normally tells the class/ generation and / model of the vehicle. Although maybe the VIN might not be real/actual but we do see that two reported VIN on the import data share same alphabets "PGGU", which means these [ 2.4L and 3.5L V6 ] are identical generation. The 4th generation Sorento is NOT available with a 2.4L engine, so we can easily assume that these CBU units are not 4th generation. The 3rd generation Sorento is/ was available with a 3.5LV6 engine option as well.

KIA Sorento 4th Generation: 
YES; The new 4th generation will be available with 3.5LV6 option, and earliest would be in Australia and only as FWD early next year, but that model for right-hand drive market and with 3.5LV6 has not yet gone into production. So, the possibility of a 4th generation CBU import by Lucky motors with 3.5LV6 version are slim. I personally think that all these three CBU demo units are the "3RD GENERATION". I can still put lesser probability for another scenario; maybe Lucky Imported both the 3rd and 4th generation, but again it does not make sense to import two different generations.
Keep in mind, these CBUs got clearance in 3rd week of October, and that means that these units left for Pakistan as final destination couple of months ago via sea cargo and possibly August 2020 or earlier. Back in August the 4th generation Sorento production just started in the US as LHD while Korea was also making LHD units for local markets while Sorento was not yet officially for sale in any RHD drive markets. This further complicates the availability of an RHD 4th generation Sorento for KIA Lucky for import.
We can expect a Pakistan assembled Sorento for sale in the next few months, possibly First quarter of 2021.
As of VIN, I wrote a detailed blog on it almost seven years ago, if you are interested, you can read it here:
https://www.pakwheels.com/…/what-is-vin-use-benefits…/
3rd Generation: Possible Option for Pakistan: 
If we agree and assume with current circumstances that 3RD generation Sorento might be the route by KIA, Let's go over what we know for 3rd generation. The 3rd/UM generation Sorento is built on Hyundai-KIA's shared platform known as "Y6". This base is also the basis of previous-generation Hyundai Sonata, KIA Optima, Grandeur, the 3rd generation Carnival [ as sold in Pakistan ] as well the Hyundai Santa FE [ as sold by Nishat as CBU ].
KIA revealed 3rd generation of Sorento in 2015 as the model year 2016, and later it got a face-lift in 2018. The 3rd generation was designed and developed in Korea but had major input from European & US KIA design team. The Tiger-Nose grill, which is the brand's identity on the front with sweeping projector headlamps gives the vehicle brand new sporty and premium touch comparing the previous/ 2nd generation. The rooflines slopes C-pillar onward. LED taillights are part of higher trim / variants, and basic models have regular halogen combination lamps. Overall, it's a handsome looking SUV and feels and look premium inside and out.
As for dimensions, It is 189″ long, 74.4″ wide and height of around 66″. For reference, the Sportage is 176.5″ long,73″ wide and 64″ high. As of ground clearance, the Sorento sits at around 7.3″ while Sportage is 6.7″. To understand the footprint for a comparison, Fortuner is 188.7″ long, 73″ wide, 72.2″ tall.
Mechanicals of KIA Sorento: 
Depending on markets, the 3rd generation Sorento is available in different engine options like 3.3LV6, 3.5LV6, 2.4L MPI, 2L Turbo GDI, 2L Diesel and 2.2L Diesel. KIA Lucky motors imported a 2.4L as well as a 3.5LV6. I can easily assume that a Pakistani version will for sure have a 2.4L MPI inline 4 engine. This engine is similar and related to the 2L engine currently offered in Sportage but with higher displacement and some slight differences. I don't know the exact power figures, but it is somewhere around [email protected] and has torque figures of 220NM @4000.
As of the 3.5LV6, this engine makes around 276HP and 336NM of torque. I think KIA might have imported CBU Sorento for their own research and maybe they offer their Sorento only with the 2.4L engine variant. Perhaps they offer both the 2.4L as well as 3.5LV6, but it's early to say.
As of transmission, it will be a 6 speed automatic. The 3rd gen Sorento is front-engine front-wheel drive as standard while AWD is also available. Although Lucky Motors imported CBU units as FWD only, we can expect both FWD & AWD options. It uses the Dynamax AWD system as in the Sportage with locking central differential. As of suspension, it is similar to what we have in Sportage; MacPherson strut-front while independent multilink rear. EPS and disc brakes obviously will be available as standard and option of 17 or 18″ alloy wheels.
Interior of KIA Sorento: 
As for the interior, it was the responsibility of the KIA European design team from Frankfurt. It has soft-touch material with simple driver-centric controls. Although for 2015 it was a simple nice appreciated design, but nothing looks fancy in the 3rd generation comparing with 4th generation. You can have a feeling of Sportage interior as far as the dashboard is concerned. Obviously like Sportage, KIA will offer steering wheel controls, cell phone connectivity, dual-zone climate control, 7″ or 8″ infotainment with android auto/Apple CarPlay integration, cruise control, rain sensor, power-folding side-view mirrors. 
Power driver and passenger front seat, while 40/20/40 second-row seats and 50/50 split third-row seats will be available. We can expect both leather and fabric seats and option of Panoramic roof as well as a power tailgate. As of safety, ABS, downhill assist, hill start assist control, VSC will be available along with the two frontal airbags. I hope side curtain airbags are also part of the package.

Why 3rd Generation? 
Earlier this year, KIA globally introduced an all-new 4th generation Sorento. The company has built Sorento on an all-new platform which it also shares with the recently revealed Grand Carnival. The new 4th generation Sorento is produced only at three locations for global markets, Vietnam, Korea and US and deliveries just started in specific markets. All these locations feed not only the local market but also KIA own manufacturing facilities.
Being an absolutely new vehicle with production limited currently only @ 3 locations globally for the 4th generation, I personally think that KIA Pakistan might not be bringing a "FOURTH "generation Sorento and instead, we will see a local assembled / CKD "THIRD", ended overseas. For the development of any new model, it takes a lot of time which includes plant upgradation, supply chain and other factors, Furthermore, if a model is just released overseas, offering the same in a local market like Pakistan, is not possible.
3rd Gen Vs. 4th Gen: 
Keep in mind the 4th generation Sorento is for sale in very limited other markets other than Korea. USDM model will not be for sale sometime in December 2020. Although it is made in the USA, while the Australian market recently announced the Sorento and it will not be for sale till December as well. Australia gets Sorento as an import. As a general knowledge, the two facilities producing Sorento are also export hubs with 400K [ US] , 560K [ Korea ] unit capacity per year.
In brief, it's not impossible to generate a model inline with a global model in Pakistan, but it's a complicated and expensive equation especially keeping in mind that local KIA operation is an assembly line with a license, NOT an actual KIA own manufacturing plant where things can switch quickly and smoothly. Pakistani automotive industry is based on CKD assembly, and these knockdown kits are not easily and quickly available for a model, which just started production overseas too only at limited global locations.
We know the green field incentive on tax breaks as per current auto policy is to lapse by June 2021, KIA would like to avail the opportunity and bring a model NOW so they can price it competitively against the competition. After June 2021, most duties % on import will come into force so, waiting for a newer generation and developing a 4th generation might not be an option because of time constraints.

Final Thoughts: 
Lastly, as of price nothing is sure, but I think it will undercut the Toyota Fortuner. We can expect two variants of Sorento and price around +/- 7 Million. We should keep in mind that the Sorento is not for off-road adventures and not your typical off-road vehicle. As far as road comfort and dynamics, Sorento will behave much better compared to the Fortuner.
It can give a tough time to Fortuner, keeping in mind the price and features it will carry. The only downside for Sorento could be the "DISCONTINUED" model concerning the rest of the world, but at least it will bring some competition in the market.
Additionally, the success of Sorento will also depend on after-sales service, parts availability and cost of maintenance. The main point of discussion among Sportage owners is the expensive spare parts and high maintenance cost. Expensive service/parts cost, especially after a lapse of warranty can cause an impact on the resale value as well. Keep in mind, KIA and Hyundai parts availability from third party vendors like even in the used parts market might not be easy or cheap in other words parts availability might mostly remain exclusive to dealerships.
As side info, KIA Pakistan will stop taking any booking for Carnival anytime, which is currently an import. The PK version of Carnival has stopped production overseas because of the arrival of the newer generation. KIA PK will fill this carnival price bracket with the introduction of Sorento. We will share more details as soon as we have it.
God knows, maybe KLM blesses us with the 4th generation, a much better and refined vehicle and I hope that happens, but unfortunately some ground facts does not support our requirements.
Share your thoughts ??