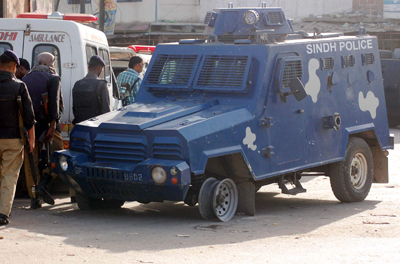 Bullet and bomb proof vehicles used by Police during Lyari operation are fake
Corruption has brought the whole country into a complete disarray, the country's deficit keeps on increasing due to this very fact and trust on public organizations is as good as anyone would trust a trigger happy mad-man with a loaded gun.
In the latest report published by The News, new horrible accounts of corruption have been revealed which cost the lives of 13 policemen and the failure of the entire Lyari operation of May 2012.
Not only Government's policy to fight militancy and terrorism has been damaged, but a case of corruption and gross negligence which goes to the top has to come attention after low-caliber bullets pierced through these bullet proof vehicles.
At least 18 vehicles launched in the operation were hit by ordinary bullets which pierced them, making holes and killing or injuring the policemen inside. One type of APC cost Rs20 million each while the other was Rs54 million per piece approximately.
All the tax payer money has been lost because these bullet proof vehicle could not withstand even ordinary bullets.
The APCs were provided by a Pakistani company, Heavy Industries, Taxila (HIT), and were demanded by the Sindh government to fight the heavily-armed terrorists and urban gangs of criminals.
The basic weakness of these APCs, also supplied to the Punjab and Khyber Pakhtunkhwa police, was that its protective shield was too thin and fragile and could not even stop low-caliber bullets as experienced during the Lyari Operation.
Named "Muhafiz," the APCs proved a deadly embarrassment for the police and after more than seven were destroyed by the armed gangs while one ambushed and snatched killing everyone inside and later was hanged down from a building in Lyari to add further embarrassment. Shortly thereafter, an urgent joint investigation was launched.
"Talha", the chain-mounted tracker vehicle, had its own problems – again indicating how public money close to Rs04 billion allocated for such purchases was brutally misappropriated, while exposing the police to the dangers of death and injuries and endangering the entire counter-terrorism effort in urban centres.
 One senior police official told The News: "With such vehicles carrying the counter-terrorist staffs, the entire security of the country is at risk. This scandal has also put the standard of tanks being produced to fight the peripheral counter-terrorism war into doubt."

The JIT report revealed two blatant admissions, apart from others, by the Sindh Police as well as the manufacturer of these vehicles: (a) The standard of these vehicles was criminally poor; (b) unused vehicles were returned to the manufacturer for upgrading at government cost, which runs into tens of millions of rupees.
Furthermore, HIT which declined to comment on this issue also builds tanks for use against the war on terror and after this scandal came to light, it's hard to trust these tanks either.
However, HIT has promised to repair all these vehicles for a fees but bullet and bomb proof vehicles which need repairing and welding are as good as hiding under your blanket when you're afraid.