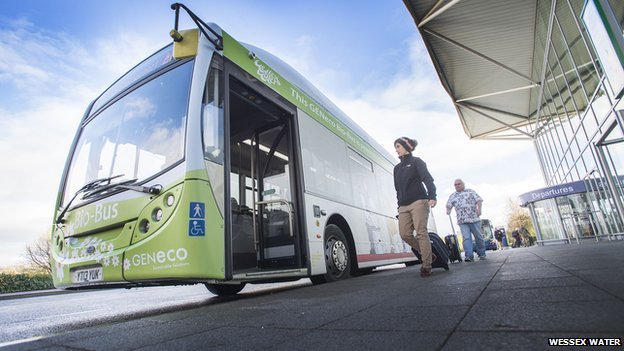 This bus can run for 300 kilometers with the waste of 5 people
With the advancements in science many things have become reusable, just like the human wastage. Who would have thought that the feces of humans can give an eco-friendly bus service to humanity.
A 40-seater passenger bus is being run on Biomethane gas which it gets purely from human feces, after a going through a complete process.
This Bio Bus is now operational and has started services between Bristol and Bath in the UK. It is the first ever Bio Bus on the roads which is giving proper traveling services. This eco-friendly Bio Bus can give a mileage of approximately 300km on one tank of gas and  if we translate it into human readable language then it means it can run for 300 km with the processed annual feces of 5 people.
The Bio Bus is being operated by a company Bath Bus that is providing shuttle services to people from Bristol Airport to the city center in Bath.
Here are some of its characteristics
An annual food and sewage waste of a single person can fuel this bus for 60 kilometers
Its engine is very similar to a conventional diesel bus engine
The biogas in this vehicle is stored in a tank that is on the roof of the bus
Biogas stored in the tank  is compressed and the tank is very similar to a CNG cylinder
The carbon footprint of the Bio Bus is 30% less than a conventional diesel bus