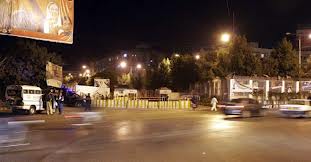 Buy the road infront of Bilawal house if President wants to block it: Judge
Residents of the area and citizens of Karachi have been quite vocal about President taking over he road, erecting a massive 50-feet wall on the green belt and then shutting down the road completely by putting gates on either side of the road.
"Ask the president to buy the land, if he is so concerned about his security," remarked Justice Sarmad Jalal Osmany while hearing the implementation of Karachi violence suo motu recommendations given a year ago.
The Supreme Court further said that blocking public roads violates Article 9 of the constitution, adding that the Article 9 ensures a citizens right to life.
Court also showed it's displeasure on the closure of the road from Shaheen Complex to the Arts Council roundabout. In reply, AIG Bashir Memon gave a unreasonable response towards which court had a cold reaction and said that it was blocked to protect Home secretary and their IG.