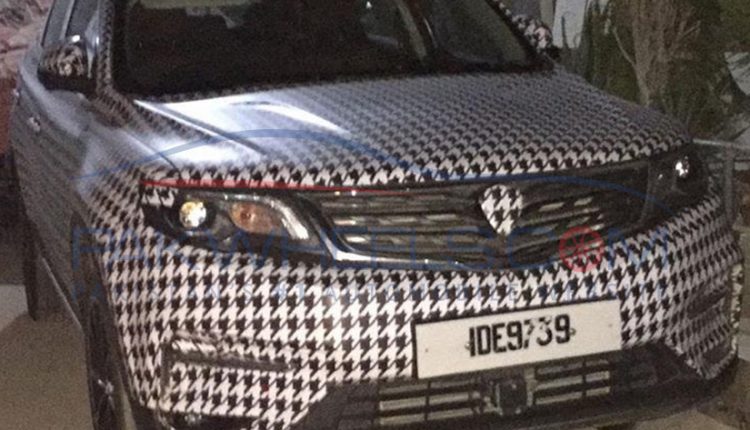 Camouflaged Proton X70 SUV Spotted!
Proton has been testing X70 SUV for some time now in Pakistan to check its viability.
A few months ago, Prime Minister of Pakistan also received an X70 from the Malaysian government. In 2016, the X70 was introduced in China, after which it has gotten a facelift. In some markets, the same SUV is sold under the name of Geely Boyue.
Pakistan is going to receive X70 as CBUs (fully-assembled) from Malaysia. Once officially launched, the X70 will compete directly with Kia Sportage and Hyundai Tucson. Recently, new photos emerged of a camouflaged X70 being tested on the roads. This can depict that Proton is nearing towards an official launch of this stylish SUV in Pakistan.
See the pictures below:
Exterior & Interior 
Proton X70 is a c-segment SUV and has similar exterior styling compared to the Geely Boyue. The main difference is that of the front grille and the headlights that resemble the body and eye of a tiger. The front grille is covered in chrome to give this SUV a premium look. In base models, you get DRLs but only halogen headlamps. As you move up the model lineup, you get LED headlamps that are adaptive.
At the rear, you get a rear windscreen wiper, high-mounted brake lamp in the rear spoiler, dual chrome exhausts. The front bumper has fog lamps, and the rear bumper has vertical reflectors. This is a five-seater SUV with no option to convert it to a seven-seater one.
For the interior, you will be provided with the options of fabric, simple leather, and Nappa leather on the premium model. Only the top-of-the-line variant will get a panoramic sunroof.
Other interior features include steering-wheel controls, 8-inch touchscreen infotainment system, a power-adjustable seat for the driver, push-button start, power windows, power steering, power mirrors, welcome lights, power-folding mirrors, dual-zone climate control with rear vents, day-night rearview mirror, and an air purification system.
Base models will probably get 6 speakers; however, premium models will get 8 speakers with subwoofers. Ample cargo room is available when you fold the second-row seats.
Performance 
The Proton X70 will be powered by either a 1.5L turbocharged engine or a 1.8L turbocharged engine. In Malaysia, the 1.8L engine is being offered; however, it is being speculated that 1.5L engine will come in Pakistani variants.
The 1.5L engine produces around 174 to 177 bhp and 265Nm of torque. This engine will be paired with a 7-speed dual-clutch transmission.
Both the engine and transmission are designed and engineered by the Geely-Volvo joint venture. Owners may have to run their X70s on premium fuel; however, Proton must tune this engine to befit the normal fuel for the more economical ride.
Some safety features include Anti-Lock Braking System (ABS), auto brake hold, EBD, 6 airbags standard, traction control, hill assist, and brake assist. The premium model will have a 360 view camera system to help in parking in tight spaces.
Read in detail regarding what we know so far about the Proton X70
Stay tuned for more news on the Proton X70 SUV and drop your thoughts in the comments section below.
Images Courtesy: Misbah Khawaja