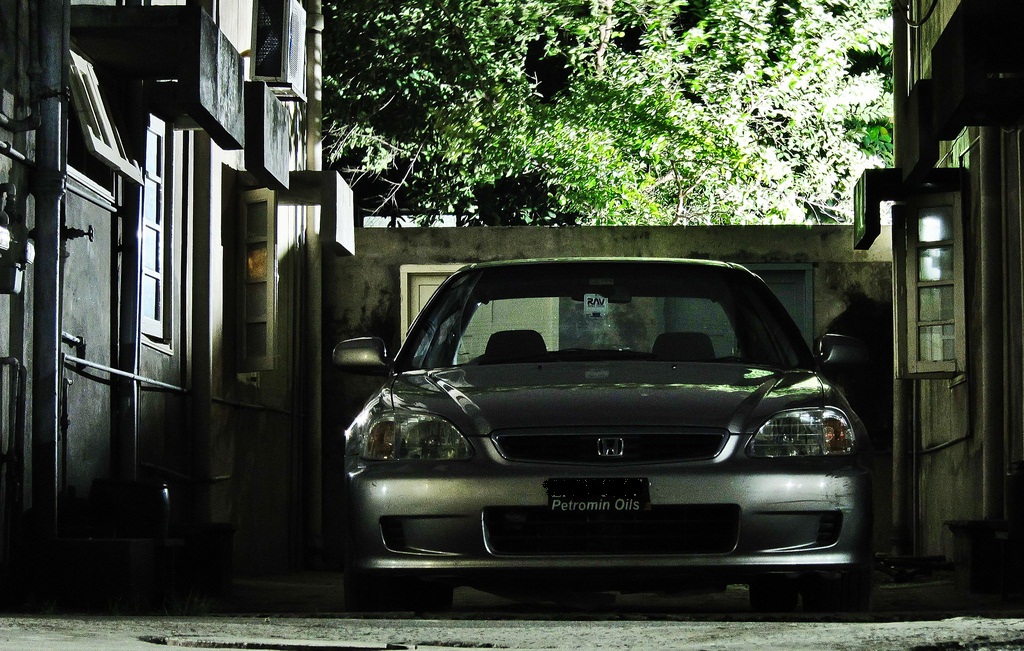 Car ownership diaries: From Alto to Audi
Chapter 1 – Awe
"Come any closer and I'll annihilate you!" I said in my head as the open rikshaw loaded with T-irons swirled from the left most lane to the middle lane of Jail Road, Lahore. I was in the fast lane in my brand-sparkling-new Suzuki Alto VXR AC/CNG.
I had just bought the car and was taking it back home to Faisalabad, and to me everyone seemed to be driving with one intention; to scratch my car. Something was wrong with these people. I later understood this scratch-phobia which comes as a bi-product of buying anything brand new – be it a new pen, a new watch, a new mobile phone, or a new car.
Once I reached the motorway, I calmed down and started to 'enjoy' the ride. I had driven cars earlier, Corolla 74, Nissan Cherry, Suzuki Mehran, Honda City, Opel Vectra, Lada 9, but this was special. This was my own.
For the next 2 years this Alto was with me wherever I went. It would start whenever I turned on the ignition, and it never broke down but that's about it. It was sluggish, it barely accelerated on CNG, the cabin noise was immense, and the petrol consumption was that of a tractor, the rear seating space was cramped, and there was no luggage space because of the CNG cylinder in the back.
Then I took it to my village in Kashmir and everything changed. It swallowed the hilly miles to the heights of Banjosa like nobody's business. From Banjosa to Rawalakot to my Village near Trarkhel, it didn't miss a beat.
I still believe Suzuki Alto is the best locally available cars for rough roads. For city commutation there are wiser choices though.
Chapter 2 – Hey You!
Toyota Corolla 2004, 2.0D and wait for it – White: The combination which makes you feel like a fugitive at large. You're stopped at every single check post, the car is searched for unknown material, you are frisked and when no bombs or alcohol or drugs are found, you get to see that disappointing "how is that possible?" look on the policemen's faces.
The car would skid if you wanted to suddenly brake. You'll be scared to wits if you're even remotely fast on a turn. On the plus side, the car doesn't know puddles, speed-breakers, ramps, footpaths. It can be loaded with 7 passengers and though it would look hideous, it will keep going, and even if the springs break, there are high chances you'll find them within 50 meters around you irrespective of where you are.
And last but not least – the resale. The car was sold within an hour of thinking about selling it — on a public holiday — to the only showroom open in the whole DHA car market, at a price higher than the purchase price. Beat that Samsung!
Chapter 3 – Learning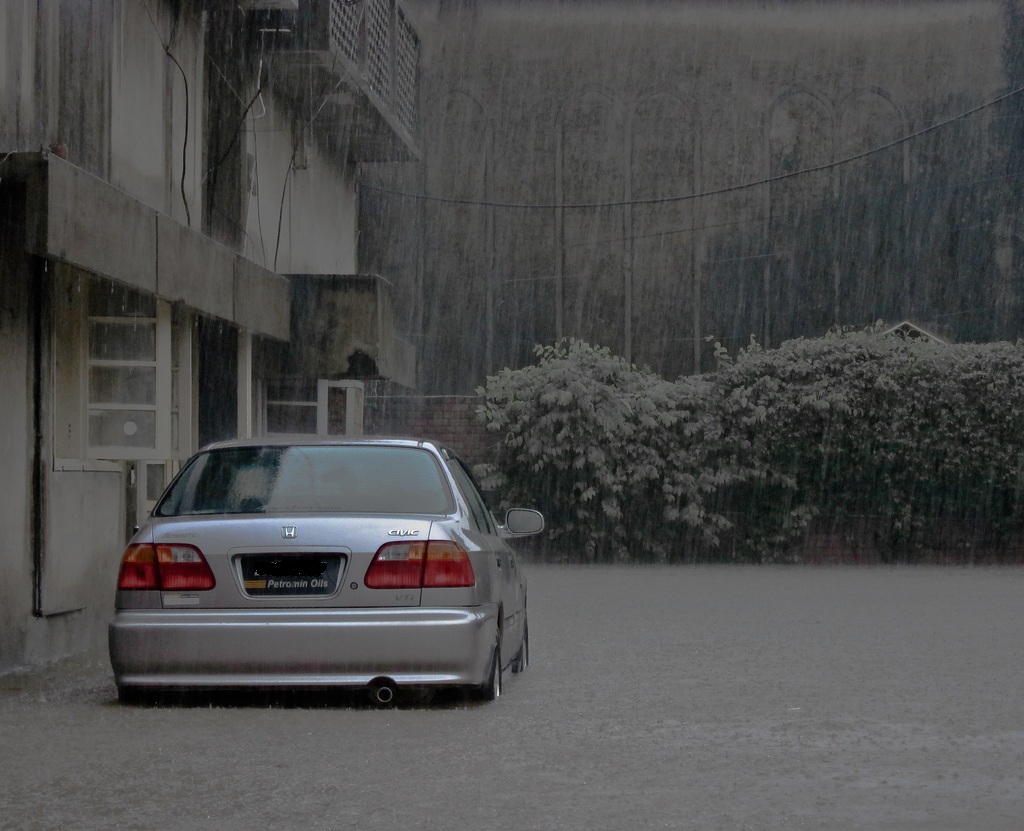 For one whole year, every single day, I regretted the moment when I purchased my 7th Gen Civic EXi, until the day I sold it.
It was a surprisingly cheap deal, and there was a reason. I'd say there were 10 reasons. The car had issues with everything – from suspensions to engine to electronics to chassis – everything kept breaking. From the 13 months I kept it, I spent 11 months at the mechanic fixing it. I can safely say that 80% of what I know about cars, I owe to this particular Civic as I saw it been taken apart and fixed a dozen times.
For the brief moments it worked, it was fun. It was fast-ish for my standards, and it stuck to the road at speeds I couldn't comprehend, and it was nippy.
It taught me if a deal is too good to be true, it probably is. It taught me that dealers would defy the laws of economics to prove that you're buying a great car. And that Hondas are to be kept with care, never buy an abused Honda.
But most importantly, it somehow woke up the car enthusiast inside of me, just in time.
Chapter 4 – Ze Germans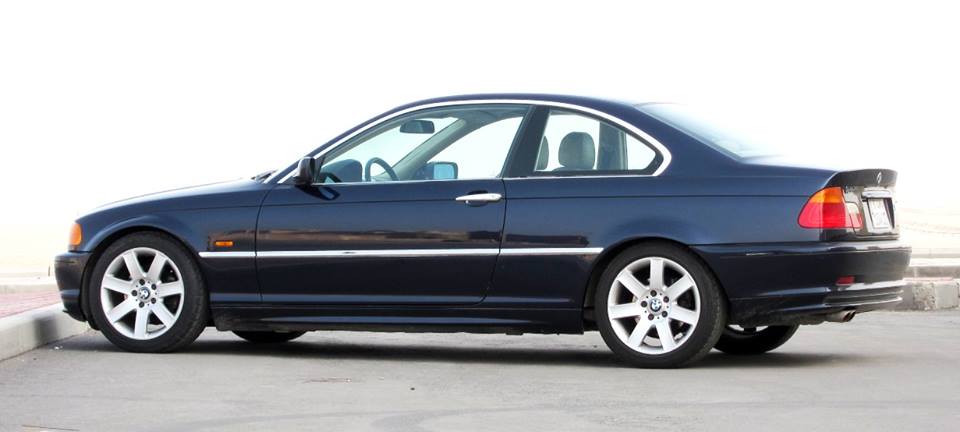 When I said 'just in time' above, I meant it. There are few better places for car enthusiasts with limited money than Kuwait. And I had just shifted to Kuwait.
My first buy was an E46 inline 6 Bimmer Coupe, for less than the price of a 10 years old Suzuki Mehran. And boy what an experience!
RWD, DSC off, 200 odd BHP and 1.5 tons of pure raw fun. I can't recall taking an actual u-turn on it. You tilt your steering by 30 degrees, floor the paddle and let the rear wheels make the u-turn for you.
With the DSC On, it is so stable you can exit the highway at scary speeds and read a book at the same time.
The car however had check engine lights flashing every two days for no apparent reason. After a while I learnt to ignore them and they'd go away.
But what I couldn't ignore was the way people looked at me – the look was a gaze-equivalent of the middle finger. Many people hate BMW drivers, I can't comprehend the reason. I am pretty sure going sideways on busy turns has nothing to do with it.
 Chapter 5 – Topless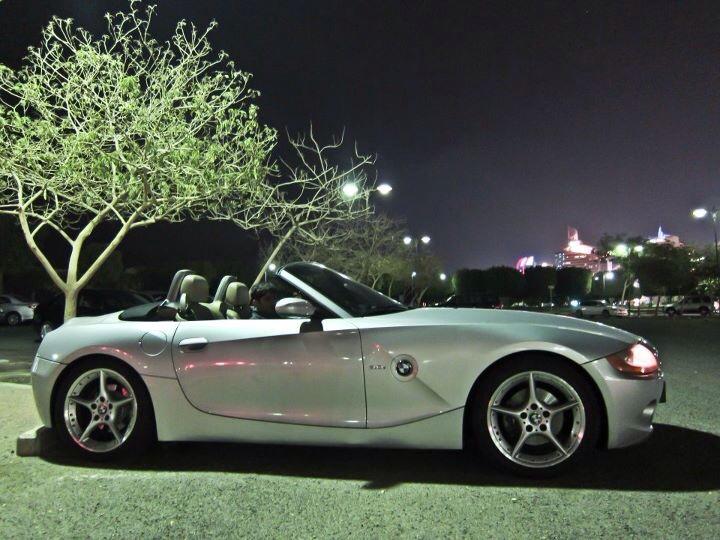 My love for Bimmer was growing and the next thing I know, I was driving a chipped and modded Z4 roadster. I never dyno checked it, but I was told it had around 300 horses. Combine that with a lightweight body and you get from naught to 100kmph in a little under 5 seconds.  With the really long bonnet, you're actually sitting between the rear wheels and when you take a turn, you're merely rotating around your axis.
The car was fun, but it had a plasticky interior which squeaked a lot, and with those 18 runflats and super stiff suspensions, you felt the most harmless of bumps send a sharp thud to your head all the way up through your spine. As a weekend car it was great. But as an everyday car? Not really.
Chapter 6 – Respect
Fun is fun at times, but we all get to a point where we want to be taken seriously. There are hundreds of thousands of cars, expensive, exclusive, chic, sporty, but trust me nothing commands Respect better than that 3 pointed star leading you through the urban roads.
My next car was an E class Mercedes. Coming from a modified sports roadster, it felt slow-ish. The throttle response wasn't even as great as the 3 series. The interior was boring (it was an avant-garde but still).
But it was comfortable. I have never felt as fresh after a 1200km journey with 4 mild stopovers as I did on the E Class, and I have made long journeys on some cars known for their comfort – Camrys, Grand Marques, LS460, and what not. The only car which came close to the comfort over prolonged journey was the 1998 Saab 9000, but that was a different millennium altogether.
Comfort is just a bi-product. As I mentioned earlier, respect is what Mercedes commands. There are Mercedes which can be had for cheaper than a Mitsubishi Colt, but even an old C class speaks of respect – it's an automatic statement of 'mind-the-gap'. When someone asks you what you drive, you reply with Mercedes and it does the trick. He doesn't need to listen to the whole 'Subaru…boring…Impreza…ok… WRX… I'm listening.. STI…now you're talking' to be impressed – which I'll explain in a moment.
I had to sell the Mercedes off because each time I drove it after driving the roadster, it disappointed me with its sluggishness and slow throttle response. It was unfair to the Mercedes, but it had to go.
Chapter 7 – Confusion.
So after keeping the Mercedes, I realized that being able to go fast off the line was important for me, as were the 4 seats. A friend was selling a modified WRX. I didn't get into the details, and grabbed the deal.
It was fun while it lasted, and it didn't last long when the stealership gave me a hefty bill of blown and burnt mechanics. The parts had to be imported, and it was costing me an arm and a leg.  The wise choice was to let it go.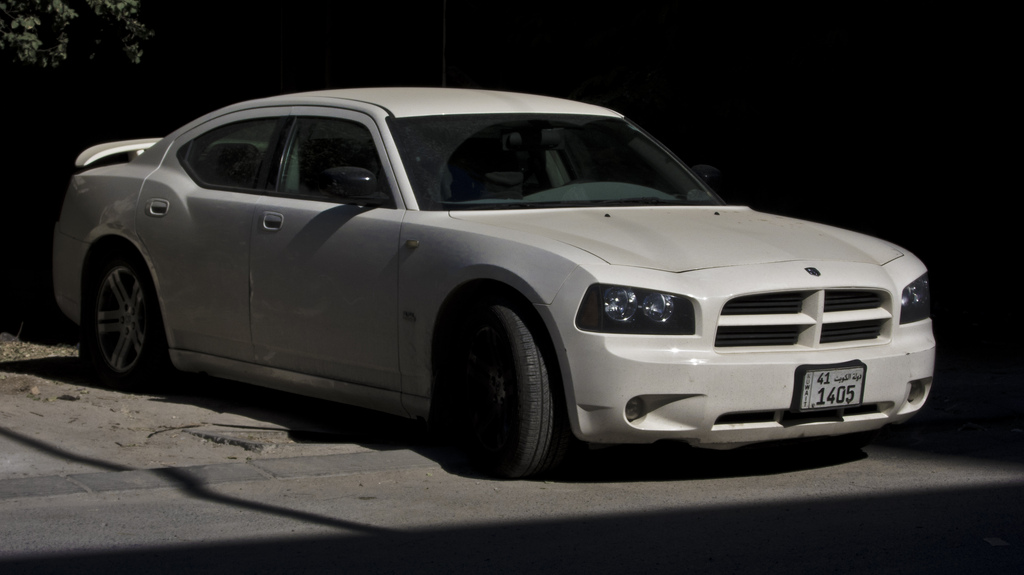 This made way for the two cars I have kept for the shortest period – 2005 Mustang GT and 2006 Charger. Let me start by saying that there's no alternative to low end torque, and the Stang GT had ample of it. Unfortunately, I was spoilt by the German stability, Uncle Sam failed to live up to those standards by a country mile and hence had to go.
Chapter 8 – Invisibility
My priorities were clear by now, atleast to myself – I wanted a 4 door Sedan which would put the odd 'sports cars' on roads to shame – on the straight well as in the curves. And at that point, the first thing which pops to almost every petrohead's mind is the ///M5. I have been in love with the E60 since the day I saw it the first time at Ulica Tret'yakovskaya, Moscow. The issue was there weren't many E60 M5s in Kuwait, and amongst the ones present, none of them were for sale. So I decided for a makeshift arrangement and find an E60 545i for the time being.
The search prolonged longer than expected and the next thing I know, I was coming home with an Audi A6 3.2L.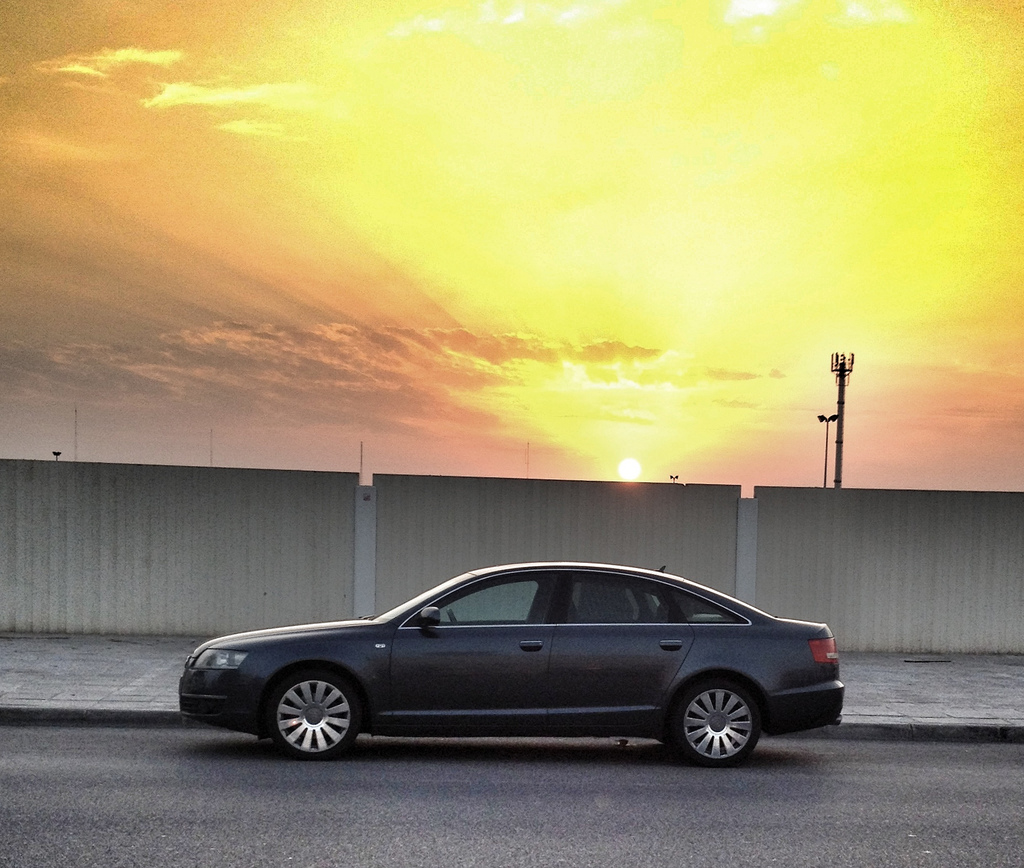 It was smooth. It was surprisingly quiet. It is the quietest cabin I have experienced in my modest car-life. And it wasn't slow. It was nippy, and it gripped the road pretty well. It had everything which a perfect car should have. And that was its biggest problem-it had no problems. Perfect is bland. It didn't have those strokes of ugliness like the E60, or the weird fascia of the W211, or the loss of control of the Stang. It was so deprived of negativity, it became boring. No one would look at it, no one would ask 'is that your car, what's the HP on that?'. No one even remotely bothered saying 'hey, we have to test drive your Audi'. It was totally invisible. It was as if I didn't exist on the road.
Then I realized that the 10 kilometer journey to my office on the Arabian Gulf Street winding along the sea was not fun anymore. Audi was just a mode of transport.
That was the day I decided to let it go and started searching for something which will make driving to the grocery store a full-fledged excursion.
The search for an E60 ///M5 continues, in pursuit to relive the feeling of 'Come any closer and I'll annihilate you' in a different perspective.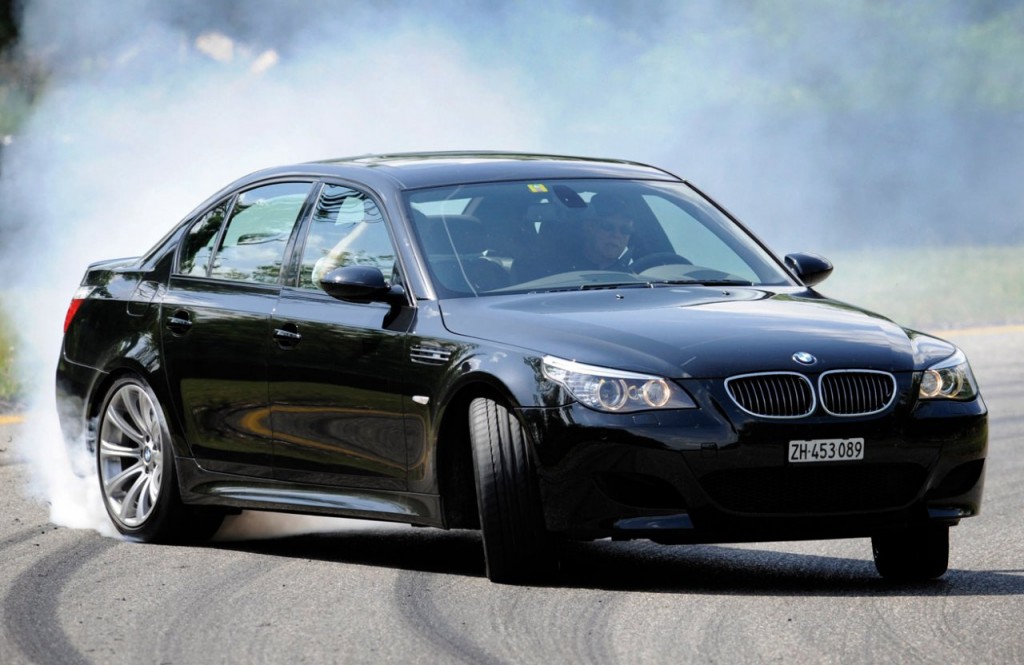 Disclaimer – I have omitted the cars driven for small periods of time – loaners, and rented cars, test drives, as I believe driving a car and keeping a car are two absolutely different things.