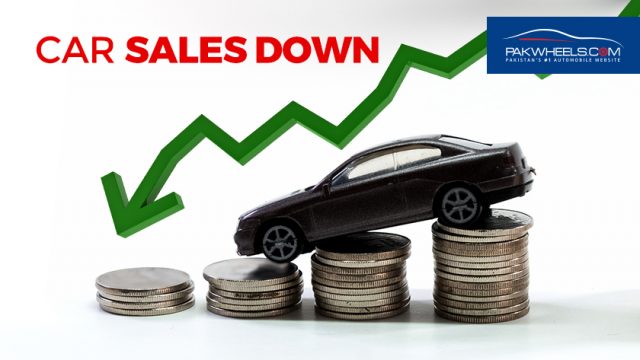 Considering the year-on-year analysis of car sales for the month of November 2019, we can see a dip in sales of approximately 44.4%.
In 2018, 15,334 units were sold in November compared to 8,524 units sold this year in November. A decline of 44.4% is a huge one and it is a cause for concern for our automobile industry. There are several factors that led to a sharp decline in car sales in Pakistan. One of the major reasons is the rupee devaluation against the dollar. This led to rapid inflation in the country and adversely affected the prices of cars and other automobiles.
Over the past year, car manufacturers increased prices many times to pass some of the adverse effects of rupee devaluation on to the customers. The end result is that masses in Pakistan are unable to afford cars which reduced their demand and led to an eventual fall of 44.4% year-on-year. 
According to the Pakistan Automotive Manufacturing Association (PAMA), car sales also dipped by 44.14% from 87,897 units to 49,110 units from 2018 to 2019 in the months from July to November. Going deeper into the statistics, cars from Honda (both Civic and City) experienced a sales decline of 86% from 3,353 units in November 2018 to only 477 units in November 2019. This is a substantial erosion of sales for both Honda City and Civic in Pakistan. Considering the months from July 2019 to November 2019, sales of Honda Cars dipped from 20,094 units to 5,885 units. 
Toyota Corolla was a little bit better off compared to both Honda Civic and City. It experienced a sales decline of 66% from 5,325 units to 1806 units in the month of November. Nevertheless, this is also a sizeable drop in sales for a popular car like the Toyota Corolla. From July to November period, Toyota Corolla faced a decline from 24,119 units to 10,090 units. The biggest decline in sales has been faced by Suzuki Wagon R which is 91% from 3,232 units in November 2018 to only 291 units in November this year. Suzuki Cultus faced a decline of 68.12% from 2,287 units to 729 units. Sales of the newly launched Suzuki Alto also dipped from 4,945 units to 3,213 units from October 2019 to November 2019 this year. 
All the numbers are sounding an alarm for the automobile industry of Pakistan as it faces a severe decline in demand for its vehicles. Corrective measures must be taken by all the stakeholders to ensure the automobile industry remains afloat and restores its rigor. Both the government and the automobile industry must draft a long-term plan that must be implemented as soon as possible. The Auto Policy 2016-2021 has attracted some new players in the market and made the auto sector more competitive. Policies like these can save the automobile sector at this crucial time. 
Stay tuned for more informative content and drop your opinions in the comments section below regarding the decline in sales of cars in Pakistan.