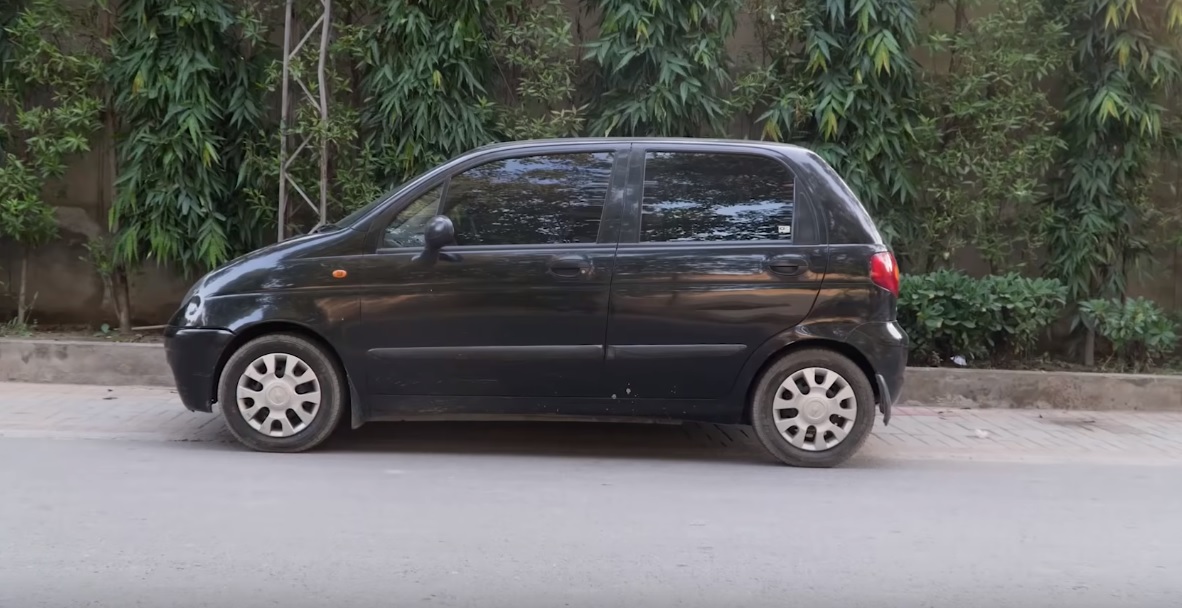 Chevrolet Exclusive/Joy Owner's Review: Price, Specs & Features
The Chevrolet Exclusive, also launched under Joy in Pakistan, is a compact hatchback that rivaled the likes of Suzuki Mehran, Hyundai Santro, and Daihatsu Cuore. The international version of the Chevrolet Exclusive was discontinued back in 2005. From 2005 to 2009, Maxis Motors produced Chevrolet Joy in Pakistan. It came with a 1000cc petrol engine. The car under review, Chevrolet Exclusive, is a Korean import with an 800cc engine. Joy also had fog lamps that did not come with the Exclusive variant. The reliability of the Exclusive is more than that of the Joy. When this car was launched in Pakistan, it faced fierce competition from cars like Suzuki Alto, Cherry QQ, and Suzuki Cultus. In some countries, the same car has also been sold as Daewoo Matiz. The engine in this car is also from Daewoo. The owner has taken this car to the northern areas of Pakistan with significant ease and comfort. 
Exterior and Interior:
The exterior design language of this car is very youthful and gives a feminine vibe. It was marketed extensively in red when it was launched. Power windows are given for the front passengers only. It also has a remote to lock and unlock the vehicle and an anti-theft system. It has power wheel steering that makes it easier to maneuver in urban areas and in tight spaces. The side mirrors can be adjusted manually from the inside using a small lever. There are many storage compartments in the interior. Cupholders are provided for the front passengers in the center console. The legroom for the front and rear passengers is also optimal. Boot space is also enough for the size of this car and can fit one big bag with a small bag easily. 
The air conditioning in this car is inferior to the Joy, which has a 1000cc engine. Due to its small size, it is a perfect car to keep in urban areas where there are tight parking spaces and congested traffic. Both the headlights and the taillights are halogen and are round in shape. There is a rear windscreen wiper, and speakers are integrated into the doors. The climate control vents are also round in shape. This car does not have an rpm meter in the instruments cluster for the driver. 
Engine and Maintenance:
This hatchback came with either an 800cc or a 1000cc petrol engine. This engine had both EFI (Electronic Fuel Injection) and MPI (Multi-Point Injection) technologies, which were ahead of their time in Pakistan. This car gives 14 km/l in the city with air conditioning and 17 km/l on the highway. A single oil change can cost you around PKR 1800. The cost of an oil filter is around PKR 300 for this car. This car came with both manual and automatic transmissions. 
See the video review below:
Verdict:
There are issues with maintaining this car, especially its engine, as it came with complicated technologies that are not understood fully by the mechanics in Pakistan. The availability of spare parts is also a problem for this car as they are only available in big cities like Lahore. Dealership network was also very limited, and dealerships were only present in Lahore, Islamabad, and Karachi. Joy can cause problems when it is being run on air conditioning. Moreover, there are issues with the ground clearance of both the Joy and the Exclusive. 
Stay tuned for more review-based content. Drop your opinion in the comments section below.