The last year ended with great opportunities for people attached to the automotive sector in Pakistan. If we look at the first six months of the current fiscal year, we will find that there has been a positive trend throughout, and the trend seems to continue for the second half as well. According to the industry experts, if the rate of sales continues at 15pc, then a total number of sales can cross 200000 units by the end.
89,824 number of units have been sold in the July to December 2015. This is an incredible increase of 53pc compared to last fiscal year's first six months. According to PAMA, 58727 units of cars were sold in July to December 2014.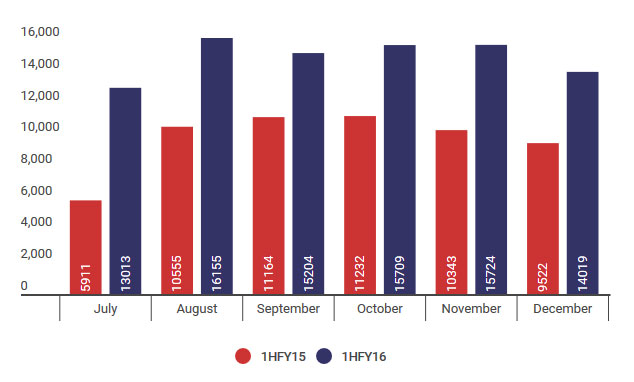 Pak Suzuki has been at the top for the most number of units sold in the current fiscal year. Punjab Green Taxi Scheme has played an important part in FY2015-16 and sold 70,482 units. That is an increase of 97pc compared to Jul-Dec14. Only in December 2015, Pak Suzuki sold 12,384 Suzuki Bolan and Suzuki Ravi whereas sold 2870 units of Suzuki Mehran.
Also Read: Honda Atlas Launches 2016 Honda HR-V in Pakistan
Punjab Green Taxi Scheme will end in February 2016. It will be interesting to see how Pak Suzuki manages to continue the trend after the end of the scheme. Also, Pak Suzuki will be launching Celerio to replace their Cultus in this year (Read More).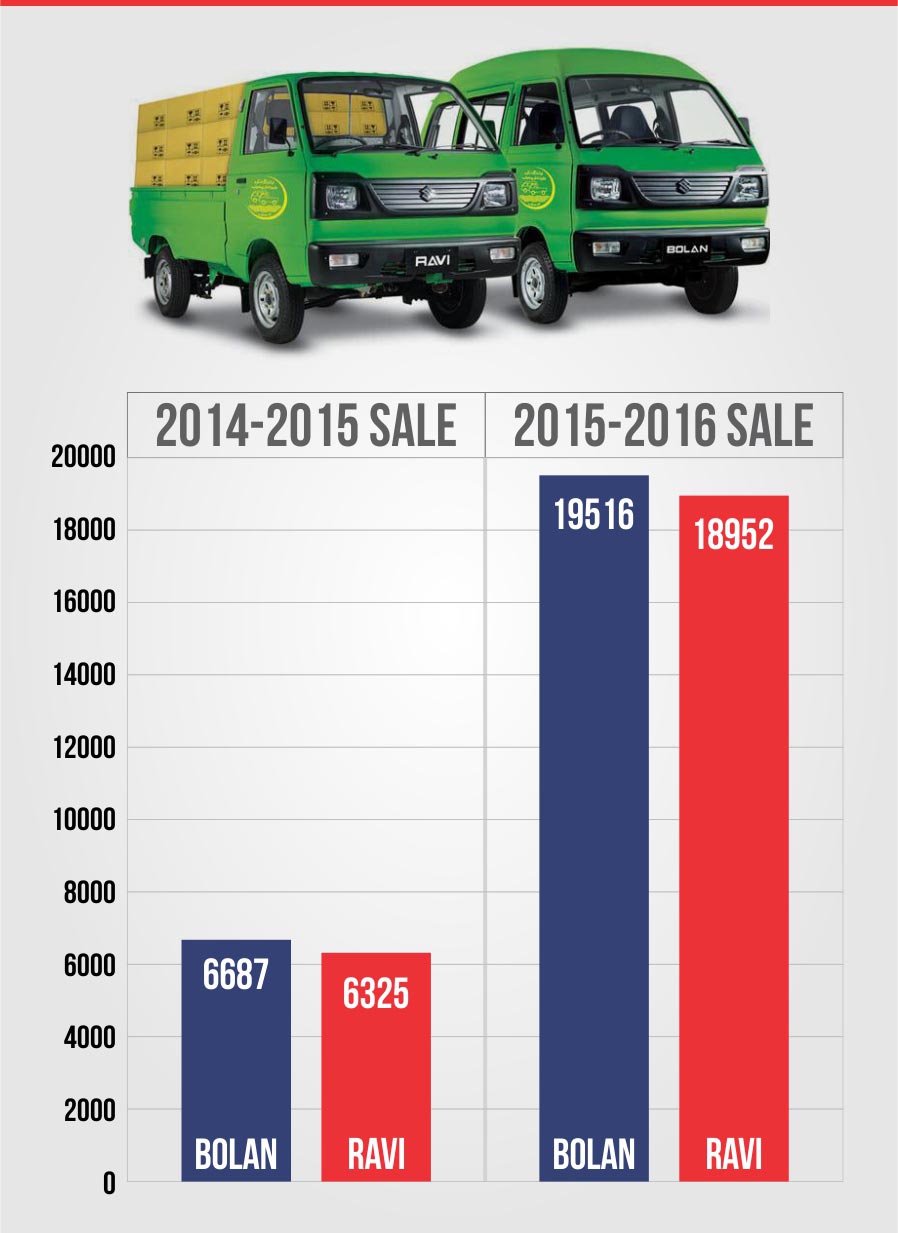 Toyota Indus Motors sold 30481 units in July to December 2015. Whereas sold 22883 units in July to December 2014. In December, Indus Motors sold 4738 units in December 2015, 16pc more than December 2014. Of these 4738 units, 4297 were Toyota Corolla and 400 Hilux.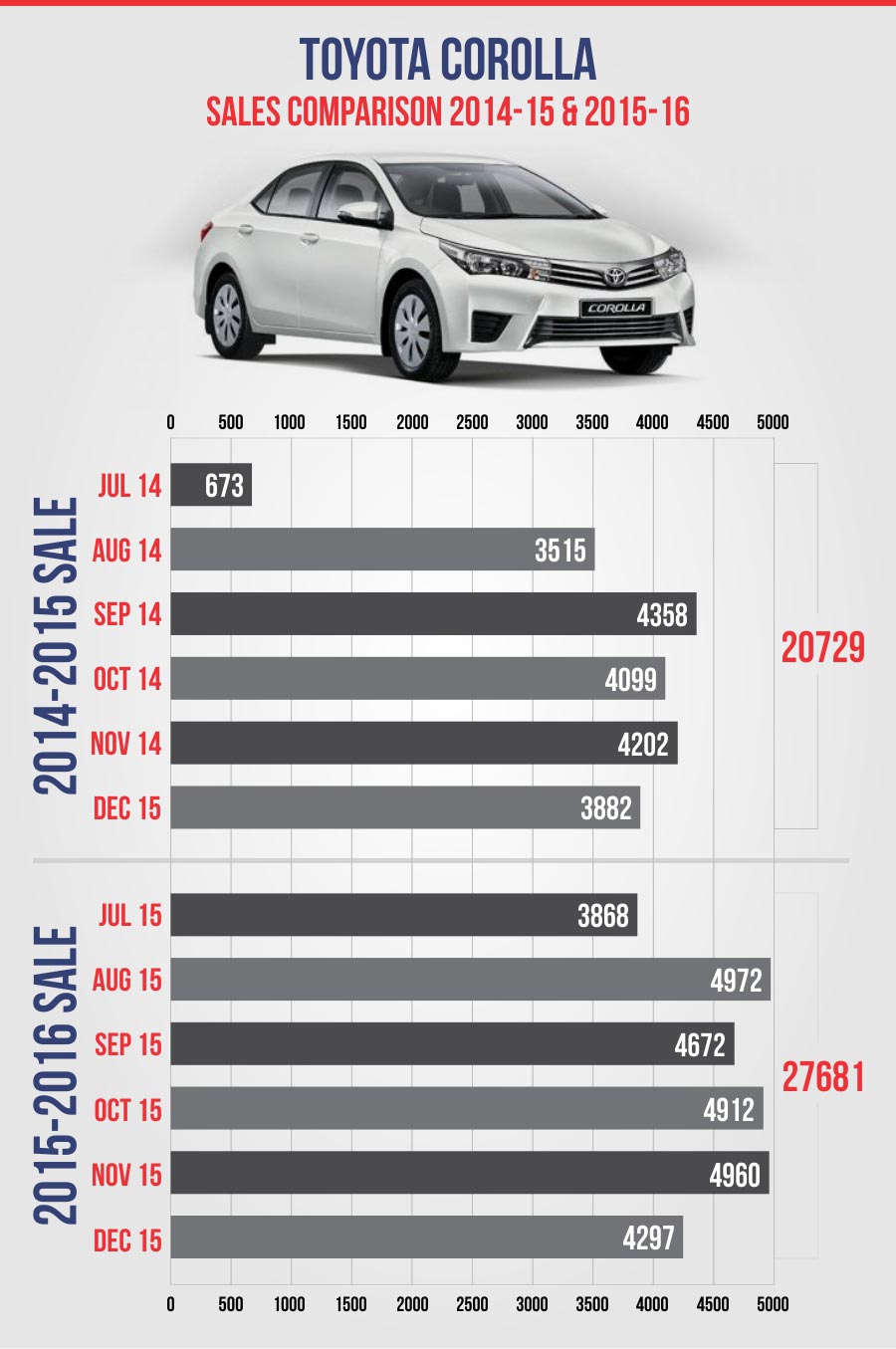 Honda Atlas sold 10610 unit in July to December 2015. The number was 8578 in July to December 2014. IN December 2015, Honda sold 1028 cars, 49pc more than December 2014. It is predicted that the expected launch of 10th generation Honda Civic in the second half of 2016 can further reduce the sales of current Honda cars, especially Civic.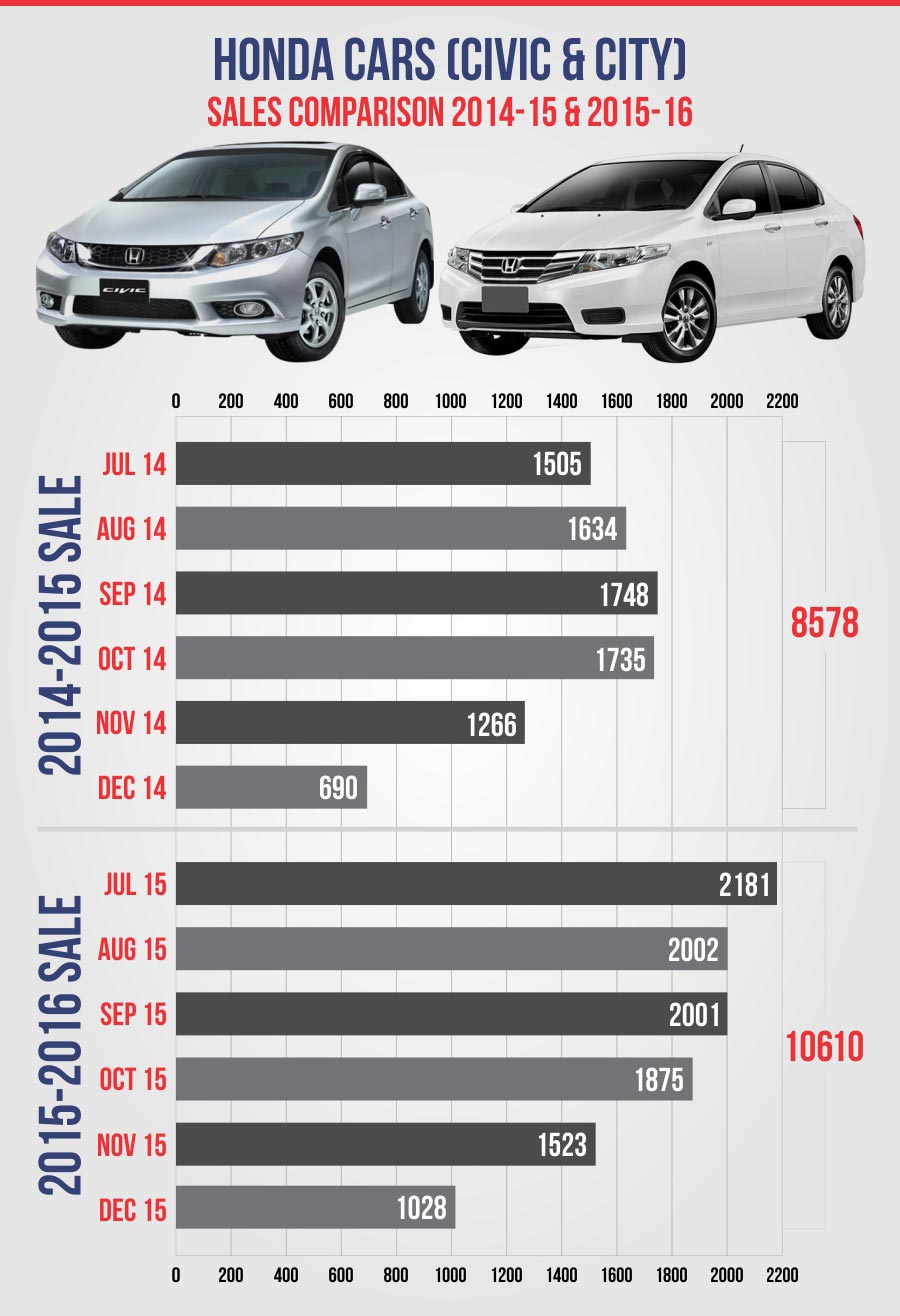 Although the general trend of high sales slightly dropped in December this year, Pak Suzuki sold more than in December 2014. Toyota Motors cars sold 14pc less cars last December whereas Honda faced the same situation and sales fell 33pc compared to December 2014.
Recommended: PakWheels Car Finance Section Can Help You Get The Car Of Your Dreams
The overall economic situation of the country has improved and easy financing on lower interest for car financing in Pakistan during financial year 2015-16 (July-December) can be attributed to the increase in the sales of automobiles. Experts have predicted the trend of high sales will continue for January-June 2016.
One thing to keep in mind that the car making companies have increased the prices of their products due to the increase in the duty of imported car parts.