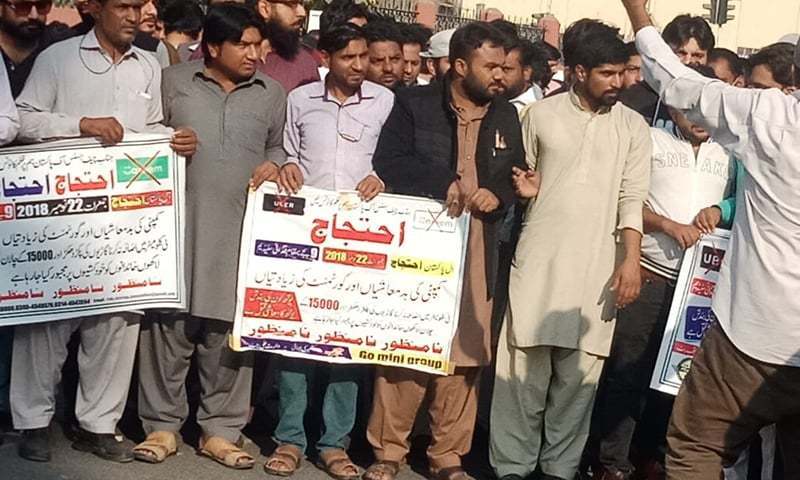 Drivers of Careem and Uber held a protest against low fares in front of the Supreme Court registry in Lahore on Thursday 22nd November 2018.
This isn't the first time that the drivers of ride-hailing companies have protested regarding the low fare by the company. The protest on Thursday came out with the same sort of demand of increasing 'the per km fare' and 'excessive challans' being issued to the drivers. Those protesting also accused the government of treating them in an unfair manner.
Hussain Butt, one of the drivers leading the protest said that Careem and Uber are playing unfair for so long and now is the time for them to increase the per km fares of their service. Moreover, they also complained that the loan scheme shall also be brought back to facilitate the drivers in leasing their cars.
Read More: Rawalpindi: Bikers without a helmet will be barred from refueling bikes
In the question against the alleged issuance of excessive challans by the government to the drivers of Careem and Uber, the spokesman of Uber said that "Uber is a law-abiding company and will act according to the legislation passed by the government in this regard. Currently, the government has not communicated with Uber regarding the issuance of commercial route permits for its drivers. In response to the demands set by the drivers, he said that "Uber is committed to dialogue with partner drivers. However, a large number of drivers are satisfied with Uber services and fares policy". He further added that there are several partner support centers located in Lahore where the drivers can get their issues resolved for any concerns or problems they encounter while driving for Uber.
There are thousands of drivers working for the ride-hailing companies and a majority of them complain about their unfair policy for them. According to them, the companies are more concerned in facilitating the customers rather than the drivers who earn them millions. The drivers have turned to the Supreme Court registry this time to get their demands fulfilled. Let's see if this protest gets any sort of reaction from the government in the favor of drivers or remains as one of the previously unheard protests.
For more updates, stay tuned on Pakwheels. Drop your thoughts in the comments section below.