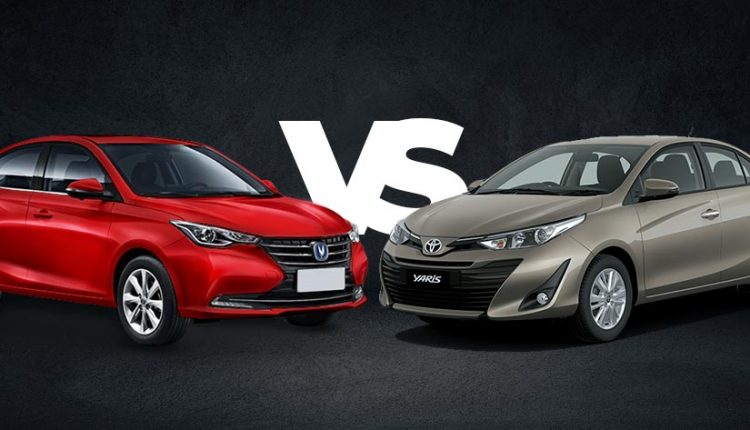 Changan Alsvin Vs. Toyota Yaris – A Comparison 
In this article, we will compare the salient features and specs of Changan Alsvin with Toyota Yaris. Alsvin is a new entrant in the local Sedan segment, as it has been unveiled today.
 This is an exciting addition, as the buyers will have another option in this category. Meanwhile, Yaris has been dominating its category with record-high sales in the past three months. Toyota's car even outsold Honda City and Civic combined in the mentioned period.
Following is a brief comparison between these two Sedan cars. In this article, we will compare the top-of-the-line variants of these cars.
Engine and Power Train: 
Changan Alsvin has 1480cc engine, which produces 106hp, and 145 Nm Torque. Meanwhile, Yaris comes with 1496cc engine, producing 106hp and 140Nm Torque. This means that Alsvin's engine is a bit smaller in size; however, it makes more torque and the same horsepower as compared to its competitor. 
Transmission-Changan Alsvin Vs. Toyota Yaris:
Toyota has installed 7-Speed CVT in Yaris, while Alsvin would come with 5-Speed DCT Auto Transmission. It is essential to mention that DCT is the latest technology as compared to CVT. 
Headlamps: 
Changan's Alsvin have Adjustable Halogen Projector front lamps, while Yaris has simple Halogen lights at the front, giving an upper hand to Alsvin in this category. Furthermore, both cars have Daytime Running Lights (DRLs) in them.
Parking Sensors-Changan Alsvin Vs. Toyota Yaris: 
The Sedan by Toyota doesn't have a parking sensor; however, Alsvin has offered this feature, which is an excellent feature for a car in this segment. Meanwhile, both sedans have rear cameras.  
Sunroof: 
Changan has installed a Sunroof in its sedan, which is not so common in these cars in Pakistan, while Yaris does not offer this feature. 
Touchscreen Size: 
Yaris has a 6.8-inch touchscreen in it, while Alsvin comes with a 7-inch screen. 
Safety-Changan Alsvin Vs. Toyota Yaris: 
Both Yaris and Alsvin have 2 airbags each in them, making them equal in this regard. 
Cruise Control: 
Alsvin comes with Cruise Control, a great feature to drive on long routes without any hassle. Meanwhile, Yaris doesn't have this option in it. 
Price: 
The current price of Yaris Auto is Rs 2,999,000, meanwhile, price of Alsvin is around Rs2,549,000.