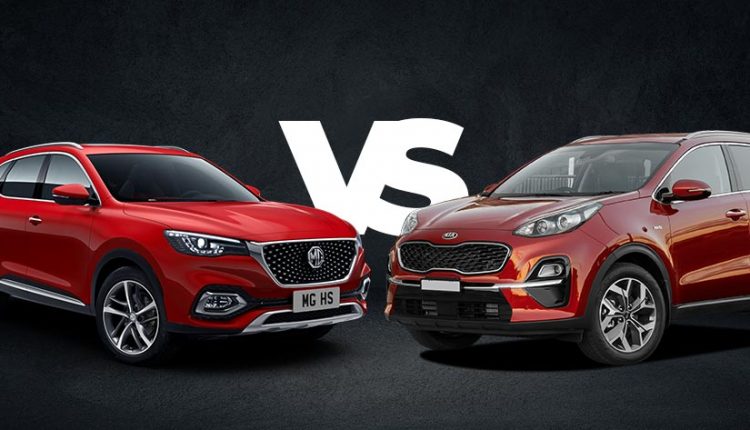 MG HS Vs. KIA Sportage-A Comparison 
We are here with another comparison, and this time we are comparing MG HS with KIA Sportage. The MG HS is the new entrant in compact SUV section in Pakistan. Meanwhile, Sportage is dominating this segment since its launch. The MG HS has been getting a lot of attention for the last couple of months, as local consumers are looking for new options in SUVs, and it has increased the hype.
So, here is a brief comparison between two SUVs.
Engine-MG HS Vs. KIA Sportage: 
KIA Sportage comes with 2000cc Naturally Aspirated engine, with 155hp and 196Nm Torque. Meanwhile, HS has a 1500cc Turbocharged engine, which produces 160hp and 250Nm. This means that MG's car produces more torque and horsepower as compared to Sportage because its engine is turbocharged.
Cruise Control: 
MG has installed the latest Adaptive Cruise Control in the HS, meaning that it controls the speed of the car as per traffic on the road. Meanwhile, KIA Sportage comes with Conventional Speed Limiter Cruise Control, which maintains the speed at a specific point.
Price-MG HS Vs. KIA Sportage: 
Although MG HS comes in Front Wheel Drive (FWD), and KIA Sportage in both FWD and All Wheel Drive (AWD), however, this comparison is between HS FWD and Sportage AWS, because both have a similar price range. On the one hand, the price of HS is Rs5.5million, while on the other hand Sportage AWD's rate is Rs5.4million.
Cameras: 
KIA has installed only rear cameras in the car; however, MG has launched its SUV with 360-degree cameras, which gives the car's view from all sides, making it extremely efficient for parking and lane change.
Lane-Assist System
MG HS comes with the Lane-Assist System, which will issue a warning if there is another vehicle during the lane change. However, KIA Sportage does not have this feature.
Safety: 
KIA has installed 2 airbags in its car, while MG's car comes with 6 airbags in it, making it safer as compared to Sportage.
Paddle Shifters-MG HS Vs. KIA Sportage: 
The MG has installed Paddle Shifters in its SUV, making the drive more comfortable, while Sportage comes without this option.
Anti-Collision System: 
The SUV by MG has the Anti-Collision System, which means the car will automatically stop if something comes in front of it suddenly. However, KIA Sportage comes without this feature.
Front Seats: 
The front seats in KIA Sportage are electric ones; however, these seats in MG's vehicle are both electric and heated.
Rain Sensors: 
Both MG HS and KIA Sportage comes with Rain Sensors, making them a great choice to drive in the rainy season.
Cool Box-MG HS Vs. KIA Sportage: 
The MG SUV has the feature of Cool Box in it, while KIA has not installed this option in its vehicle.
Cornering Lights: 
Both of these SUVs come without the option of Cornering Lights in them.
Interior Color Options: 
MG is offering three colours for the interior of its car, while KIA Sportage is available in only one interior colour.