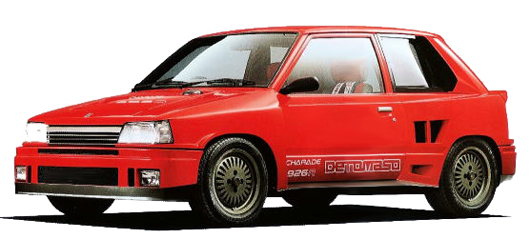 Charade DeTomaso 926R Was The Supercar Of Daihatsu
Almost everyone buys the Anda charade for their B16 or 4EFTE endeavors and square eyed Daihatsu Charade and its later facelift model remains in vain with little or no gratitude of how much a beast of a car it was. Folks down here have gone wild with the Anda Charade so much that it has raised Anda's price a little bit owing to the swaps guys do to make it a pocket rocket for the straight lines. But Daihatsu was crazy and passionate too but they weren't aiming for straight lines, they wanted fast cornering abilities for the terrain which gave birth to the famous quote, 'Motorsports is dangerous', the Group B rally.
After acquiring Innocenti from Leyland, DeTomaso continued the production of Innocenti's hot hatch; Innocenti Mini which became known as Innocenti DeTomaso which was updated with bigger engine and plastic bumpers. In 1982 DeTomaso started to look around for a new engine supplier due to the supply crisis with Leyland and eventually swapped its Mini engine and chassis with G11 Daihatsu Charade chassis and engine which included the CB60 SOHC 3 Cyl. turbo engine. Together by combing Japanese engineering with Italian hot hatch style gave Innocenti Turbo DeTomaso.
That's how Daiha
tsu began dating with the Italian hot hatch, but Daihatsu wanted more. Just an year later, Daihatsu brought out its original Charade turbo but with improved interior and exterior to match with the Innocenti De Tomaso Turbo. At that time in Japan, there was high demand for foreign things. The Actual Daihatsu 926 Turbo wasn't called as a De Tomaso Turbo but it was the 1984 Daihatsu Charade DeTomaso 926 Turbo which was honored with having the DeTomaso tag with it which was to become what AMG is for Mercedes and M is to BMW. The DeTomaso 926 Turbo was prepared as the homologation model for the group B rally with a slightly smaller engine with decreased capacity from 993cc to 926cc to fit in the sub 13000cc group B regulations. Only 200 of these were produced.
Only a year later in 1985, Daihatsu showcased a homologation special at the Tokyo Auto show which attracted the crowd to its booth like fire is attracted to gas or anything. To even this day it does not age to me, provided I find one, I will buy one instantly. It was the Charade DeTomaso 926R with a mid-engine layout powering the rear wheels; wide body kit was installed through out with air-ducts to provide air to engine sitting behind the driver seat. Power output was improved over its precursors with the help of ECU tuning and boost increase taking it from 85HP to 120HP, even that was pretty much enough for the 800KG hatch back. Its engine, CB70 was mated with a manual 5-Speed transmission which drove the rear wheels through a mechanical limited slip differential. Double wishbone suspension at all four corners with coil over type spring and damper set up gave the 926R handling to match its rivals. The CB70 Turbo engine was all the same engine which came in the 1987 Charade(Chassis name: G100).
It was the regarded as Daihatsu's very own supercar and journalist started to drew similarities between the Renault 5 but 926R's fate remained unknown to Daihatsu as it moved toward selling it via various media presentations and test drive which all came out positive, great expectations were with the 926R owing to how much successful its predecessor was in WRC but it all went in vain when FIA decided to ban group B rally later the year after the fatalities that struck in early 1986, hence the 926R's production run was cancelled and It could never see the show room.
There were a lot of 926 turbo's and the 926 DeTomaso Turbos imported into Pakistan, but today, in Pakistan, sadly Anda Charade has the better image when it comes to sports or say straight line racing. Had they known what gave the Charade the hype it has today, I am quite sure few madmen would've performed the ultimate conversion down here; converting the 926 DeTomaso Turbo into a 926R, the addition or deletion of the single letter R is the biggest difference you'd ever see.