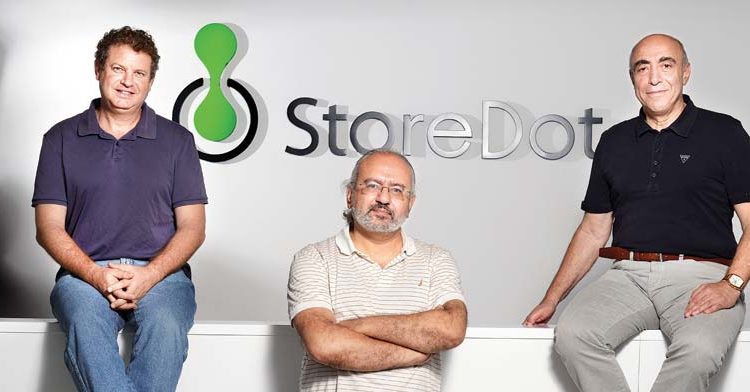 Charge In 5 Mins – Israeli Company Makes New EV Batteries
One of the things standing in the way of electric transformation of the global automotive industry is charging times. No one wants to sit in a charging station for two hours and wait for the EV battery to fuel up, right? Well, the problem with EV charging will soon be gone. An Israeli startup called StoreDot has developed the first batch of 1,000 EV batteries that can be fully charged within 5 minutes. That means soon charging an electric vehicle will be just as fast as filling up a petrol or diesel car.
"A 5-minute charging lithium-ion battery was considered to be impossible. But we are not releasing a lab prototype, we are releasing engineering samples from a mass production line. This demonstrates it is feasible and it's commercially ready.", says Doron Myersdorf, the CEO of StoreDot.
An Introduction of StoreDot 
StoreDot has a lineup of "extreme fast-charging" batteries for phones, drones, and scooters. Many automotive and electronic companies, including Daimler, BP, Samsung, and TDK, have already invested heavily in StoreDot. The company has also won the title of "New Energy Finance Pioneer" by Bloomberg last year.
This time, the Israeli company has developed 1,000 lithium-ion car batteries in partnership with Eve Energy in China. The company will showcase the engineering samples of this latest EV technology to the world's biggest car manufacturers. The company says that it will continue to work on the range capacity of these batteries and deliver 100 miles of charge in 5 minutes by 2025. Moreover, the company will also launch the second generation silicon-dominant anode prototype EV batteries later this year.  
An interesting fact about these new lithium-ion EV batteries is that even though they use an upgraded technology than the existing Li-ion batteries, their cost would be the same. However, they will take a long time to come on stream as the batteries require much higher-powered chargers. Upgrading the existing charging infrastructure to that level is sure going to take a while.
Bottom Line on EV Batteries: 
So, there are now EV batteries that can be charged in 5 minutes, proving that electric cars are the future. Like the rest of the world, Pakistan is also working on the adoption of EV technology. We already have an EV policy approved in the country. Thanks to that, more auto manufacturers are coming to Pakistan with their electric cars. The government is setting up electric charging stations across the country. Although we are still falling behind in this EV race, at least we are on the right track.