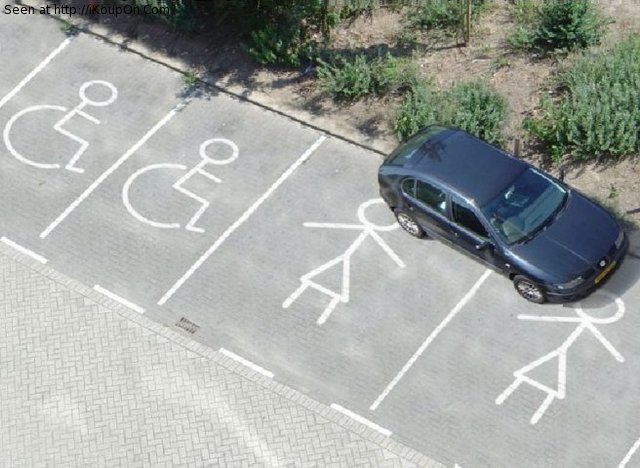 China Introduces Women Only Parking Spots That Are Wider And Pink
Imagine yourself in a parking lot happily walking away from your car after locking it up when a female driver pops up right next to your car, about to park her ride – there could be very few scenarios worse than this for a car enthusiast; except maybe if she lives in the same apartment building as yours and by some ironic cruel twist of fate, she always parks next to you.
But hey, we should be prepared for all possible worst case scenarios, right?
The Shanghai Library, if the name didn't make it obvious, in Shanghai has answered the male drivers' prayers by doing something about this. Recently, it has added four parking spaces to its underground garage, only for women. The women only parking spots are pink with a woman sign clearly marked on them. The parking spots are extra wide, 50 centimeters wider than a standard parking, with extra lighting (in case there happens to be a visually impaired female driver who has forgotten her spectacles at home) to facilitate easier parking – and most importantly, away from men's cars.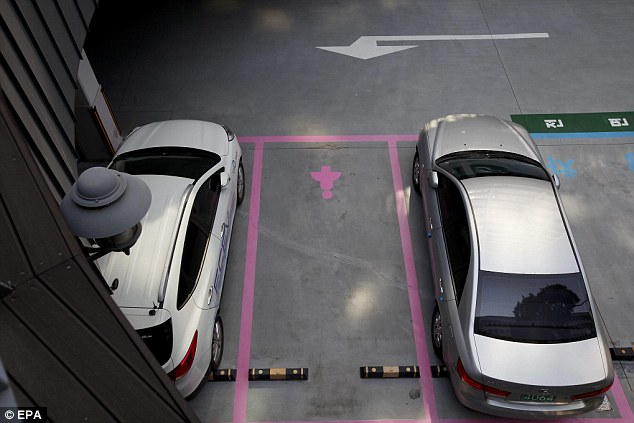 Another case to quote here would be of a small town in Germany known as Triberg and its mayor Gallus Strobel who, in 2012, unveiled a parking lot with 220 spots with the narrow spaces reserved for the men and wider ones for women. Some say it is a publicity stunt to gain attention but he enlisted a male and a female architect to designate 14 gender specific parking spots in order of their difficulty. The 12 extra wide spots near the exit were for women and two non-rectangular spots were for the males only. He openly declared that men are better at this stuff than women and those offended were invited by him to prove him wrong; whether they managed to or not, that's another story but it sparked a rage amongst the feminists.
In Seoul, Korea there are special women-only parking spots to make the capital more female-friendly and around $100 million are being spent on female parking spaces which have been dubbed 'she-spots' marked with bright pink outlines and a woman logo.
China, Kuwait, Malaysia, Indonesia, Austria and Italy have also followed course and now have women-only parking spots.
You would be at the risk of being labeled an insensitive male chauvinist if there wasn't some scientific theory to back these claims up. Fortunately, science has not disappointed us. A study conducted by Claudia C. Wolf and her colleagues at Germany's Ruhr University, Germany suggests that men are both faster and better at parking farther away from neighboring cars hence making them better at it than women. This research indicated that men have better spatial skills when it comes to activities that involve mental rotation like parking. The researchers asked 65 volunteers to park a £23,000 Audi and discovered that women took up to 20 seconds longer. Female drivers need an average 52 hours of tuition to pass their driving tests but men speed through it in just 36 hours of lessons.
To add to this; there also is driving tests' data available, collected by the UK Driving Agency. It is based on participants from the period 2010-11 and it shows that 40,863 women failed their driving test due to lack of control during the reverse-park maneuver, while only 18,798 males failed for this reason. Women park their cars more slowly, readjust them more often and freak out during their driving tests, much more than men do.
I think it is only fair to say that, women aren't necessarily bad drivers but suffer from a lower sense of confidence than males. Less than one-fifth of the women drivers reveal that they are better at parking than men. Self-doubt is a dangerous thing; it throws a wrench into women's performance behind the wheel and makes them conform to this stereotype even further. One empathetic researcher from the University of Warwick, Dr. Zachary Estes is of the opinion that words of support boosting women's self-esteem might be exactly what we need.
So I guess if there are female drivers in your family, maybe it's better to support them, rather making them doubt their driving skills.