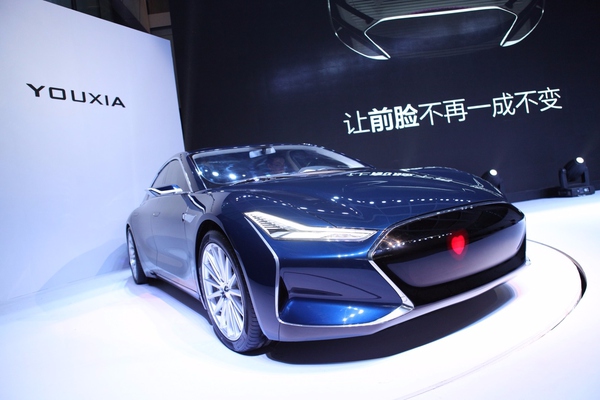 China's Electric Supercar 'Youxia X', May Just Be Another Rip-off!
Dubbed the most beautiful vehicle to come out of China however, but some say it's a rip-off, some a knock-off and some say it's a homage that has been paid to the original. Call it what you may, but it seems to have been all set to compete against the upcoming Tesla 3 is the Youxia X – an electric powered super sedan from China.
From the back, you have a Lexus, and from the side you have a Tesla, and from the front, you have an all electric Knightrider. Cue the music.
Youxia though just bought a Model S, swapped the panels to give it Youxia touch for the motor show while later on, they may actually build a proper copy based on the Model S.
They did however opened up slides of Tesla, just like I used to open up my friend's slides for my presentation. And just like me, they wouldn't say how much of stuff they used in the Youxia anyways, they did thank Tesla for opening up their patents for the greater good of developing electric cars.
The guy who designed this car is 28 years old Huang Xiuyuan who has put in some electric power which reportedly produces about 348 hp and 440 nm while the range is 460 kilometers and expected to do 0-100 km/h in just 5.6 seconds.
The rear wing is integrated into the tail lights, which makes the car appear sporty and stylish at the same time. The interior is the same as Tesla and there is a large vertical screen in the middle as well as a front display for the speed and the status. The car's price is expected to range from 200,000 to 300,000 yuan, approximately at half the price of Tesla Model S.
The price has been intended to make the car a competition for the upcoming Tesla. The ride will be launched in 3 flavors – 40, 60 and 85 kilowatt hour batteries. The production is to expected to begin in late 2016 by Youxia Motors.