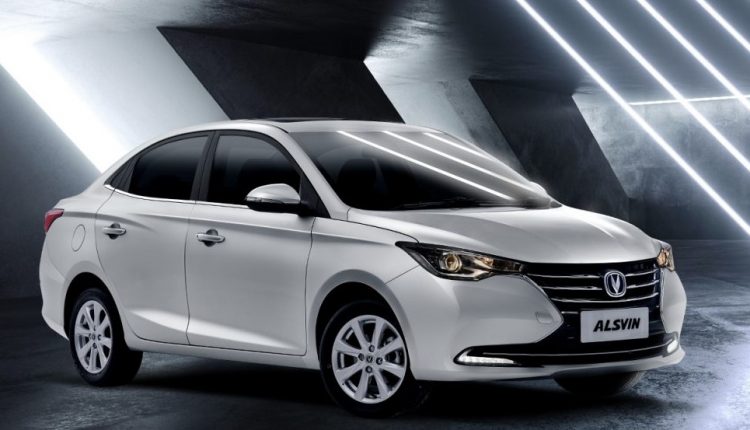 CKD & CBU-Expectations Vs. Reality in Pakistan
The word "Fit & Finish" in the car industry means how parts and panels go together, how gaps, the spacing, the edges and how one car compares to another after it's assembled. Welding, bolting, painting and the list is long. Starting from a simple torque wrench to the highly skilled robots, everything counts. Car companies have very strict Quality Control units which can figure out any fit and finish issues immediately so that the same problem doesn't multiply and show up on the entire production. In this article, we will study the case of Changan Alsvin recent launch and debate on CKD and CBU in Pakistan. 
Unfortunately, when it comes to most local car makes and models, these properties are criticized and even on the brand new lush models standing at the dealers. Quality of plastics, moulding, dashboard feel and finish seating surfaces, rubber parts are, most of the time, a question mark at quality control, and quality of raw materials and build quality overall as a whole. Being less in features, safety equipment is another topic and an issue when comparing a CBU with CKD.
Not About Any Brand: 
First, this post is not about a brand, make model, competition, pros, cons, or which one is better. This is again a general observation, and the purpose is to bring some clarity. The goal is to make the public enlightened, and the objective is that responsible entities make sure what they promise, they deliver the same. I will not go in detail about features, options as far as the recently released Alsvin. Everyone knows about that, and that's a subjective matter of its own.
Case of Alsvin Display: 
Alsvin is displayed for public viewing all over Pakistan at Chagnan authorized dealerships, and it has attracted a lot of public. It should because people are fed up with the decade-old Honda City while potential buyers are also looking for something in competition against Toyota Yaris at a better price.
One thing everyone is talking about after seeing Alsvin is, the impressive build quality. People are comparing the paint, quality of plastics, rubbers and overall fit and finish with its competitors. This is something that gets visible to a buyer when he/ she views the brand new vehicle on the showroom floor. The Alsvin currently at dealerships [MOSTLY ] for public viewing are CBU/completely built units and imported. 
Is it CBU or CKD?
Obviously, these units are giving a better and pleasing feel and the reason being these are imported, and a CBU is better than CKD and its typical  in local market. 
It's hugely disappointing and concerning that some of the dealer staff even knowing that these are CBU, still calling it CKD/ Local assembled when asked by visitors. I think these individuals from the dealerships should know that the public is now smarter than ever. Dealership staff should be truthful in this regard. I understand that Changan wants to establish a good impression for their newly released vehicle, but this does not mean they display CBU units but take bookings for CKD.
The locally assembled vehicles started rolling out of the assembly line mid-December 2020, and this does not make sense that a CBU is displayed a month later for public viewing or Changan has no trust in their own product and their own locally assembled product?
Should we assume that a CBU will be with a better fit and finish once again than a CKD  and will also happen in this case, which always happens and typical in our market? Why display a CBU and take booking for CKD? Although the local assembly has already started.
I hope and wish that CKD / PK assembled Alsvin is way better than CBU, and I think we can do that and it's also essential for the new car and its assembler to create a new benchmark as far as quality. 
Difference B/W CBU & CKD: 
I am sharing a few different vehicle tags displayed at other dealers and in various cities as a reference. First, PK domestic models don't use 17 alphanumeric VIN (Vehicle Identification Number). Pakistan assembled models use a Chassis number. Secondly the first three alphanumeric is the WMI (World Manufacturer Identifier). The first letter is "L" and is a designated code for the vehicle made in mainland China. All shared tags clearly show 17digit VIN starting with "L ". Additionally, "Chongqing Changan" is a Changan Manufacturing facility in the city of Chongqing  as clearly written on the label in the first line.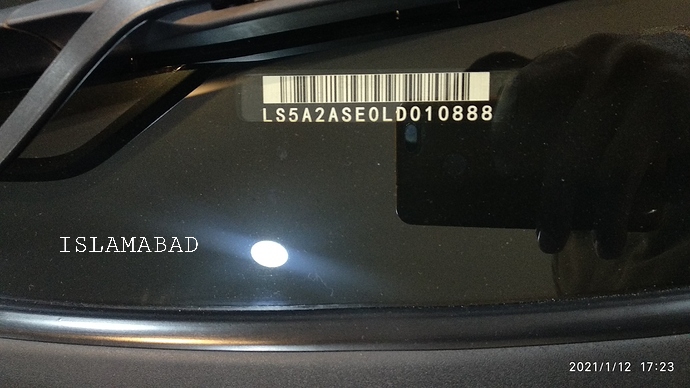 It's such an irony that some dealer staff even after looking at the label and the manufacturing date, still argue with visitors that it's a CKD/ local assembled. The labels clearly show the manufacturing in the last week of September while we know that local assembly didn't start before mid-December 2020.

Additional Info on Alsvin: 
As additional info, Changan PK also imported around 20 units of 1.5DCT Alsvin and cleared it from customs in November 2020. The model # SC7152AAH5, as visible on the labels also matches with the import data. The purpose of these imports is now clear. It went to dealerships across the country for public viewing and impression building. This is also why you see the fully-loaded 1.5DCT variant and a single unit for display at each Dealership. Changan has 17 dealers across Pakistan and they have enough units to cover all dealers.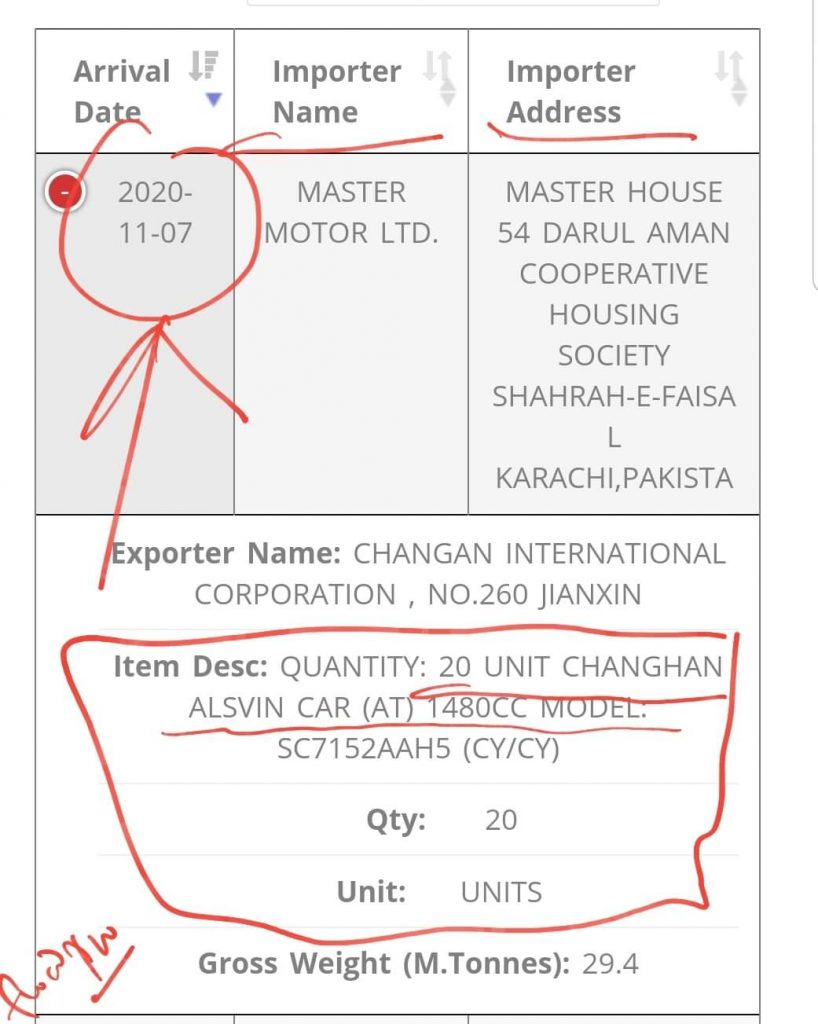 By the way, I exactly know that Changan Pakistan will be the First joint venture company with Chinese brand to develop RHD models and it is also planned for export into SAARC and ASEAN region. But there is a due possibility that limited units of RHD units were made in China and then imported into Pakistan for initial launch purposes and that is what was imported and seen currently across various dealerships.
Appeal to Changan Dealerships: 
Changan PK, please when someone asks you about the displayed vehicle, be proud of your product, capabilities, and confidence. No need to twist and turn. Yes, we understand that the reality will come out after a few months when the actual CKD vehicle comes out and we will wait for that for sure.
Also, I don't understand this trend of booking without any test drive to buyers, and again this is typical for almost all local car assemblers, and this trend must change.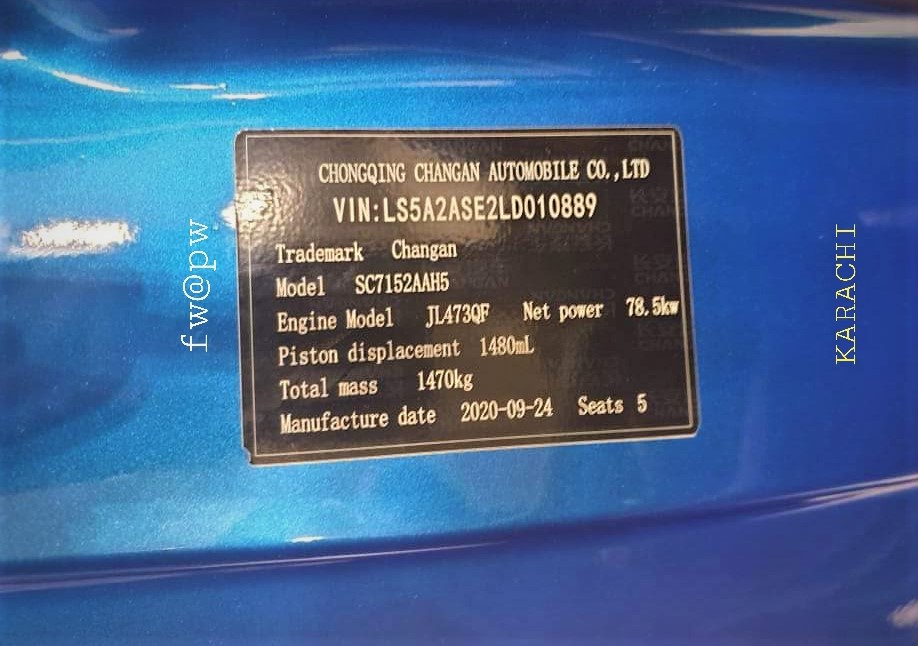 'Best of Luck Alsvin and all the potential buyers. Meanwhile, if any of you visit a dealer, please check the labels, especially indoor jambs, and share pictures in comments. You can also find the VIN plate on passenger side under the front windshield at area where the glass meets the dashboard.
VIN plates are affixed on the driver side area where dashboard and front glass meet but as these vehicles are CBU and imported from China, although steering orientation changed, the VIN plate is still on left side. You can also find VIN number on the trunk lid when you open. it will be on the left side trunk visible via rectangular trunk liner opening.
I hope Dealership share the real information and do make a clarification for all of us.
For more news, views and reviews, keep visiting PakWheels Blog.