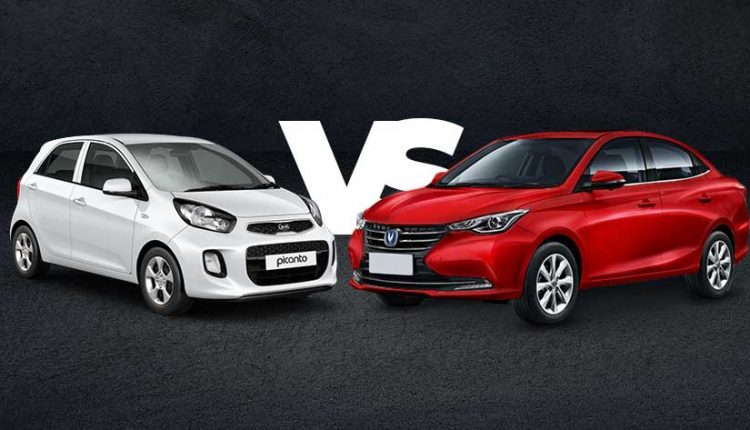 Changan Alsvin Vs. KIA Picanto – A Comparison
In this article, we are going to compare recently launched Changan Alsvin and not-so-old KIA Picanto. Although, Picanto is a hatchback, but both cars have almost the same price bracket, hence, the comparison. 
Furthermore, we will compare Alsvin's base manual variant with Picanto's top-of-the-line Auto variant. So, here is a brief comparison. 
Engine & Transmission: 
Changan Alsvin comes with 1370cc engine, which generates 99hp and 135Nm torque. In Comparison, Picanto has a 998cc engine with 68hp and 94Nm torque. Hence, there is no comparison between these two vehicles in this category. 
Moreover, KIA Picanto has 4-Speed Auto Transmission, while Changan has installed 5-Speed Manual in its sedan. 
Front Lights: 
KIA has offered Simple Halogen headlights in its hatchback; however, Alsvin has Height Adjustable Halogen front lights. The adjustable front lamps are a great feature because they will adjust themselves, judging whether there is a vehicle in front of you or not. In conclusion, it is a great convenience for both Alsvin owners and other drivers on the road at night. 
Changan Alsvin Vs. KIA Picanto – Generation: 
Although KIA Picanto is not-so-old in Pakistan as the car was launched in 2019, the company introduced 2nd generation, which is an older one. Meanwhile, Alsvin's generation is 3rd, which is the latest one of the car. So, a clear edge to the new sedan. 
Safety: 
Both cars come with dual airbags as well as ABS, making them equal in the segment. Both features are great for the car owners because safety airbags have never been offered in earlier cars in Pakistan; however, new entrants are offering these essential features in their vehicles. 
Changan Alsvin Vs. KIA Picanto – Fog Lamp & DRLs: 
Changan doesn't offer Fog Lamps in Alsvin; however, the car has DRLs. Meanwhile, Picanto also comes without Fog Lamps, but does have DRLs, making it equal to its competitor in this category. 
Rear Camera & Parking Sensors: 
The Alsvin offers both Rear Camera and Parking Sensors, while Picanto has neither. It means it is more comfortable and convenient to park the new sedan. 
Steering Controls: 
Changan has offered Steering Controls in its recently launched car, making the driving experience safer and easier. Meanwhile, KIA Picanto doesn't come with the feature. 
Changan Alsvin Vs. KIA Picanto – Price: 
Changan Alsvin Manual Comfort's price is Rs2,199,000, while the rate of KIA Picanto Auto is Rs2,049,000. It makes Picanto Rs1,50,000 cheaper than the new sedan. However, the consumer will surely think about the trunk space and extra features in Alsvin, as there is not much price difference between two cars, hence, tough competition for Picanto.