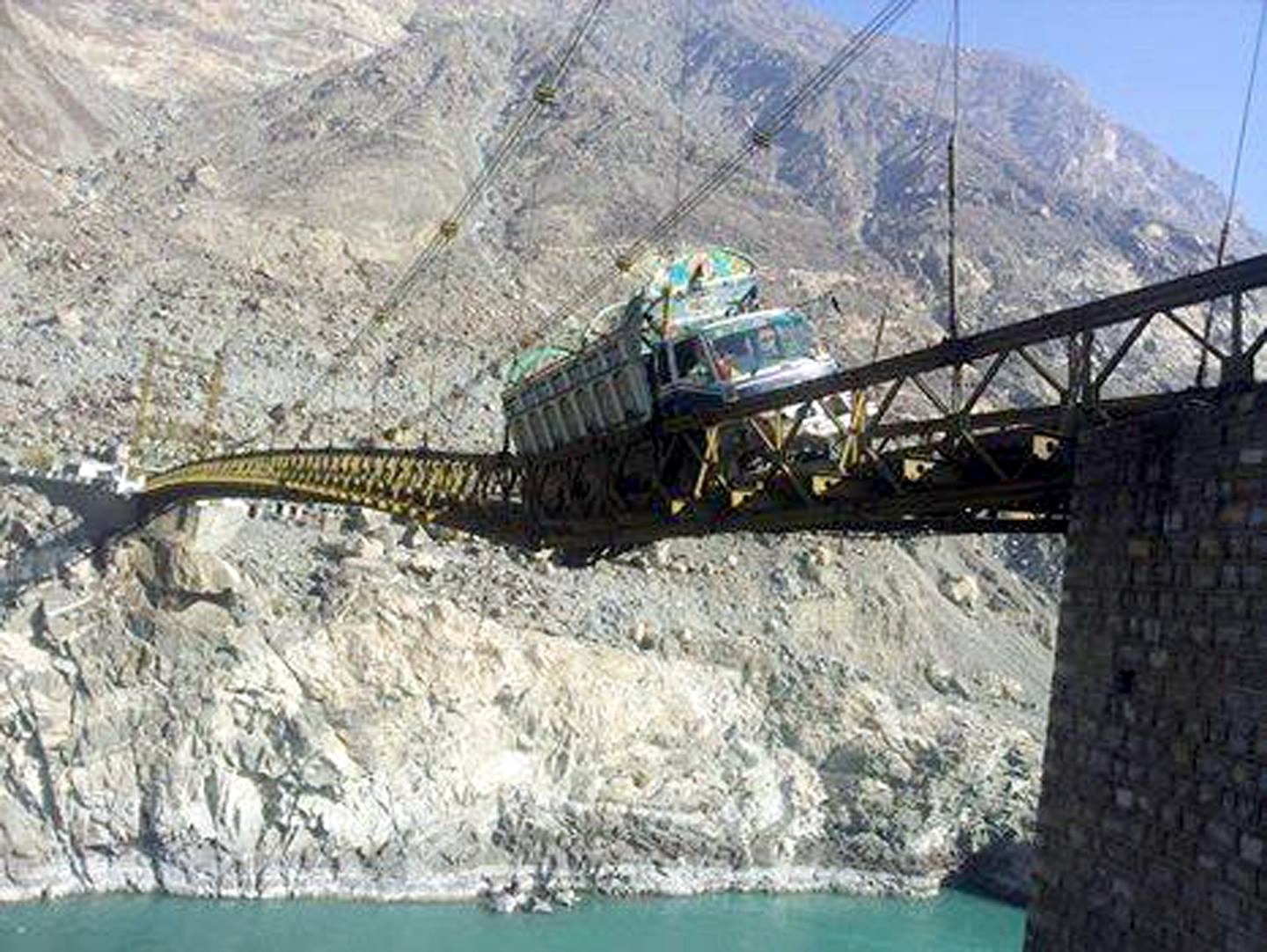 Collapse of Alam Bridge cuts off Baltistan from the rest of the country
GILGIT: The bridge that links the Baltistan region to the rest of the country collapsed on Thursday due to wear and tear, suspending the traffic and access to the Baltistan region.
The Alam Bridge of Gilgit-Baltistan Province got damaged when an overloaded truck, heading to Rawalpindi from Skardu, was passing over it. Due to the damage to the bridge, the truck got stuck in the middle with the driver and co-codriver on board.  Luckily, no one got hurt and the men stuck in the truck jumped off and ran to the end of the bridge to save their lives.
Frontier Work Organization (FWO) is responsible for the developmental work in the area and engineers from FWO helped remove the stranded truck from the bridge and closed the bridge for traffic to prevent further damage to the bridge. The vehicles coming towards the bridge were stopped before the bridge and asked to go back or wait for the repair work to be completed.
The Alam Bridge, which is one of the longest bridges of Gilgit-Baltistan province, measuring 300 metres in length, serves a very strategic purpose and was built years ago to cater to the small flow of traffic in the area over the Gilgit River but with time, the population of the area increased to over 300,000 people, increasing the flow of traffic to Balitsitan region of the country. A concrete bridge should have replaced the current bridge, which is made of iron rods and wood planks, years ago to cater to the increase in flow of traffic, which did not happen due to the mismanagement by the current administration of the area.
The repair work on the bridge has started and it would be opened for traffic soon. To prevent any future mishap, FWO has deployed its staff on the bridge to ensure trucks weighing over 200 tons, and speeding vehicles are not allowed to pass the bridge.