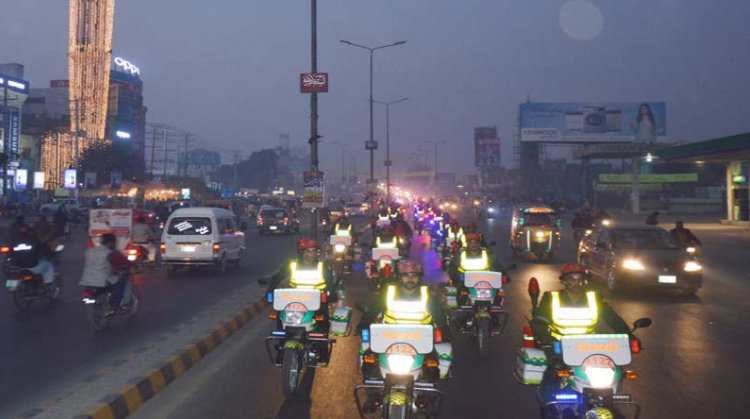 Hazara Traffic Police is working on launching a computerized driving test in the region. It is also working on introducing a bike ambulance service to provide speedy first aid to people. Tariq Mehmood, Senior Superintendent of Police (SSP) Traffic Hazara, stated that under traffic management rules, ten different tasks were introduced. These ten tasks were curtailing one-wheeling, drug-free public, ban on underage motorcyclists, no petrol to bikers without a helmet, traffic tourist police, Eagle Squad, and quick response in case of accidents. These initiatives have resulted in curbing traffic accidents and violations of traffic rules. 
In winter, the Eagle Squad and the tourist police facilitated a lot of tourists. An awareness campaign was also undertaken by the media and local citizens in collaboration with the traffic police. In order to improve the behavior and public dealings of public transport drivers, the traffic police also launched a series of lectures. The SSP also stated that a portion of Karakoram Highway from Salhad to Mangal would get repaired for an uninterrupted flow of traffic on this main highway.  
One of the major problems shared by the SSP was that the National Highway Authority has not yet built weighing stations on the Hazara Expressway and Motorway. This means that loaded trucks are not allowed on the Motorway and the Expressway. These loaded trucks then keep the city roads busy and are a huge burden on the city traffic. Computerized driving tests will help streamline the operations of traffic police. It is also a good move to digitize government departments and bring them on par with the latest technology. Finally, the efficiency of the entire process of getting a driver's license will also improve. However, people with no knowledge of technology will find it difficult to take the computerized driving test. 
Stay tuned for more news-related and informative content like this one. Drop your thoughts in the comments section below.