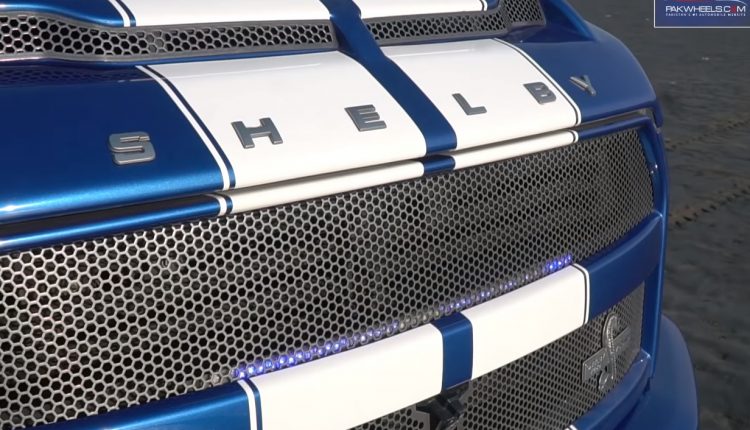 Ford Shelby F150 Owner's Review – Have a look!
The Ford Shelby F-150 is a capable truck that delivers all the rugged capabilities that are required for an outdoor adventure. It is not only good for an offroading adventure but also provides a high standard of luxury and comfort to drive it around the city. There are many variants of the Ford F150, including Raptor, Platinum, King Ranch, Lariat, XLT, and XL. Underneath the Shelby F150, there is a Lariat F150 502A package that has been tuned and modified by the Tuscany Motor Corporation and Shelby. 
Both the performance and cosmetic aspects of the Lariat F150 are enhanced by the joint venture of Shelby and the Tuscany Motor Corporation. The owner also considered the Ford F150 Raptor and RAM Rebel. There are two variants of the Ford Shelby F150: naturally aspirated and supercharged. This one is the supercharged one with many other performance upgrades. In the year 2018, Shelby only modified 500 Ford F150 Lariat trucks, which makes this vehicle very rare. 
Exterior 
The exterior of this truck has a huge presence on the road, mainly due to its sheer size. It comes with 20-inch Shelby-engraved alloy wheels and BFG all-terrain tires. At the front, there is a honeycomb racing grille with a Shelby snake insert. There are Shelby lettering on the hood, bed, and tailgate. There is also a huge supercharged logo on the hood air intakes. The custom front bumper is made by Shelby exclusively for this vehicle.
The step bars in this vehicle are black powder-coated. Fender flares and vents are also painted. There are rocker panel graphics and full-body rally stripes. All these design elements allude to the sporty nature of this truck. There is also painted custom rear bumper cladding. This truck also comes with a painted tonneau cover with Shelby Bedrug liner. At the front, there is a dual intake "Ram Air" Shelby Super Snake hood that helps in cooling down the huge engine that this truck carries. 
Interior 
There are many Shelby badges scattered all across the interior to signify that this is a Shelby vehicle. Shelby snake badged console lid, Shelby floor mats, and Shelby snake embroidered headrests. This vehicle also comes with deep-tinted windows and a carbon fiber interior package. There are also two-toned leather recovers with Shelby Snake emblems in the interior. The dashboard has a CSM serial number plaque. This truck comes with Bang and Olufsen premium stereo system. There is a touchscreen infotainment system that has Bluetooth connectivity, navigation, and climate control options. There are grab handles on both the A and B pillars. 
Other interior features include ambient lighting, cruise control, dome lights, push-button start, 12V socket, front heated and ventilated seats, dual-zone automatic temperature control, power-adjustable pedals, auto-dimming rear-view mirror, tilt and telescopic steering and cupholders. There is a huge panoramic sunroof that illuminates the interior cabin during the day.
Moreover, you can also find an 8-inch productivity screen for the driver that provides useful information on towing data and fuel economy. The F150 also comes with Sync 3 voice-activated technology that makes driving a bit easier and convenient. You can control certain features of the vehicle like the climate control with the help of voice commands. Sync 3 also integrated Android Auto and Apple CarPlay. 
Performance 
This truck is fitted with a 5.0L V8 engine, which is paired with Shelby engineered supercharger that increases its horsepower to 750. The standard engine produces 395 horsepower. Other performance enhancements in this truck include rear performance traction bars, front fender vents for engine cooling, black ceramic dual exhaust tips, Borla performance exhaust, upgraded billet throttle body, aluminum heat exchanger, carbon fiber air intake tube and high-performance fuel injectors. These performance parts come with a 3 year/36000 mile warranty. 
The Shelby F150 comes with a 6-speed automatic transmission. A single oil change can set you back PKR 15000 in this vehicle. Minimum 91 octane fuel is required in this supercharged vehicle from Shelby. Shelby Speedo and tire sensor recalibration are also given in this vehicle. Front and rear 2.5-inch aluminum reservoir shocks and internal bypass technology make this truck easier to drive in town and on offroad tracks. 
See the video review of Ford Shelby F150 below:
Comfort and Handling 
This truck comes with BDS suspension by Shelby, which is not only smooth over bumps but also rugged enough to deal with offroading experiences. A remote start feature that can be operated with the help of a key fob is also given in this vehicle. There is a keypad given on the driver-side door. This keypad helps you unlock the vehicle, and you do not have to take your key fob with you. With this feature, you can leave your key fob in the vehicle. 
Both the headroom and the legroom are ample for both the front and rear passengers. Due to its raised height, the handling of this truck can become a bit tricky in corners. There is a heavy-duty FOX suspension system that includes Raptor-style FOX shocks on all four wheels. This suspension system provides the ability to tune your truck from luxury-car smooth to hardcore off-road track handling.
Safety 
Since it is a huge vehicle, a 360-degree view option is given with a rear-view camera. This makes getting in and out of tight spaces incredibly easier. There is a blind spot information system, airbags, and dynamic hitch assists safety features. Other safety features include curve control, four-wheel anti-lock brakes, seat belts, and a tire pressure monitoring system. Since it is a tall vehicle, the Roll Stability Control helps in preventing this vehicle from rolling over. As an optional extra, you can also get rear inflatable seat belts. 
Verdict 
This is an expensive vehicle with a price tag of around PKR 1.7 crore. Moreover, this is a one-of-a-kind vehicle in Pakistan and helps to garner a lot of attention. This truck perfectly blends luxury and offroad capabilities. Maintaining this truck over the long run can be expensive due to expensive spare parts that are not readily available. The resale market is also not well-established for this vehicle. However, this is an exclusive truck that can develop its own resale value and market for people seeking out unique vehicles. 
Stay tuned for more news-related and informative content like this one. Drop your thoughts in the comments section below.
Recommended for you: Nadir Magsi wins 15th TDCP Cholistan Jeep Rally 2020