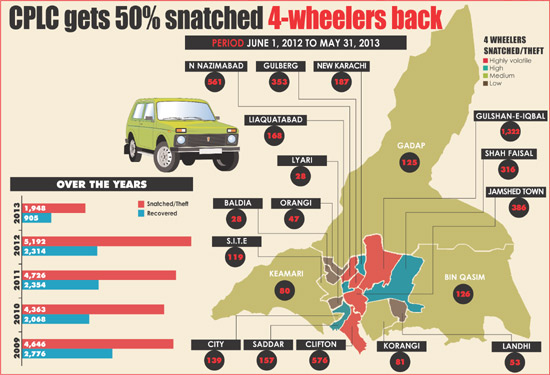 CPLC recovers half of all cars stolen in Sindh
We usually think that no good would come even if we reported a stolen car well according to these statistics collected by The Daily Times, City Liasion Police Committee recovers half of the cars that are stolen in the financial hub of Pakistan, Karachi.
So good do comes through however, many victims of snatching and robbery do not report the incidents to avoid hassle of going through the lengthy justice system of Pakistan, meaning the statistics provided are only based on those who reported the theft.
As per the statistics released by CPLC, 26,898 vehicles have been stolen from January 2009 til May 2013 and CPLC claims to have recovered almost half of them.
In the year 2009, 4,646 vehicles were stolen and CPLC managed to recover 2,776 vehicles. In 2010, 4,363 cars were stolen and 2,068 were recovered, in 2011, 4,726 cars were stolen and 2,354 were recovered, in 2012, 5,192 cars were stolen and 2,134 were recovered, and from January 2013 to May 2013; 1,948 cars have been stolen and 905 of those stolen were recovered putting the recovery rate of stolen vehicles close to 50%.
A record 6,023 cars were stolen in 2008 but numbers aren't provided about how many of those stolen were recovered nonetheless, such statistics reflect the performance of law enforcement agencies and a recovery rate of around 50% should push people to always report a theft.