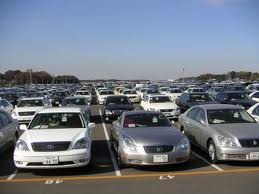 Dealers raise imported car prices by 14 percent
Nothing in this country can be regulated, prices of everything are raised without any rationale and no regulatory body made to defend consumer interests seems to object. Similarly, as government banned 5 years old car import quietly in Islamabad on a Sunday afternoon, prices of imported car prices were bound to rise from that day, as if Japanese Yen and US Dollar rates were raised that day instead.
Prices are increased by 14 percent as a recent survey conducted of different dealers and an auction house.
Prices of Daihatsu Mira and Suzuki Kei were increased up to Rs55,000 while the price of Toyota Vitz and Passo has also been increased up to Rs80,000; Axio's price up to Rs110,000; and Premio's price has been increased up to Rs160,000.
The best criticism however of this increase came from Iqbal Hussain Shah, vice president of Pakistan Automobile Manufacturer Assemblers Dealers Association (PAMADA) saying,""This price increase in old used cars shows that the dealers don't pay any heed on the concerns of the consumers and completely bent upon fleecing them."
As if these guys give are still selling Xli for 7-8 lac rupees?!