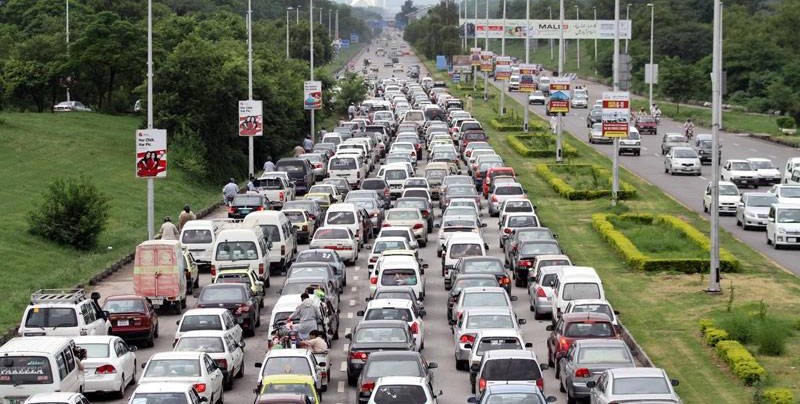 Designing Chaos: Pindi-Islamabad Expected To Face Worst Traffic Woes Due To Development Projects
Traffic congestion was something unknown to the residents of the most planned city of this country, Islamabad. But then, metro happened. Most of the main arteries connecting the twin cities and areas within them were completely cut off by different contractors working on various phases with zero coordination between each other, any central body or even some understanding with the local traffic police as far as dealing with the problems of commuters was concerned. Things went so bad that fights between the traffic wardens and contractors were even reported when the worst was being done by the later to the former's amazement, bringing traffic to a complete halt at many places.
Now that the project which would forever serve as a perfect example of how not to undertake such an endeavor is not yet over, as many important roads are still disconnected or at least affected, and while the people have not yet fully recovered from the trauma they have been facing since more than an year, a bigger surprise is being designed for them by those at top seats without any insight into what it would lead to for the next few years.
Many recent announcements about new projects of road repairs / expansion have been appearing in the news but has anybody being paying attention to what it would mean when the timing of these projects overlap? To get things in perspective, given below are the projects that have been announced recently:
Signal free corridor from Rawat to Zero point which includes

Phase 1 (zero point to faizabad)
Phase 2 (faizabad to koral)
Phase3 (koral to rawat)
Rawat Bypass
Bara Kahu Bypass
IJP Road re carpeting
Airport Road expansion (from nur khan base till koral chowk)
High court Road re carpeting
Adiala Road re carpeting
Coupled with the main arteries / detours still disconnected or affected due to metro project leftovers:
IJP road section in front of Faizabad Bus Station
Peshawar Moar interchange
Sections on Murree Road still pending completion
And some projects which are in the pipeline:
Kashmir Highway underpasses at exit of sector G-9 and F-11
Leh Expressway
Work on the first phase of signal free expressway has been initiated while the possible detours are still not a viable option, since the turn towards Ninth Avenue which could have served as a very good alternative is still under construction, as it was also one segment of the metro project and still remains unfinished. Even if you are able to reach Ninth Avenue, the next big disconnect awaits at Peshawar moar which again was taken up with the metro project and only the part on which metro buses move has been completed, the rest is still a mess and will remain so for many months to come.
Re-carpeting of the road which dissects Rawalpinidi and Islamabad i.e., IJP was also announced sometime back, and it would not be too surprising if it is taken up while the commuters are already stuck finding ways to avoid the under construction expressway.
Now the one major route left for the daily traffic to move between Islamabad and Rawalpindi i.e., Peshawar road would not only be taking the entire load which is so huge that a ten lane signal free corridor is required as per the planers to cater to it. In addition to all existing routes, it would also take the increased load of nationwide traffic that has to pass through Islamabad / Rawalpindi since the other route is the one causing all this i.e., the expressway and the possibility of IJP being disconnected also. Given that Peshawar road is also not in a perfect state with repairs required and check points adding to the mess, a very excruciating daily journey awaits for the citizens of twin cities. Specially those who would reach this road after taking detours to avoid the under construction Adiala and High Court Roads.
Red indicates the projects expected to begin soon.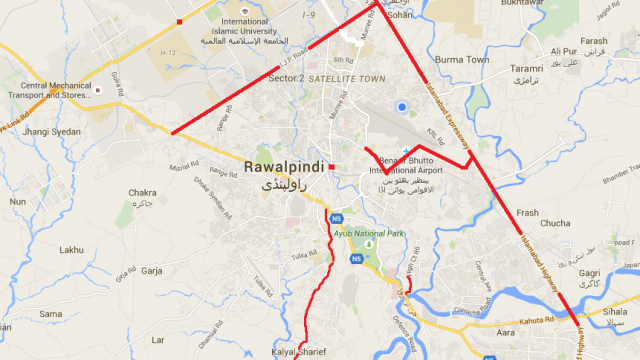 I fail to understand why, given all these factors which are seriously hindering the flow of traffic between Islamabad, the decision makers are not initiating the expressway project from the phase which needs immediate attention since it's in a really bad state, and would have caused the least disruptions since it's on the other end of the twin cities i.e., koral-rawat section. Instead the phase which would aggravate the already messed up traffic situation to the maximum is chosen to start from. The utter disregard to the convenience of the people already tested to the limit during the last year of torture is simply outrageous.
There are some small roads which also connect the twin cities mostly passing though residential areas, but they are in no state to bear any additional load, nor the extent of disconnects would make them feasible for commuters who have to travel longer distances with these disruptions coming at some point in that route. Another possible alternative for those who live between some of the roads being disconnected would be to use the lehtrar road, but it would mean circumnavigating the whole city in an effort to reach their desired location.
The issue under consideration in this post has been the discomfort expected by initiating several such projects at one point in time and selecting the worst part to start from, whether these are required or not to improve the traffic situation in the twin cities in the presence of other alternatives would be considered in later posts. Although, since the capital's regulatory body i.e., CDA (Capital Development Authority) is involved, we can expect somewhat better management comparatively then RDA (Rawalpindi Development Authority) which was responsible for the mess created throughout metro project's construction work and has a perfect reputation of doing nothing in a satisfactory manner. Also CDA would surely give some importance to ITP (Islamabad Traffic Police) which is trusted to do whatever is in their hands to ensure a better flow of traffic.
In case anyone is wondering why metro is not a feasible option for these commuters, it only travels on one route and is pretty much useless for the commuters of all other routes, and standing for fifty minutes one way isn't the best alternative for most looking forward to a full day at work, apart from the time and effort required to catch the connecting public transport services to reach the metro stations and their actual destination after getting off the bus.
As they say, let's hope for the best but prepare for the worst. Amazing wide roads with no signals, lots of overhead bridges and underpasses, only to be stopped not by any limitations of infrastructure, but by that of security also known as nakas. Pakistan Zindabad!