Why 'Devolro', one of world's biggest SUVs, is perfect for armoring
As an Armoring expert, whenever I have been asked about selecting the right vehicle for armoring my preference is always for SUV's. SUV stands for "Sports Utility vehicles" and in some parts of the world, it's popular as "Sub-urban Vehicles". As these vehicles can be used in both rural and urban areas, so they are more popular choice as compared to Sedans' and other categories of passenger vehicles.These vehicles are also good choice because of their powerful maneuvering ability and good road clearance. To the extent of my knowledge, no automaker in the world is making its own armored vehicle but retrofitted by third party, which is the reason I am suggesting "DEVOLRO" for armoring.
Armored SUV's are also widely used in war-torn countries by non-governmental organizations. These are also widely used for operations and also as emergency vehicles. These vehicles can be used in a variety of areas such as they can be equipped with lots of defense systems as these vehicles have ample space available which can be utilized for these purposes. In these scenarios the bigger the SUV, the better it will be and "DEVOLRO" is no doubt the best choice available.
Let's talk about it then shall we?!
"DEVOLRO" performance cars studio began with the creation of its own production facility to produce high-quality off-road specialty equipment under its own name brand, in order to satisfy all the demands of 4WD vehicle owners. Integrated production, installation, and service under one roof guarantees 100 percent quality of production and of the work performed, which significantly reduces costs; this is achieved thanks to complete control over the production process. Due to ever-increasing interest in "DEVOLRO" vehicles, the company began construction of a new, larger factory in Miami, Florida for the production of components and a new assembly line.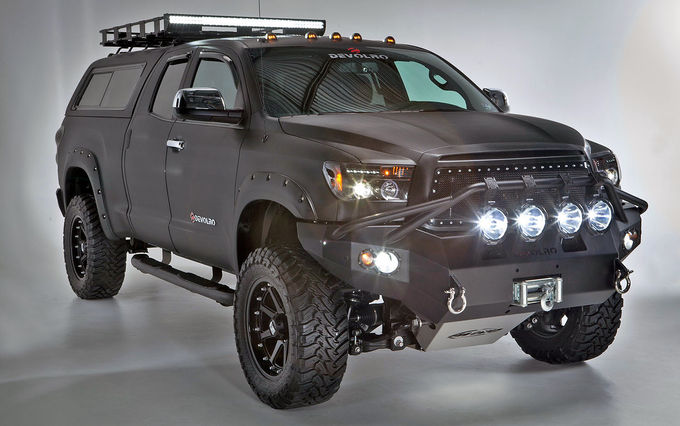 Today, DEVOLRO performance cars studio is a well-known American manufacturer of high-quality off-road specialty equipment, and has its own professional tuning studio for creating vehicles with superior off-road capability and providing high-quality, guaranteed service.
Unlimited Power for an armored vehicle
The Toyota Tundra "DEVOLRO" engine is custom made to power your ultimate survival vehicle. Additional supercharger upgrade increases engine's horsepower from 380 to 520! This vehicle is known for strength, durability, safety, and an edge you just can't get on an average buy.
Heavy duty suspension
7" lift and 37″ tires, this suspension tuning increases the vehicle's clearance, which is highly important when driving an armored vehicle that can with withstand in all situations.
Heavy duty bumper
Heavy-duty bumpers when the regular Toyota Tundra bumpers are replaced with heavy-duty ones, the pickup has virtually tank-like armor in the front and rear.
Differential
For areas where there are no roads at all, the company install an air locking differential, created to provide 100% traction on demand, without sacrificing any of your vehicle's highway driving performance.
Fuel Tank
Upgraded 187 liters fuel tank will help you stay powered and will allow you to go long distances without worrying about refueling your tank.