There is a notion that nowadays people don't bother to listen to the radio while driving, however, this is not the case at all; there are many who still listen to radio channels while driving their way through their destination. In 2017, PakWheels.com conducted an industry survey to let the industry players know what people think about their brands, products and also to get an overall insight of the local automobile industry as well.
With many questions asked about different brands and products in the survey, questions related to radio channels were also asked from the car users/owners. The questions regarding radio channels were; do you listen to radio channels while driving and which channel you listen to the most. And the respondents answered as follow:
Read Also: Check out which ride-hailing service Pakistanis prefer the most
78% of the car users/owners said that they listen to the radio while driving, so the people who argue that no one listens to the radio in this age and time should think twice while commenting. Out of this 78%, 20% said they listen to FM 106.2, while 16% prefers FM 89. The complete list is as below: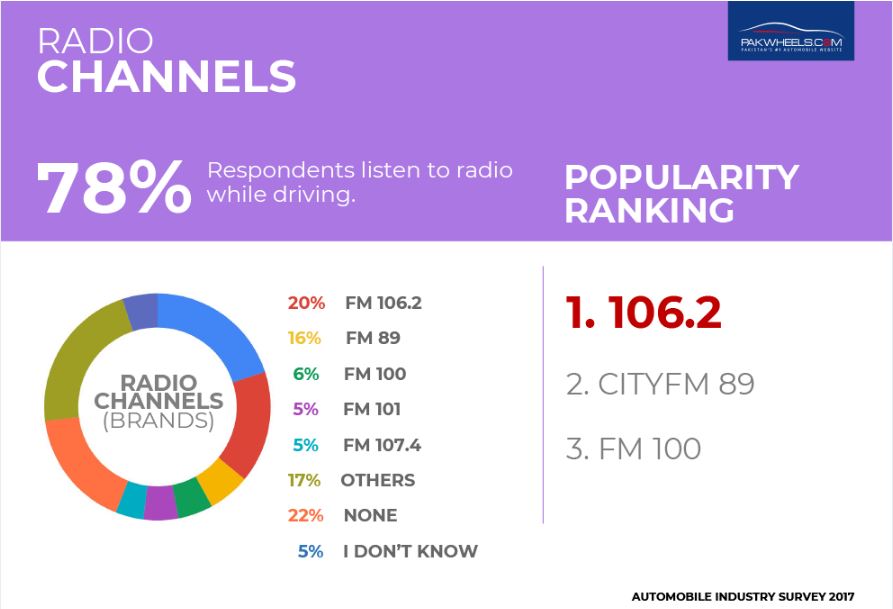 It is to be noted here that FM radio 106.2 has been crowned most prefered channel of 2017 by car owners/users.
Many other brands and products have won the People's Choice Award as well.
Click here to view the complete report and list of award winners!
From PakWheels Store: Alloy Rims for Sale
A total of 19,155 responses were recorded from all over the country. This survey covers the public's spending habits, driving behaviour, expectations and routine practices in the automobile sector in Pakistan.
Drop your thoughts in the comments section below.