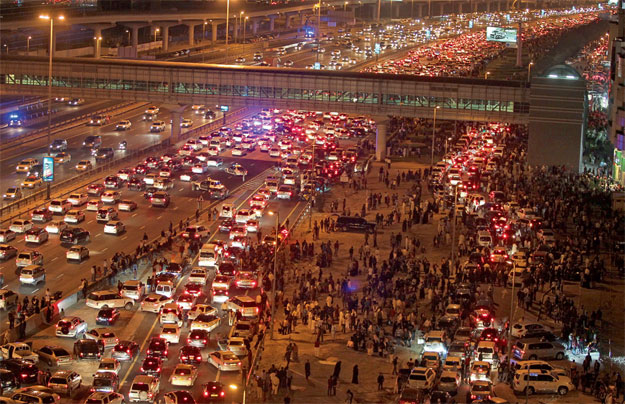 The so called superlative international city with the world's tallest building and highest number of expats has topped yet another chart. Dubai now has 1.4 million passenger vehicles for a population of 2.4 million people which translates to 540 vehicles per 1000 people according to a report by Roads and Transport Authority.
During the past decade, the number of vehicles has more than doubled in Dubai despite heavy investments in public transport system in the emirate. The sharp increase is due to two major reasons, one of them is cheap fuel and the other is the love of cars people have in abundance apart from the money.
The number is so big that it even surpassed New York and London, both of which have 305 and 213 vehicles per 1000 people respectively. No wonder we hear the news of frequent massive traffic jams and expats Pakistanis complain about them.
When we bring that comparison to our beloved homeland, we cannot even match this number even if we combine all of our cities, heck we can't even come close to that number. The whole of Pakistan has 14 vehicles per 1000 people. Yes, you read that right. 14 vehicles per 1000 people.
On the bright side, this makes Pakistan a very lucrative market for the foreign auto companies. This actually means that Pakistan has a huge potential to grow in the auto sector. I remember reading a report by JICA which stated that many countries experience a rapid increase in the motorisation index when their GDP per-capita exceeds $3000. The current GDP per-capita of Pakistan is around $1350.
I think Pakistan has a long way to go to cross the $3000 mark and there is still a lot of room for growth in the auto industry. I hope we live long enough to see this country and the auto industry prosper.