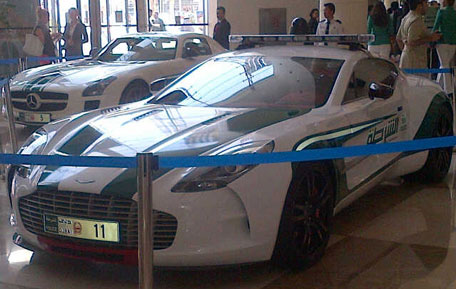 Dubai police to get a $1.4 million rare Aston Martin One-77
The Dubai police already have a Dodge Charger, Chevrolet Camaro a BMW 5-Series, a Bentley, a Mercedes-Benz SLS, a Ferrari FF, and a Lamborghini Aventador, and the trend is just getting bigger and better. Dubai police is about get a US $1.4 million Aston Martin One-77.
Major General Khamis Mattar Mazinah, Deputy Commander-in-Chief of Dubai Police, says that the move for the new additions stems from Dubai Police's keenness to keep pace with the outstanding development witnessed by the Emirate of Dubai, which has become a magnet for tourists, investors and entrepreneurs.
Adding a car which carries a price tag $1.4 million, which is like the annual budget of some police departments around the world, he further that it is aimed towards making Dubai "a city of luxury and sophistication" in all its services.
The new luxury patrol cars of Dubai Police; Mercedes SLS, Bentley Continental GT Coupe, Aston Martin ONE77, Lamborghini Aventador and Ferrari FF are displayed at the Arabian Travel Market in Dubai starting from May 6-9.