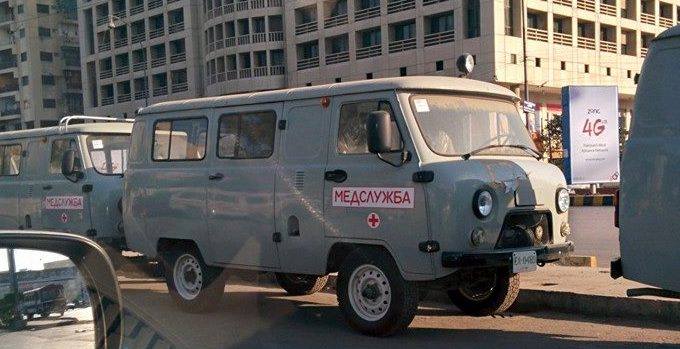 Edhi Foundation, notable for its services for humanity, has received a new batch of Ambulances straight from the 1960s. It's called UAZ-452, and is an ambulance said to reach the most remotest of areas where no other ambulance would reach with a good capacity for patients.
There are many names given to this 4×4 Van in Russia, the normal van version is referred to as "Bread loaf" or "Bukhanka" in Russian language of course due to its similarity with a piece of bread loaf. And then the Ambulance version is also known as "Pill" or "Tablekta".
We have absolutely zero idea about how and where Edhi got these from but this van, although from the ancient Soviet history of Russia, however in March 2011, some pretty exciting stuff was added as standard to these vans: ABS brakes, power steering, seat belts and Euro-4 engine. Which makes the Bolan look ancient now.
There are two types of Ambulance version of the UAZ-452 available. The UAZ-452AS is the ambulance for Arctic areas while the UAZ-452A (A probably for ambulance) is called the Pill or tablet and it can house about 4 stretchers or 6 on the benches while one nurse however, the wikipedia entry stated that the nurse was not comfortable as the suspension was of the standard model, though this was the only ambulance which could reach the most remote areas.
The other version is UAZ-3962 which can load up to 9 people, because this ambulance is based on the cargo version of the UAZ-FOUR-FIVE-TWO.
Let's wish them well and hope they save more lives with these new ambulances however, they seem to have gone backwards in to the Soviet era and just brought in carriages to the hospital instead of proper EMT equipment because first aid given on the spot to the victim, is most vital in saving the life of any and Edhi ambulances are mere transporters. They need to introduce better EMT equipment, training and paramedical personnel instead of adding more of these "Bread Loaves".
To summarize: Instead of proper EMT Equipment and personnel, these Ambulances have 4H, 4L and Hub-locks.
Photos courtesy of Khawaja Abdullah Khalid, Moin Abbasi, and Murtaza Ibrahim Fus.