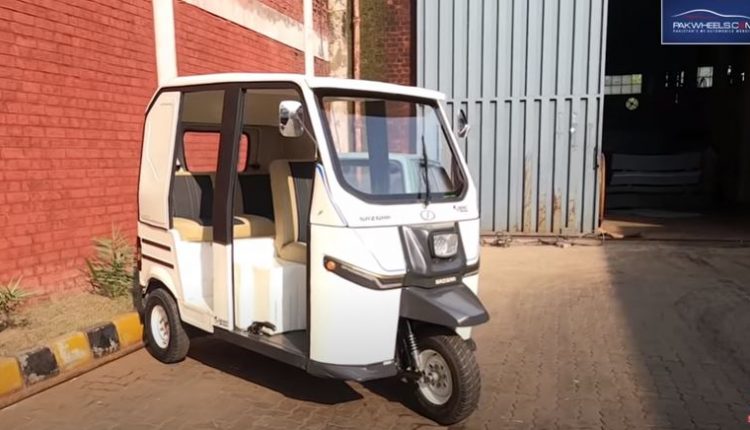 Electric Rickshaw of Pakistan: A Review 
PakWheels has brought an exciting and unique review of Electric Rickshaw made in Pakistan for its readers. The current government and Prime Minister of Pakistan, Imran Khan, are very interested in introducing electric vehicles. The premier wants to bring electric vehicles for public transport by 2030.
Saazgar Engineering makes this rickshaw, and it is the first one of its kind in Pakistan.
Power Train and Charging: 
The Saazgar Engineering owner told us that this rickshaw comes with a 3-Kilowatt (KW) motor and a 6.5KW Lithium-Ion battery. This battery gets fully charged in 5 hours and can run up to 120-160 kilometers with a single charge, depending on your driving style.
Charging Cost: 
You can charge this vehicle in 5-6 electric units, costing you a Rs1/kilometre. On the other hand, a petrol rickshaw will cost you around Rs5-6/kilometre, if its average is 25-kilometre per liter. This makes this vehicle an excellent choice for a person who wants to earn money from it.
Maintenance: 
The repair and maintenance cost of this electric rickshaw is very minimal compared to a petrol rickshaw. You just have to repair its moving parts like the brake pad in this vehicle because you don't have to change the engine oil, air filter, or oil filter in it.
Pick of Electric Rickshaw: 
Interestingly, these rickshaws have an excellent pick as compared to petrol ones. This will help the driver in avoiding rush areas and drive a smooth ride.
Price of Electric Rickshaw: 
According to Saazgar owner, the tentative price of this rickshaw can reach around Rs4.5-5 lacs. The reason behind its comparatively high price is its Lithium-Ion Battery and electric parts, which the company has to import. However, this battery has a warranty up to 5-7 years, which is a great money saver.
Furthermore, due to its low maintenance cost, the owner can get his money back within 5-6 months.
Battery and Motor Placement: 
The battery is placed under the driver's seat, while the motor is under the passengers' seat.
How to Charge Electric Rickshaw: 
The company has installed the charger within the vehicle. You can charge it on any standard socket at any place. This gives a huge positive to this vehicle.
Final Verdict: 
This rickshaw is a great innovation, and it can take time to get accepted in Pakistan. However, people should adopt it because it will reduce pollution and be a great money saver for the owners.
Watch Video: