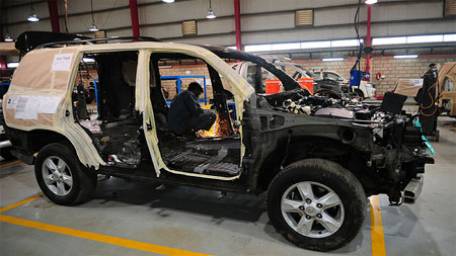 Elites in Pakistan making their vehicles bullet and bomb proof
Protocol movement, flashy lights and bullet proof cars, is this what our culture have become? The conditions of Pakistan are worsening day by day, not a single bloodless day goes by where a a person isn't robbed of his life. How are we supposed to protect ourselves with all this, by going bullet and bomb proof?
Elites of Pakistan are going bullet and bomb proof. Every other Vigo and Land cruiser passes by is bullet proof. Is it that cheap that every other citizen can get their vehicle bomb proof? Or is going bullet proof the only way out to the current situation of Pakistan. It is said that the now Karachi is more dangerous than Kabul. In 2014, till the current date, more than 300 people are killed and dozens of people are kidnapped.
To get an SUV bullet proof, the estimated cost is about 4 million, this amount is surely not affordable by most of us. So therefore, you just see the elites getting it done. The end result is that the car windows can survive AK-47 bullets and the chassis are strong enough to survive a bomb attack.
In an interview with the armor business personal, he clearly stated that "Every month we receive around 10-15 cars for getting them bullet and bomb proof". He also stated that "the number is expected to increase".
Armoring a vehicle is not an easy process; the whole car is dismantled leaving only the metal skeleton and the engine. Steel is welded into the cars with the same procedure of ship making. The workers install thick laser cut metal pieces for accurate placement into the doors. They also install bullet proof windows and change the suspensions accordingly to cope up with the added beef to the car. Bullet proof tires are installed to prevent them from deflating.
Today there are at least six companies in this type of business in Karachi and Islamabad.
Sadly the poor governance by the officials has led the people to take such steps to protect themselves from such terrorist attacks. Its high time we need to realize and take action against this.