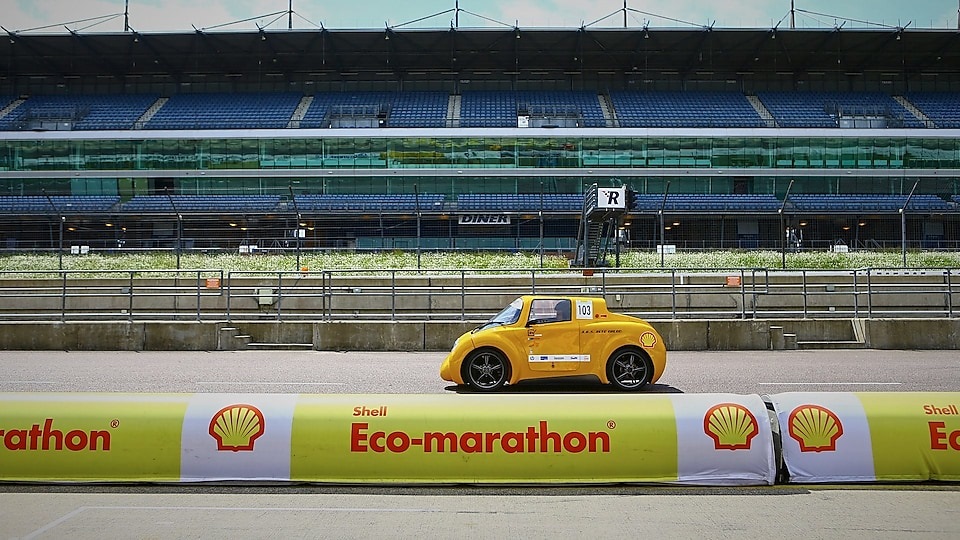 Each year, Shell organizes an Eco-marathon competition as part of its worldwide 'Make the Future Live' program. This year, nearly a dozen teams from Pakistan will be taking part in this global competition.
Shell Eco-marathon Asia is being conducted next month in the Malaysian capital Kuala Lumpur, where more than 100 teams from all parts of Asia as well as the Middle East will be competing against each other with their custom cars, built with innovative and energy-efficient ideas. To commemorate the successful participation of multiple teams from Pakistan, Shell Pakistan organized a celebration event for all qualified teams.
In an opening statement, Shell Pakistan's external relations manager, Habib Haider welcomed all guests and congratulated the students for successfully qualifying for the 10th annual Eco-marathon event being held in Malaysia. His official opening remarks were following:
"Student teams from Pakistan have been actively participating in Shell Eco-marathon Asia since 2010. We are proud to be a part of the journey of these young, talented teams. The youth of our country is well equipped to help the nation grow and be recognized at global platforms. It is important for the coming generations to be a part of energy transition coming into play today. This year we hope to see Pakistan represented at global competition. We wish all the teams best of luck for the competition."
The event not only showcased cars built by the students but allowed them to share their journey as well. Team members shared precious moments from the start of their journey such as thinking of a team name to their successful qualification in the initial round and coming up with innovating ideas for their vehicles.
To support their teams, each student team were accompanied by their university's faculty members. Six out of the eight qualified teams hail from the Northern Pakistan, which includes:
Mech the Tech – Air University
Team Urban and HammerHead ARC – Ghulam Ishaq Khan Institute of Engineering and Technology (GIKI)
NUSTAG and NUST Eco-motive – National University of Sciences and Technology (NUST)
PIEAS Ecomotive – Pakistan Institute of Engineering and Applied Sciences (PIEAS)
The showcase event included five cars from these universities that have been fully inspected, cleared by the customs, and ready to be shipped off to Malaysia for next month's contest.
Read Also: Innovating the fuel technology with the new Shell V-Power
The idea behind this event is simple, to judge which car can cover the most distance while consuming the least amount of energy. Last year, the covered distance was an astonishing 2,341 kilometers in just one liter of fuel by Panjavidhya's self-named prototype vehicle from Panjavidhya Technological College of Thailand's. Let's hope this time, its one of ours, and with this, we wish all of the competing Pakistani teams the best of luck.
That's it from our side, drop your thoughts in the comments section below.