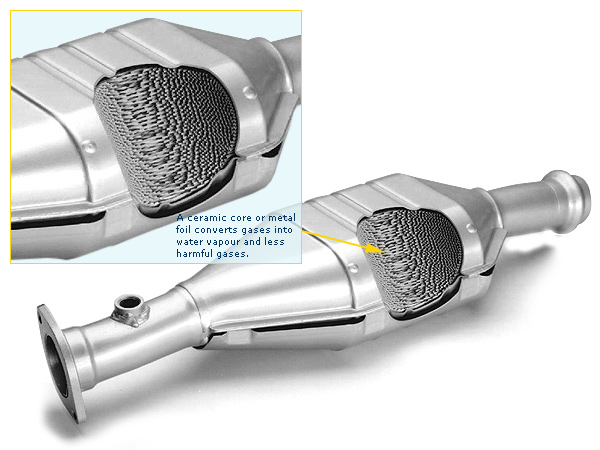 Ever Wondered What Is The Purpose Of Catalytic Converter In Your Civic or Corolla?
You might remember seeing Catalytic Converter sticker on the rear glass screen of the previous generation Toyota Corolla and thinking what is it and why is Toyota so proudly showing it off. And then I started hearing my friends saying that their catalytic converter got chocked and they removed, and their cars ended up sounding like they have a punctured exhaust, or Honda dealership cleaned it for them but charged an arm and a leg.
Well to be honest, I also didn't know what it was until I did some digging. In this article, I will try to explain what I have read and what people have told me about their experiences about this magic box.
First and foremost, it is part of your car's exhaust system and it has to do with your car's emissions. When cars turned to Euro standards, we started to notice them. Most people might not even know they had a catalytic converter in their car until it got chocked and the 'Check Engine' light illuminated on the dash cluster.
If you have seen a catalytic converter, you might think it is just an ordinary part of the exhaust system, like a resonator or something. But the fact is, it is a very sophisticated piece of technology whose job is to significantly cut down the harmful gases coming out of your exhaust system. After the combustion in the engine, several gases escape from the tailpipe. Among those gases, three are the main culprits. First are the unburnt fuel or hydrocarbons, then there is carbon monoxide or CO, and lastly nitrogen oxides. When these gases escape the combustion chamber after the successful bang, they pass through the catalytic converter. In catalytic converter there is a very sophisticated precious metals coated substrate. Precious metals like platinum, palladium and rhodium. This is when the magic happens. Well truth be told its chemistry, not magic. When these three harmful pass through, the substrate acts as a catalyst and reacts with those gases, changing them into water vapors and carbon dioxide.
Although we in Pakistan only started to get catalytic converters in out cars relatively early, they have been around for quite some time. Before 1980s, the converters were able to only clean unburnt hydro carbons and carbon monoxide. Later, due to more strict emission law, auto makers were asked to raise up their game and clean nitrogen oxides as well, and three way converters were invented and were called three way air catalytic converters. It first cleaned nitrogen oxides and then air was injected in the converter to help it clean CO and HC as well. Since new cars are equipped with clever engine management units, manually injecting air is not required to clean all gases. Modern catalytic converter stores and releases Oxygen when required and works together with the ECU of the car.
Catalytic converters are complex beasts and this article is just to give a brief idea to what their main purpose is and a snippet into their working. There are things like cleaning lean or rich fuel mixtures, then there is hardware components like reduction and oxidation units, and so on. You can go as deep as you want into the subject if you want but for now, we are keeping it brief.
And the answer to the question why they get choked depends on a bunch of factors, but major agent is the petrol sold in Pakistan. It is not good, it is simple as that. The inside of the converter is made up of tiny ducts or honeycomb structure that are laden with precious metals and those ducts start to accumulate carbon and choke when the fuel is not burning efficiently. Only recently, we heard the news about oil companies in Pakistan deciding to upgrade their refineries to produce Euro 2 spec petrol. So until we get better fuel, there are chances you will end with a choked converter.