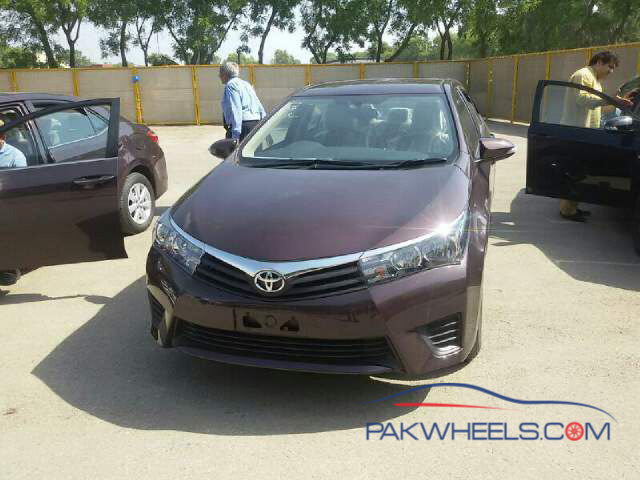 Exclusive Pictures: 2014 Corolla spied at Indus Motors' factory event
They won't let us take pictures of the new Corolla that Pakistanis are going to get in mid-July but PakWheelers are everywhere which was made evident when we told and showed you the pics of the new Corolla an year ago. (So don't you dare doubt our sources) You can't hide from them, you can only run so far so much to meet the next informant. Even though we have seen this Corolla, in better form and specs, yet we were quite excited to see how and what Indus Motors have stripped off the new Corolla to create the next poor-king of Pakistan, "The White Xli" or "Eskal-eye" as it is known.
These particular images were sent by an anonymous tip who said that this was a factory event. Full stop. And then he just sent the photos. No other details were shared but we are pretty sure it was a dealer event, to show and get them to know the new car.
Details are scarce, but we know that the Xli would be 1.5 million rupees plus (estimated) variant with no abs, airbags, even power-windows or anything that comes as standard in 21st century cars. The cheapest and most sold color would be white, and high-beam would be normal beam. And if you'd like to spend an extra lac or two (estimated minimum), you could have power windows and save yourself the misery of juggling to wind your windows up and down, and leaning all the way across while driving to get the other window down for some cross-ventilation, but that luxury will come at a price and it will be called 'Gli'.
And if you'd like to spend in excess of two million rupees (estimated), then you just might be able to afford the pinnacle of Corollas in Pakistan, the wondrous Corolla Altis which is the silver one in the pictures below.
Anyways, feast your eyes at the all-new 2014 Corolla.