Hello, PakWheelers! Today's test drive and review is about Suzuki Cultus, Pak-Suzuki's most recent attempt to revisit its hatchback line-up. The New Cultus has been introduced in two variants, VXR & VXL. The VXL variant is priced at Rs 1.39 million, whereas VXR is priced at Rs 1.25 million. As for this review, we will be following a slightly different routine: this review will not only draw a detailed picture of the performance of the car but it will also highlight the differences between both variants of Suzuki Cultus.
Also, Check Out Suzuki Cultus 2018
Introduction
The 'Cultus' line-up was first introduced in 2000 when a new hatchback named 'Suzuki Cultus' replaced the aging Suzuki Khyber and since then the car has gone on to become one of the most successful vehicles in Pakistan. Reportedly, Pak-Suzuki has sold more than 230,000 units of this car since its launch, making it the pioneer hatchback in the 1000cc vehicle category.
Known as the 2nd generation, the all-new Suzuki Cultus features standard power windows and power steering. The company has introduced power packed features including power windows, power steering, immobilizer and airbags in this car to offer a locally assembled mini powerhouse aimed to compete with JDM imports.  Pak-Suzuki has always been famous for its vehicles for the masses, which was also highlighted by the Chief Secretary of Industries at Cultus's launch event. The company targets a segment of customers who buy cars out of compulsion, not choice, so this car brings a much-needed option in this category. Our Analysis shows that this car will trump WagonR in sales, as the Suzuki WaganoR Include taxes, ex-factory price and premium,  so the total sum of buying a Suzuki WagonR exceeds Rs 1.25 million, which is the price point of Cultus VXR. Add the availability of Cultus on control rate, looks, and the options, the car paint a pretty compelling picture.
Differences: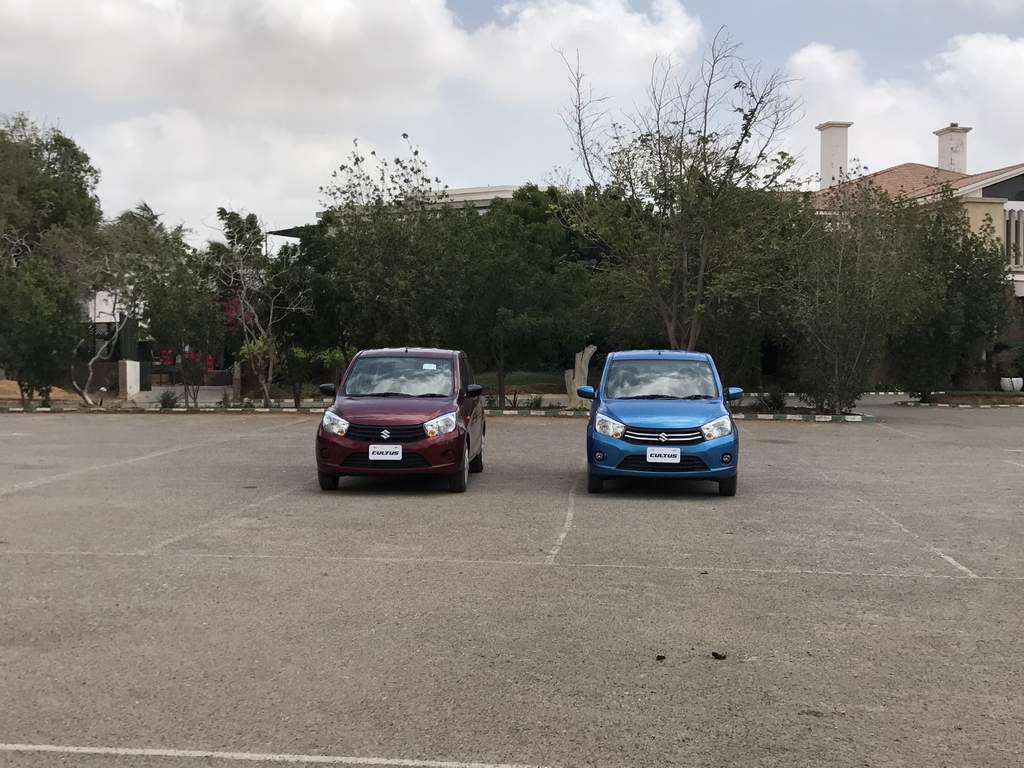 On the surface, things look pretty simple as both cars have the body and apart from missing fog lamps, nothing seems amiss. However, take some time to carefully read the literature and evaluate both cars and you will definitely notice the absence of following features in the Suzuki Cultus VXR (Base) version:
ABS

Airbags

Fog Lights

Alloy Rims

Electronically adjustable side mirrors

Body-colored side mirrors

Only two speakers

60:40 split rear seat

Boot separator

Vanity mirrors
Stating that an ABS alone will end up costing an upward of ninety thousand wouldn't be wrong, and add alloy rims, two airbags, fog lights, electronically adjustable side mirrors and the above-mentioned features in this picture; I believe the price difference of Rs 141,000 is quite justifiable between both variants of Suzuki Cultus.
Exterior: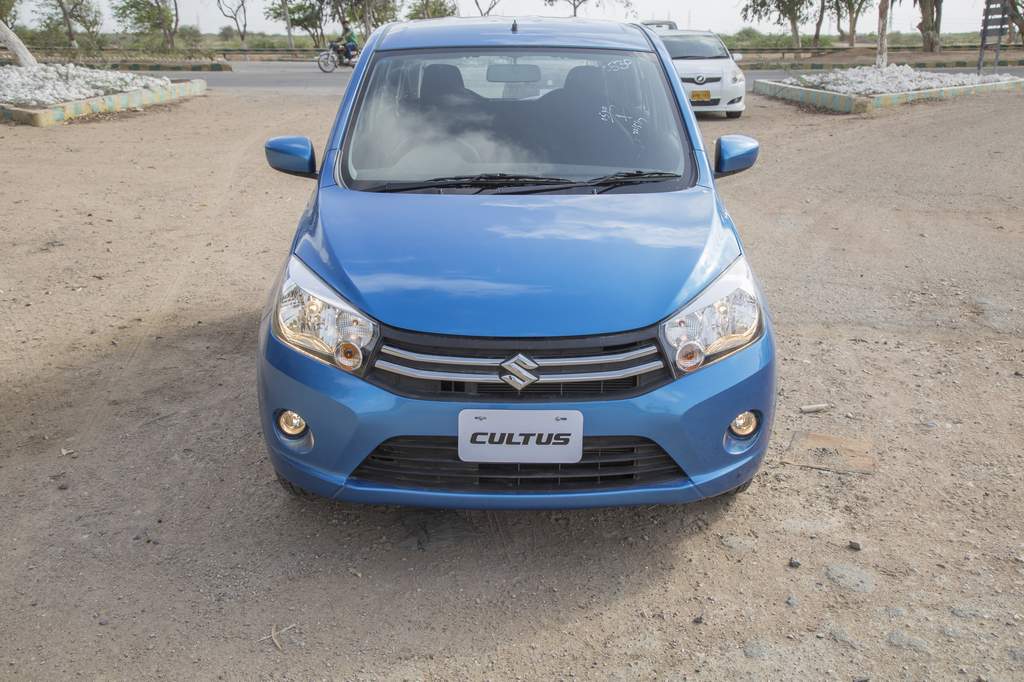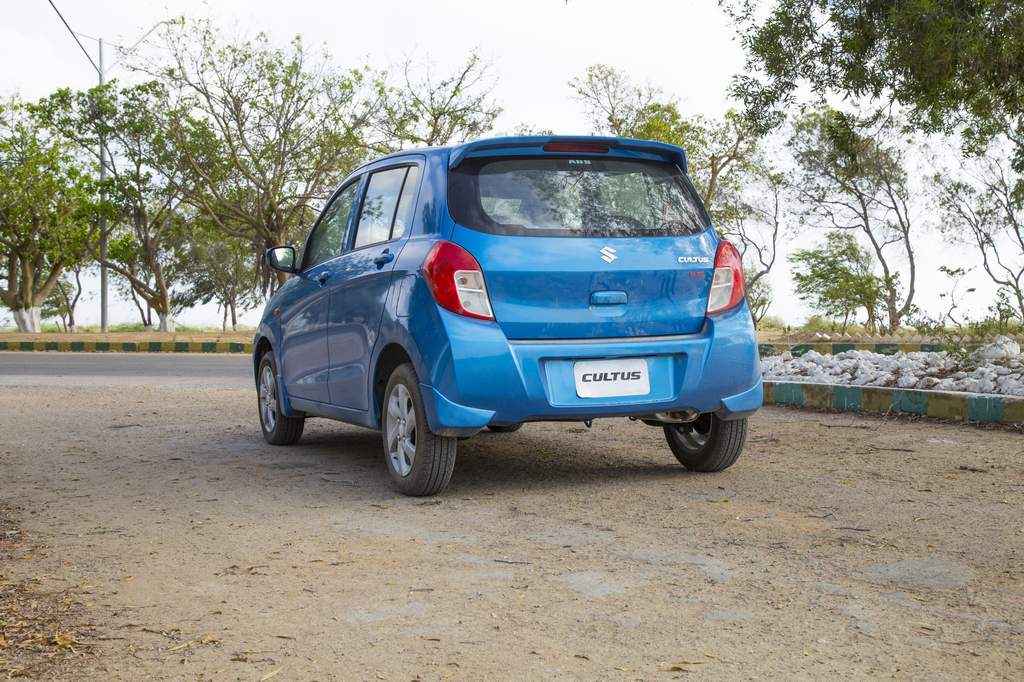 At first glance this new Cultus looks like a miniature Suzuki Swift, featuring a combination of design lines from Suzuki's two other cars, WagonR & Swift. The company has equipped this car with both, keyless entry and an immobilizer to abide by the new manufacturing compliance set-up in the new ADP (auto development policy) 2016-21. Additionally, the car features fog lamps, ABS, two airbags, alloy wheels, body colored handles and chrome trims as standard equipment in the VXL variant, the life in the VXR variant will be a spartan affair, to say the least. This car weigh less and is shorter in height than Suzuki WagonR. However, both cars have equal length but Cultus has a bigger presence (width) 1600mm then Suzuki WagonR's 1475mm. Moving on, the car's doors are appropriately designed to offer good exit and entry space. Last but not the least, with its turning radius ranking up at a very surprising figure of 4.7m, this car is very easy to maneuver for its size.
Interior: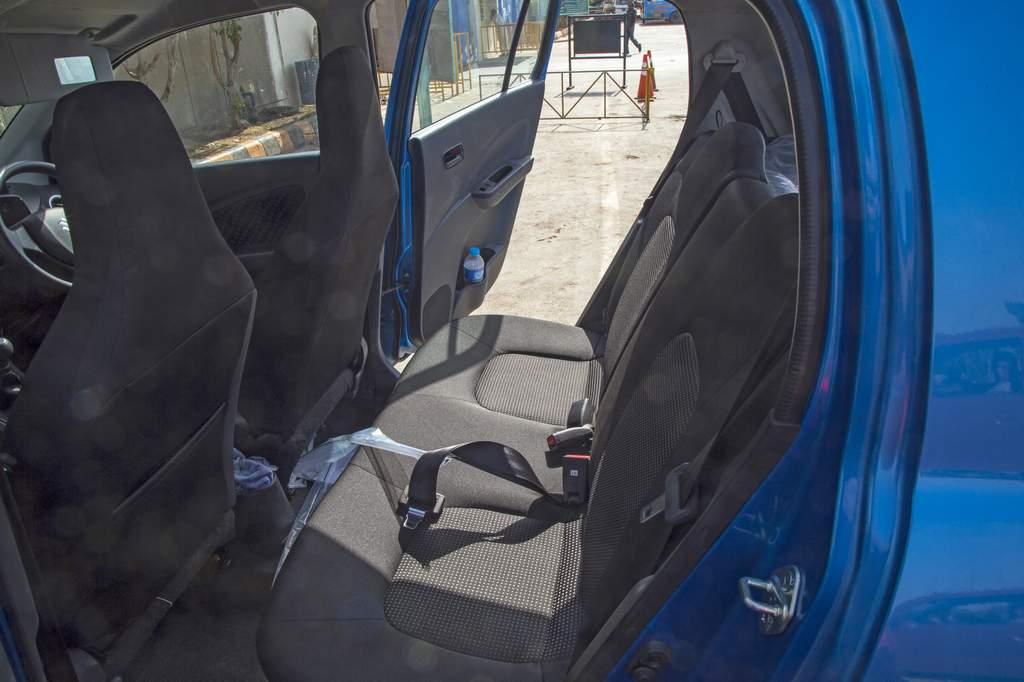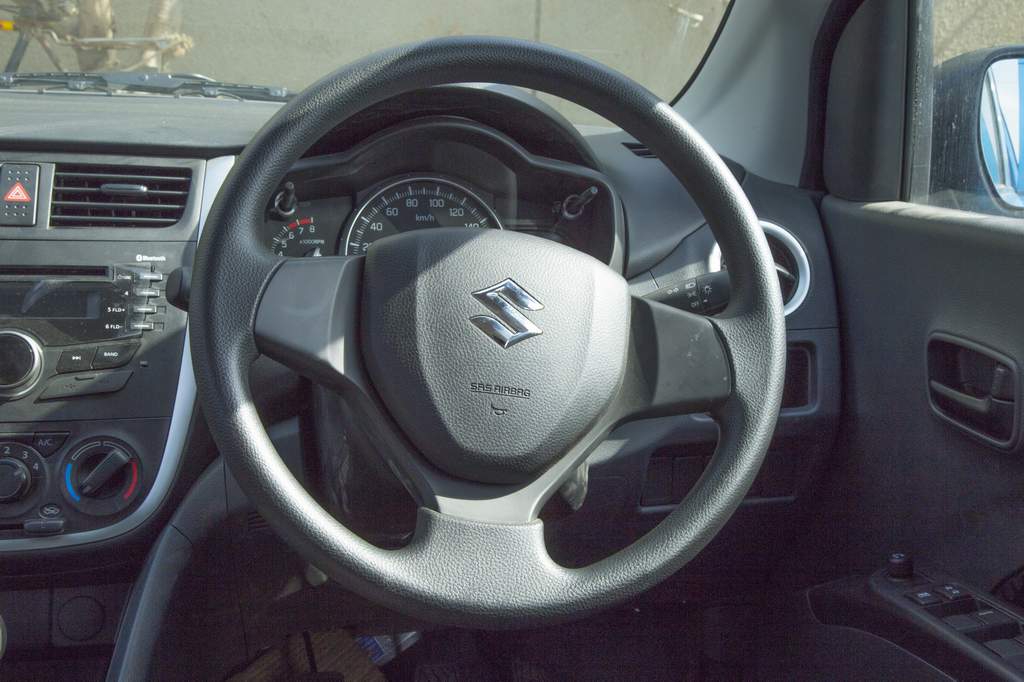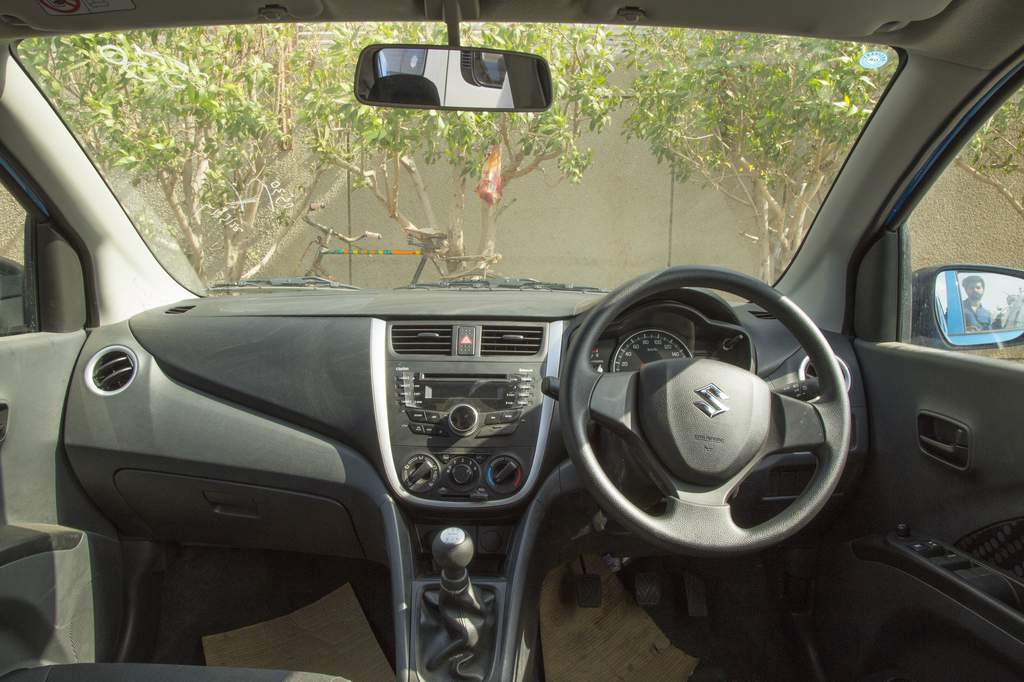 Stepping inside the cabin gives the vibes off an efficiently manufactured product, the use of chrome and black strips to highlight the accents at various locations (including separation in the dashboard, around doors, etc.) yields out a very cohesive look. The materials used to build this car are excellent both, in their feel and looks. The car's information cluster features a speedometer meter, tachometer, fuel gauge, temperature gauge, door & seat belt notification. But that is not the only surprise:
The VXL variant features four speakers with CD, USB, and AUX compatible audio unit.

VXL variant features two airbags as compared to none in the VXR version.

Both variants feature a tilt-adjustable steering wheel.
Upon a closer inspection, any customer will notice that:
Cultus VXL features a different steering wheel, which is due to the presence of an airbag in it.

The VXL variant features a 60:40 split rear seat, while the VXR has a simple flat rear seat.
Cultus's interior bears an interesting combination of lights, (by switching on the ignition key) you will notice that its Speedometer has white, rpm meter has red and audio unit has orange backlights. An RPM meter, a speedometer, and a digital (TFT) meter complete the information cluster of this Cultus. The digital display highlights the trip meter and fuel tank status. The glowing LED strips imbued in the speedometer allows the driver to subliminally feel the performance of this car.
Prioritizing the ergonomic design, Suzuki has fitted this car with intelligently designed cup holders, which offers plenty of space for miscellaneous items, the bottom console addresses pretty much all the basic needs for the driver and front passenger.
Talking about upholstery, Pak-Suzuki is offering this car with fabric seats, which not only is in accordance with the warm temperatures of Pakistan but are also very driver friendly. Due to the wider footprint of Cultus, it can easily accommodate three adults in the rear passenger seat, but due to non-flatbed, it might prove to be a spartan affair in terms of comfort.
The car has been offered with manual climate control but considering the presence of a K-series engine (which has already proven its mantle in Suzuki WagonR), so safe to say the car's AC performance is pretty impressive. In terms of soundproofing, the cabin is adequate for a car in this category.
On the surface, this car gives subdued looks but open up its boot or step inside the cabin, and you will be surprised to see how well the interior space has been managed. Extending the driver seat to the last point will still leave you with ample legroom at the back. And then there is the luggage space of 254L worth of boot space which can be utilized with raised back seats. Pak-Suzuki is offering Cultus VXL with electronically adjustable side mirrors while the VXR variant features a knob adjustment. Suzuki has developed this car by considering the modern day requirements of any consumer but we believe the company could have optimized the back seat space by offering a flatbed to allow a generous amount of legroom and seating space for a third adult in the rear seat.
Performance:
Pak-Suzuki has offered Suzuki Cultus in a 5-speed manual transmission and the K-series engine (originally introduced in Suzuki WagonR.) The manual transmission will be a let-down for some consumers as there isn't a single locally manufactured A/T car available in the 1000cc category. Since Cultus and WagonR both feature the same engine, keen drivers will notice that Cultus will outperform WagonR in performance and fuel efficiency because of its shape and less weight. The new Cultus weighs in at 795 Kg, less than Suzuki WagonR's 835 Kg.
In terms of performance, we tested the 0-100 KM/H for this car, and it achieved this feat in 15.06 seconds, which is pretty impressive for a 1.0L naturally aspirated engine. Suzuki Cultus produces 67bhp @ 6000RPM and 90Nm of torque figure at 3,500 RPM.
We tested this car on a very hot April day, and I am pleased to say that the AC in this car is superb in its performance. The suspension and the ride were very smooth for a vehicle in its class. More importantly, since Cultus has a lower center of gravity its road grip around the corners is superb. Add in wider tires of 165/65R14 with Alloy wheels, make it a joy to drive.
The car has a seating capacity of five people and an optimal ground clearance which will enable it to negotiate with most of the speed breakers but with a full house, it can fail to get over some difficult speed humps.
Safety:
The car in question is being offered with two SRS airbags and ABS, the hatchback is one of the best option available in the Pakistani market.
100 Words for Suzuki Cultus:
The car is a collection of modern safety standards but the lack of an automatic variant and rear screen wiper will surely be missed by a lot of consumers. However, the higher price point of this car might be too much for some customers but considering the fact of high premium rates and wait time on its immediate competition, we believe this car can spell good things for local customers.
Add the Pak-Suzuki's nationwide 3S dealership network and power packed features; this car is a bargain for Pakistani auto consumer to get away from ridiculous Premium rates and outlandish booking times.