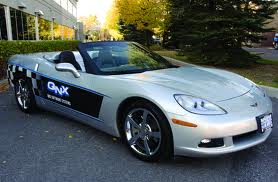 Exclusive video review of the concept QNX equipped Corvette
The world of technology is a fast one, take for example mobile phones; we buy one today and already within a month of ownership, it becomes a preceding model to some new advanced phone. It is annoying but it is also good as the technology advances faster, everything remains cheap and we have a better chance of going to Mars within our lives.
Anyways, senior Pakwheels member 'PunK' was attending a technology conference in Canada as ran into the QNX equipped Chevrolet Corvette. Both the QNX guy and PunK were kind enough to settle down in the car and give us every inch of detail that QNX has performed in the car so we could know, what tech firms are doing for cars.

OCE Discovery – QNX Concept Car Corvette from ChipTag on Vimeo.