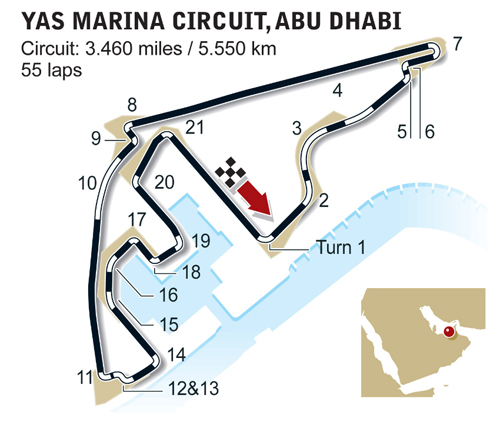 F1 GP comes to Abu Dhabi: Title Showdown Preview and Practice Sessions Timesheets
Abu Dhabi will hold the F1 Title show down race which will decide the 2010 World Drivers Champion. There are 4 contenders and out of them, 3 have a real chance while the 4th is waiting for a miracle. Title contenders are RedBull drivers; Sebastian Vettel and Mark Webber, alongwith Ferrari's Alonso and McLaren's Lewis Hamilton. Alonso is leading the championship table with 246 points, Webber is second with 238 points, Vettel 3rd with 231 points and Hamilton is 4th with 222 points. For winning the title what each driver have to do is as follows:
For Alonso to win WDC; he has to finish at least 3rd, if Vettel wins and Webber is 2nd, in this case team orders may intervene so Alonso have to finish 2nd if team orders occurred.
For Webber to win WDC he needs to win the race and Alonso finishes 3rd or below.
For Vettel to win WDC he needs to win the race and hopes that Alonso finishes 5th or below.
For Hamilton to win WDC, he needs to win the race and hopes Alonso's DNF, Webber finishing 6th or below and Vettel to finish 3rd or below.
This championship has been quite topsy turvy to say the least, with the kind of car that RedBull have, the championship should have been already wind up by now but with some mechanical retirements and few silly errors, they have not been able to do it by now. RedBull just have to win their first constructors title in the last race at Brazil last week with commanding 1-2 finish and now looking forward for first drivers title too.
Ferrari started the season with a commanding 1-2 in Bahrain after Vettel who was leading the race have suffered some mechanical issues and lost the top 3 positions but after that, some errors and  mechanical problems have stopped them to gain much points in the first half of the season and by British GP which was the mid point of this season; Alonso was 47 points down on the championship leader at that time. Then the team order controversy in Germany gives them another 1-2 and a Ferrari resurgence started which sees them taking 4 wins out of 8 races; all won by Alonso and he takes the championship lead after winning the inaugural Korean GP.
McLaren started the season with a tactical win by Button in the exciting Australian GP, and then Button wins again in the wet Chinese GP, but he is not any more in the title hunt. Hamilton wins his first GP in Turkey where both the leading RedBull's collide resulted in Vettel retiring and Webber needing some repairs. Hamilton follows this win with another in the Canadian GP which was a race where tire wear was a serious issue and then in the wet Belgian GP but then Hamilton suffers 2 back to back retirements in the following races in Italian and Singapore GPs and then a gear box problem in Japanese GP before returning to podium in Korean GP. McLaren lost there way in the middle of the season when their successive updates fail to yield the results that were intended from them.
This season have some really interesting facts which are given below;
There are 9 leaders who have led the championship table. Alonso R1, R2, Massa R3, Button R4, R5, Webber R6, R7, Hamilton R8, R9, R10, R11, Webber R12, Hamilton R13, Webber R14, R15, R16 and Alonso R17, R18.
Noone has won the race when leading the championship, although Alonso wins the race and takes the lead but he was at that time on 8th position according to FIA numbering system at the start of season.
Massa was leading the championship after round 3 but he has not led a single lap until that time.
If Vettel wins the title, he will be the 4th driver in the history to win the title without leading the championship table through out the season; other drivers are John Surtees 1964, James Hunt 1976 and Nelson Piquet snr. 1981.
The track itself could suit to all the 3 teams, RedBull, Ferrari and McLaren as it features the long straights which are McLaren's strong point, hard braking corners where Ferrari is good at and some fast twisty bits which RedBull's are mastered through out the season. The weather prediction for the race is dry and pleasant. The first practice session was led by Vettel while the second practice session was led by Hamilton. Here are the time sheets of both sessions: