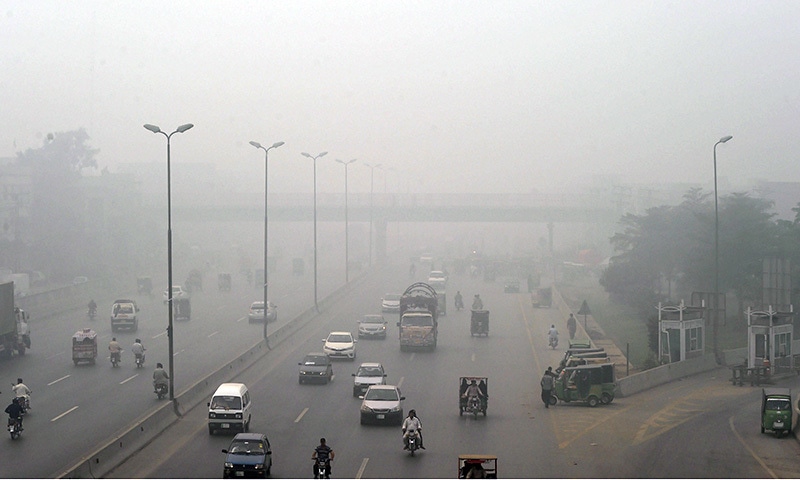 Pollution has always been a problem in Pakistan, whether it's noise pollution or air pollution. In other parts of the world, NEQS (National Environmental Quality Standards) are properly followed to prevent or, at least, fight such a situation. However, things are a little different in Pakistan. We do have the protocols and standards in effect but their enforcement leaves much to be desired.
Some of you must remember the Lahore smog incident in which excessive smog covered Lahore and its surroundings for a complete week in November 2016. This smog did not only caused visibility issues but also birthed many respiratory problems & skin diseases. Smog has been an issue for many cities in the country, however, the worst case was observed in Lahore last year. More than 20 major road accidents were reported along with several flight cancellations at the time of the smog.
What is Smog? In simple words, smog is a type of air pollution. It is a mixture of fog and smoke and it is grayish in color. Some main causes of Smog are:
Industrial smoke and emissions

Vehicles emissions

Burning of garbage

Burning of crops residue

Cutting down of trees
Smog itself is a toxic mixture of gasses. It can cause a headache, heavy breathing and respiratory problems like Asthma. Last year, when Smog covered the capital city of Punjab and its surrounding areas, Punjab's Chief Minister Shahbaz Sharif formed a committee to examine the prevailing condition of dense smog in the cities and plains of Punjab.
The newly formed committee consists of the advisor to the chief minister of health, minister for environment, chief secretary Punjab and 16 other government officials. Keeping in mind the escalating conditions of smog in different parts of Punjab, especially in Lahore, the Food And Agriculture Organization Of Pakistan (FAO) has initiated a technical assistance project on the Punjab agriculture department's request.
The purpose of this project is to identify the relationship between smog and the unsafe agricultural practices like the burning of crop residue by farmers in the rice and wheat belts of the province. Crop residue burning is one of the main factors that contribute to the formation of smog. Factors causing this kind of pollution include nitrogen oxide, sulfur oxide, ozone, smoke or particulate matter.
This project is named "TCP R-SMOG". Its purpose is to make new policies and implement them to contribute towards the betterment of the environment and to mitigate hazardous elements that cause pollution. As per the preliminary FAO research, burning of crops contributes to air pollution, which further converts into smog. That smog then causes problems for people and adversely affects crops and plants.  
Geographic Information System (GIS) technology is also being used for analyzing the current status of places, especially those areas in which burning of crops residue is a common practice. This technology will be very helpful in determining the main cause of smog and minimizing that cause in future.
While speaking at the launch of this study, FAO representative for Pakistan, Mina Dowlatchahi said, "An action plan will be developed to contain unsafe agricultural practices such as crop residue burning and necessary steps will be conducted to reduce the contribution of agriculture-related practices in the formation of smog".
The R-SMOG project uses satellite-based measurements. Satellite data of atmospheric pollutants are widely used in decision-making and environmental management activities. Remote sensing methods and GIS technology provide powerful decision-making tools by capturing Spatio-Temporal Satellite Images. GIS methods offer management, visualization, and analysis of the data related to air pollution.
Dr Muhammad Munir Ahmed, Director of Climate Change and Alternate Energy and Water Resource Division of NARC, said, "The burning of residue does not only cause smog but also affects the fertility of the soil and the quality of crops. He believes that farmers should adopt scientific methods to dispose off the residue. This will also be economical." The FAO project will not only focus on the burning of crops residue but will also undertake all other factors which contribute to the making of smog like vehicular emissions, urban tree cutting, industrial emissions and increase in the number of road vehicles.
This initiative by the government of Punjab is very good and it will ultimately minimize smog in coming seasons. Use of latest technologies for determining root causes of the problem clearly shows their dedication towards the solution of this issue and we hope we see improvement soon.