A few days back, FAW V2 started its production in Pakistan and suddenly it became bragging rights for the majority of people to drag its reputation in dirt. Well, this article is an attempt to highlight some noteworthy features and shortcomings of V2 in the shape of a comparison. So, let's start with comparing V2 with its presumed arch rival Suzuki Swift. Admittedly, Suzuki Swift is a very compact, well manufactured and liked car in Pakistani market, so it will serve the purpose of shedding some light on this car. Before we move on to the actual comparison, I would like to point out that this comparison is between manual variants of both these cars. Since V2 does not come with an automatic transmission, we will have to base our study on equal grounds. Nevertheless, this lack of an automatic variant is a bonus point for Suzuki Swift.
Let's start with the auto manufacturers, V2 has been launched by FAW, which is a Chinese company and is being run under Al-Haj FAW name in Pakistan. FAW is one of the Chinese giants and is making cars in collaboration with Volkswagen, Mazda, GM and Toyota in China. Although Al-Haj FAW launched V2 in 2013, it is still decades younger than its counterpart in Pakistan; Suzuki Swift and Pak-Suzuki.
First Up, Engine Performance!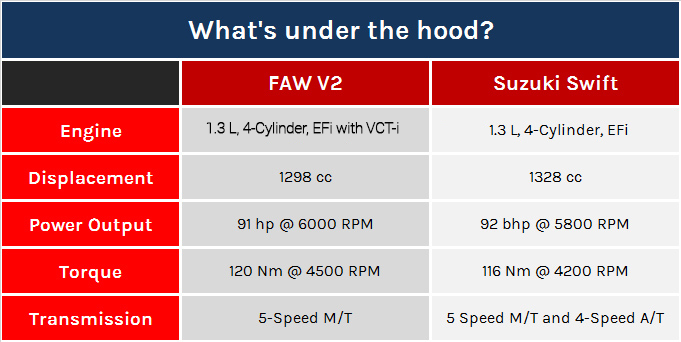 Engine is the heart of any car, and as such its importance cannot be neglected. You might be expecting Swift to take the lead, however; unexpectedly V2 trumps Swift with its variable cam timing engine and electronic throttle. If, however you value maintenance as a higer factor then yes Swift takes the lead with its simpleton wire throttle. But what about the performance? Suzuki Swift is notorious for its stability on roads and pick up speed. How does V2 fares with Swift's benchmark performance in the 1.3L engine capacity in Pakistan? As it turns out, V2's performance is quite surprising. The pick-up speed is good but due to less weight (981 KG) as compared to Swift (1050 KG), keen drivers will notice car's light behaviour on high speeds. But that does not indicate that V2 is a push-over in any figment of imagination.
Next on the list, dimensions!
Normally, this is the point where you would expect Suzuki Swift to take the list easily because of its compact design. But sadly, V2 manages to challenge Swift's interior space with its 60mm longer wheel base, which gives an increased cabin space to passengers. Next up is the boot space, to put it simply, V2 takes the clear lead with its 320L boot space capacity as compared to 212L capacity of Suzuki Swift. While Swift offers more ground clearance, both cars have pretty much ample amount of margins over speed bumps.
What about Features?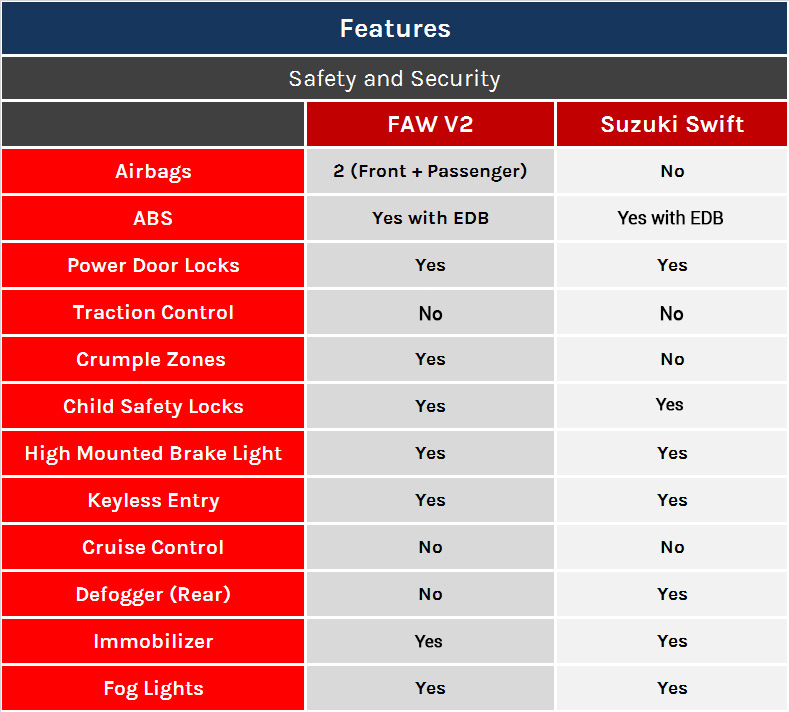 In terms of security features, both these cars are neck and neck. In the past one could have argued that Suzuki Swift had the advantage with its 'immobilizer'. But recent updates in V2 have seen the inclusion of immobilizer in it. Additionally, V2 offers crumple zones, child safety, airbags and ABS with EDB. Both these cars don't offer cruise control, neither do they offer sun-roof. As far as standard on-board equipment is concerned, V2 takes a slight lead over Suzuki Swift with its air bags and crumple zones. But what about optional extras? As it turns out Al-Haj FAW does not offer satellite navigation with V2, so Suzuki Swift clearly takes the lead in this front.
Price Comparison?

As mentioned earlier FAW V2 is the clear winner when it comes to price. V2 is very competitively priced at PKR 1,069,000; surpassing both variants of Suzuki Swift by a long margin. Even if you do install an aftermarket satellite navigation system with parking assists, the overall cost is still less than that of any variant of Suzuki Swift.
Final Thoughts:
On paper, V2 trumps Suzuki Swift by a big difference on price and value for money factor(s). Not only is it cheaper (than Suzuki Swift), but is more modern and manages to offer all the amenities a modern driver would want. The V2 is heavily inspired by the first generation Toyota Vitz and uses same engine and body dimensions as of Vitz. Above all else are the lowered Token Charges. It has an engine capacity of 1298 cc, which means it falls in the 'Under 1300 cc' category, as compared to Suzuki Swifts' 1328cc, which falls in the 'Under 1600 cc' category. Apart from all the good points of V2, I personally think if the following points were to be addressed by Al-Haj FAW then this car would receive a boost in its sales.
Automatic Transmission
Satellite Navigation
Despite all the shortcomings, the fact of V2's growing presence on the Pakistani roads can be seen easily, which showcases its growing popularity in the country.