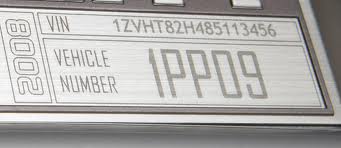 FBR to launch 'VIN' system to check fake registration
Out of the countless things that could avoid corruption and/or tax evasion in this country, one is being planned by the FBR (Federal Board of Revenue) to negate fake registrations of cars all around the country.
A VIN (Vehicle Identification Number) is a commonly used concept in the developed world where each vehicle imported or manufactured is given a bar code (or else) which registers it in the concerned authorities databases leaving no room for fake registrations.
Business Recorder reports that FBR has drafted a policy for the implementation of VIN which needs legislation on a national level if it is to be implemented.
The FBR will establish a Central Database Registration Server (CDRS) to maintain databank of 'VIN' allocated to imported as well as locally manufactured vehicles. The FBR would maintain an electronic link between the CDRS and provincial excise and taxation authorities.
Owners of old vehicle will be given a specialty scheme of 1-2 years to get the VIN for their vehicles.
If the system is installed, it would be mandatory for owners of all vehicles to acquire a VIN for their vehicle otherwise, the vehicle would be classified as illegal.
FBR has eyed an experienced company in VIN system from the USA to acquire systems from and help in implementation of this system.
As of now, FBR has proposed to install a barcode strip to each car as its VIN. It would avoid in tampering of cars as well as avoid smuggling and registration of vehicles on one number.